GCW The Aftermath Results: Joey Janela Vs. Minoru Suzuki, Deathmatch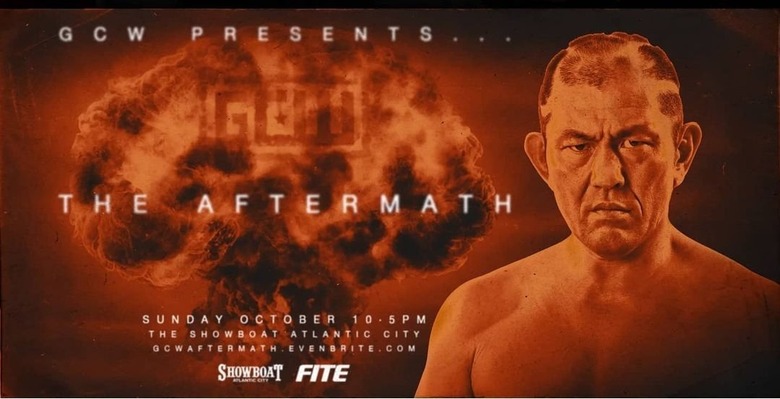 Game Changer Wrestling's The Aftermath was today, October 10 from Showboat Atlantic City in Atlantic City, NJ. In the main event, Alex Colon defeated Jimmy Lloyd in a Deathmatch.
Below are the results:
* Ninja Mack defeated Everett Connors (w/ Charli Evans), Frontman Jah-C, Gringo Loco, Marcus Mathers, "Spyder" Nate Webb
* AJ Gray defeated Colby Corino.
* Tony Deppen defeated Dante Leon
* Nick Wayne vs. Atticus Cogar ends in a no contest
* Alex Zayne defeated Starboy Charlie (w/ Chris Dickinson)
* Calvin Tankman defeated ASF
* Allie Katch defeated Mercedes Martinez
* Minoru Suzuki defeated Joey Janela
* Alex Colon defeated Jimmy Lloyd (Deathmatch)
For the results of yesterday's GCW show, please click here. 
ASF is not quitting #GCWAftermath pic.twitter.com/TuGGBuw5kH

— RydeenBomb (@RydeenBomb) October 10, 2021
BRUTAL double stomp from Tony Deppen #GCWAftermath pic.twitter.com/cgNkIiruGk

— I love Pro Wrestling (@Aregularindyfan) October 10, 2021
Ocean Cyclone Suplex #GCWAftermath @GCWrestling_ @AllieKATCH @RealMMartinez pic.twitter.com/MYtTQhIAMi

— 𝕮𝖗𝖊𝖆𝖒𝖄 (@Creamy_ItIs) October 10, 2021
CRUNCHWRAP SUPREME #GCWAftermath pic.twitter.com/d7YpBPi0zx

— I love Pro Wrestling (@Aregularindyfan) October 10, 2021
It was at that point @JANELABABY knew he had fucked up 😂 #GCWAftermath @GCWrestling_ @FiteTVhttps://t.co/YcsGeMAWfc pic.twitter.com/vVITn59Uv4

— SirLARIATO (@SirLARIATO) October 10, 2021
This pane of glass absolutely did NOT want to break. 🥴 #GCWAftermath @GCWrestling_ pic.twitter.com/onr7wLAAaP

— 𝙿𝚞𝚖𝚙𝚔𝚒𝚗 𝙿𝚊𝚝𝚌𝚑𝚎𝚜 𝙲𝚑𝚊𝚗𝚌𝚎 🎃 (@patcheschance) October 10, 2021
Tube strike -> Double knee onto Japanese glass #GCWAftermath @GCWrestling_ @alexcolon0139 pic.twitter.com/EJ83NCLIDZ

— 𝕮𝖗𝖊𝖆𝖒𝖄 (@Creamy_ItIs) October 10, 2021