Impact Wrestling Results: Battle Royal, Bound For Glory Summit, X-Division Title Tourney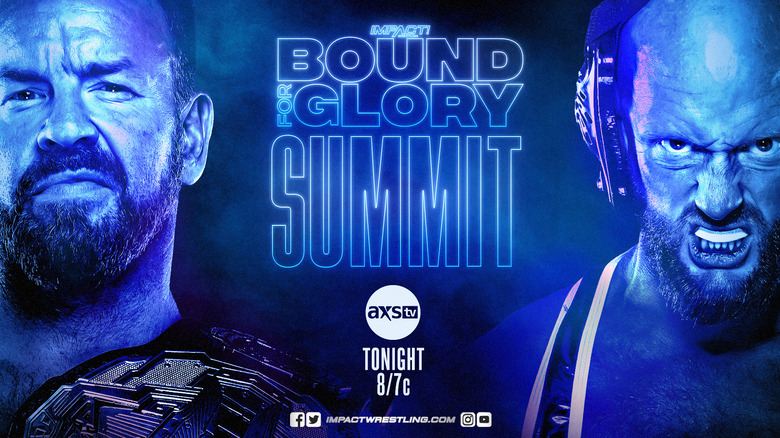 Welcome to Wrestling Inc's live coverage of Impact Wrestling, which airs every Thursday on AXS TV at 8 pm EST and on Impact's YouTube membership page [which will put the live episode up at 8:30 PM ET]! Be sure to chime in on your thoughts about tonight's show in the comments section below. Additionally, share our live coverage through social media. Make sure to click the REFRESH button to continue to get the most current up-to-date coverage. Above and below is what's on tonight's agenda for Impact:
Tonight's the fallout from Knockouts Knockdown. The full results from last Saturday's show are available here.
TODAY IS #IMPACTonAXSTV DAY! pic.twitter.com/yA9DjRhz15

— IMPACT (@IMPACTWRESTLING) October 14, 2021
** Before tonight's show, Fallah Bahh defeated Hernandez on Before The Impact. **
.@FALLAH1 is victorious over @SuperMexCTM on #BTIonAXSTV! pic.twitter.com/7kxuPQFq1k

— IMPACT (@IMPACTWRESTLING) October 15, 2021
D'Lo Brown and Josh Mathews welcome fans to Impact Wrestling! We kick things off with the final X-Division Title Tournament Qualifying Match. Which man will punch his ticket and face Trey Miguel and Steve Maclin at Bound For Glory next Saturday?
X-Division Title Tournament Final: El Phantasmo (w/Chris Bey & Hikuleo)  vs. Rohit Raju vs. Willie Mack
El Phantasmo charges over toward Willie Mack. Mack side steps and ELP flies up and over the top rope. Rohit Raju and Mack square off. Mack sends Raju off his feet with a nice shoulder tackle. ELP sneaks back in and drives his fingernails straight down Mack's back. Mack tries to counter ELP. ELP pokes him in the eye and drops him on his knee. Raju lands a nice drop on ELP. Cover. ELP kicks out at two.
.@Willie_Mack snaps off a hurricanrana. #IMPACTonAXSTV pic.twitter.com/kO55k3cv0h

— IMPACT (@IMPACTWRESTLING) October 15, 2021
Mack connects a pop-up punch, sending Raju to the outside again. ELP is on a roll. He hits a springboard crossbody, moonsault and springboard senton! He also heads to the outside with a perfect dive on Raju. All three men trap themselves in the corner. Raju and ELP trade back and forth haymakers after escaping the corner. Mack sends them both down on the mat with a double clothesline. He flashes a big smile to the camera. Mack rocks Raju with an uppercut. Mack stacks ELP and Raju up and sends them crashing with a double Samoan Drop!
Mack lines Raju and ELP up for a double moonsault. He hits it and covers both men. They all kick out. Raju and Mack meet up on the top rope. Down goes Raju with a front face suplex. ELP steps in with an enziguri. He sends Mack off with a beautiful Frankensteiner! ELP flies off and raises Mack's leg for the cover. 1-2-2.8, Mack pops out. Mack catches ELP with a stunner. Chris Bey and Hikuleo distract the referee from making a count.
.@elpwrestling sends @Willie_Mack crashing down onto @HakimZane. #IMPACTonAXSTV pic.twitter.com/nhO4UtLWPV

— IMPACT (@IMPACTWRESTLING) October 15, 2021
Mack takes care of Bullet Club on the outside. Raju tries to steal a pin. ELP wriggles out. ELP plants a low blow on Raju. ELP says nighty night Raju as he hits his CRII finisher for the pinfall victory!
.@elpwrestling is Bound For Glory. #IMPACTonAXSTV pic.twitter.com/NDBvTDfPtL

— IMPACT (@IMPACTWRESTLING) October 15, 2021
Winner: El Phantasmo
Backstage: Gia Miller speaks to Ace Austin and Madman Fulton ahead of tonight's Battle Royal. She would like to know what their plan is heading into this bout. Fulton says he would like to be the first entrant, that way he, can make things easier for Austin when he wins the 20th spot, should that happen. Austin says this year's Call Your Shot Gauntlet is his.
.@The_Ace_Austin and @FultonWorld have a plan heading into tonight's Battle Royal. #IMPACTonAXSTV pic.twitter.com/4viMBC8eZ5

— IMPACT (@IMPACTWRESTLING) October 15, 2021
Next week, the final two Digital Media Championship Qualifying Matches will take place on Tuesday and Wednesday. On Tuesday, it will be Madison Rayne vs. Chelsea Green. And on Wednesday, it will be Alisha vs. Tenille Dashwood. Be sure to join our live coverage of this!
Savannah Evans (w/Tasha Steelz) vs. Lady Frost
Lady Frost tries to wear Savannah Evans down early with a ferocious round of forearm shots. She just awoke the beast doing that. Evans ragdolls Frost all around the ring. Evans tries to lower Frost's oxygen supply with a tight bear hug. Frost fights free but eats a big boot. Evans and Frosts' match will continue after the break.
.@SavannahEvansNV drops @RealLadyFrost with a boot! #IMPACTonAXSTV pic.twitter.com/WWVbYSimnY

— IMPACT (@IMPACTWRESTLING) October 15, 2021
Welcome back! As we head back to the broadcast, Evans still has a hold on Frost. Evans puts a damper on Frost's offense with a pop-up Samoan Drop. Frost avoids disaster in the corner. She strings together a nice set of short spears. Evans knocks Frost into next year with a powerful clothesline. Evans ends this thing with a full nelson slam. Evans earns the pinfall victory.
Winner: Savannah Evans
Post-Match: The Knockouts and AAA Reina de Reinas Champion Deonna Purrazzo (along with Matthew Rehwoldt) head to the ring to speak with Savannah Evans. The Virtuosa presents Evans the opportunity to face Mickie James as part of Purrazzo/James' "Pick Your Poison" stipulation. Evans agrees to this. Evans will see James next week in singles competition!
.@MickieJames will return to the ring on IMPACT for the first time in 6 years NEXT WEEK as she faces @DeonnaPurrazzo's hand chosen opponent @SavannahEvansNV. #IMPACTonAXSTV pic.twitter.com/jgHR3EvPhh

— IMPACT (@IMPACTWRESTLING) October 15, 2021
- Steve Maclin wants everyone to acknowledge him as the new X-Division Champion.
Backstage: Gail Kim and Gia Miller chat about the Knockouts Knockdown event from last Saturday. Kim says it was a big hit and she was glad to take part in it. The Knockouts Tag Team Champions Decay interrupt her interview. Kim is presented a piece of mail from The IInspiration (Jessie McKay & Cassie Lee).  McKay and Lee are on their way to Impact, and they're gunning for those titles. They'll see Decay at Bound For Glory next Saturday!
"We're excited to come to IMPACT Wrestling at #BoundForGlory where we get our much deserved and hard earned Knockouts Tag Team Championship opportunity." @CassieLee and @JessicaMcKay had a message delivered to @WeAreRosemary and @FearHavok. #IMPACTonAXSTV @gailkimITSME pic.twitter.com/ETM6haiWVO

— IMPACT (@IMPACTWRESTLING) October 15, 2021
VSK (w/The Learning Tree & Brian Myers) vs. Rich Swann (w/Willie Mack)
Rich Swann looks to end things early with a backslide. VSK turns over to break the count. VSK drops Swann on his knee with a backbreaker, then springboards with a nice splash for two. After a few more back and forth counters, Swann secures the victory with a Phoenix Splash!
.@GottaGetSwann unleashes a flurry of strikes on @isThatVsK. #IMPACTonAXSTV pic.twitter.com/I1AOVJLun4

— IMPACT (@IMPACTWRESTLING) October 15, 2021
Winner: Rich Swann
- Johnny Swinger is packing up the last of his stuff from his Palace. He says goodbye to Hernandez, John E. Bravo and the Swingerellas. One of the Swingerellas asks him out. Swinger rejects her advances and starts to flirt with another Swingerella. Oof. Chris Sabin stops by. Another Swingerella expresses her feelings towards Sabin, which he rejects too. What is with these guys?! Anyway, a highlight reel plays showing all the highs from Swinger's Palace. It will be sorely missed!
Sorry, Swinger's Palace is closed. #IMPACTonAXSTV @swinger_johnny @JohnEBravo1st @SuperChrisSabin @SuperMexCTM @MrsAIPAlisha pic.twitter.com/VrVLjMZt28

— IMPACT (@IMPACTWRESTLING) October 15, 2021
- Heath sits down with Executive Vice President Scott D'Amore. Heath is there to sign an official contract with Impact. But before he signs, he wants D'Amore to add him and Rhino to Bound For Glory in a tag match against Violent By Design. D'Amore will award this to him should he influence Rhino to join him. If not, Heath will be all alone in a Handicap Match. It's now official: Heath is part of Team Impact Wrestling!!
Chris Bey (w/El Phantasmo & Hikuleo) vs. Chris Sabin (w/FinJuice)
FinJuice gets the crowd fired up. In the ring, Chris Bey and Chris Sabin are jockeying for position. Sabin throws Bey down on the mat with a fireman arm lock. Both men swap spot-on-arm drags. Things get heated on the outside with The Bullet Club and FinJuice. The referee ejects all four men from ringside.
.@DashingChrisBey and @SuperChrisSabin are already off to a hot start. #IMPACTonAXSTV pic.twitter.com/qSgKFMZov8

— IMPACT (@IMPACTWRESTLING) October 15, 2021
Now, back to the ring action. Sabin snaps a suplex on Bey for two. Sabin positions Bey in the tree of woe. Sabin nails an elevated dropkick. Bey floats off the top with a sturdy elbow drop. Cover. Sabin kicks out. Bey continues to hold Sabin down for another near-fall count. Sabin stacks Bey up. Bey fights out at two. Bey cuts Sabin down with an enziguri and a flying clothesline. Bey hooks the leg. 1-2, Sabin hops out. Bey delivers a textbook suplex for two.
Innovative Rolling Fisherman's Suplex by @SuperChrisSabin! #IMPACTonAXSTV pic.twitter.com/1Yh7hSH7mk

— IMPACT (@IMPACTWRESTLING) October 15, 2021
Sabin lands a soccer kick on Bey. Then, he rolls him through with a fisherman suplex! Bey spins Sabin with a torture rack neckbraker. Does Bey have this thing in the bag? Not yet! Sabin fights out at 2.5. Sabin blocks Bey's Art of Finesse. Bey flops down with a flying crossbody. No one's home. Both men trade impressive body blows. Sabin catches Bey with an enziguri followed by a Cradle Shock to win this thing fair and square!
The Cradle Shock scores the victory for @SuperChrisSabin. #IMPACTonAXSTV pic.twitter.com/ltGfn2mZtz

— IMPACT (@IMPACTWRESTLING) October 15, 2021
Winner: Chris Sabin
Backstage: Trey Miguel has been dreaming of this moment to become the next X-Division Champion. Alex Zayne enters the interview to remind Miguel that he has never beat him and wants to go toe-to-toe with him. Miguel accepts Zayne's offer.
Looks like @AlexZayneSauce and @TheTreyMiguel are on a collision course. #IMPACTonAXSTV pic.twitter.com/gYD0tc2Mhr

— IMPACT (@IMPACTWRESTLING) October 15, 2021
- The Impact World Tag Team Champions The Good Brothers (Doc Gallows and Karl Anderson) are still living the high life. Still, on vacation, both men are growing frustrated that they don't have any new challengers. It'll be interesting to see who steps up against them next.
.@MachineGunKA and @The_BigLG are beginning to become impatient with their lack of challengers at #BoundForGlory. #IMPACTonAXSTV pic.twitter.com/z3S6ekFJqs

— IMPACT (@IMPACTWRESTLING) October 15, 2021
Up next, the Battle Royal. The winner will enter the coveted #20 spot in the Call Your Shot Gauntlet next Saturday, while the runner-up enters 1st.
Battle Royal Event: 
Alisha takes her fight to W. Morrissey. He throws her over the top rope. Johnny Swinger also gets eliminated by Kimber Lee. Rachael Ellering clocks Brian Myers with a nice punt kick to send him out of the ring.
Alisha, Johnny Swinger, Petey Williams and Brain Myers are the first four to be eliminated. 
The Learning Tree saved @Myers_Wrestling from elimination at the hands of @TheMattCardona but not from the boot of @RachaelEllering. #IMPACTonAXSTV pic.twitter.com/10YZBYJFUM

— IMPACT (@IMPACTWRESTLING) October 15, 2021
In the next set of eliminations, Hernandez, Laredo Kid, Matthew Rehwoldt, Ellering and Raj Singh head on out before the commercial break.
Coming back from the break, Moose, Morrissey and Austin work together on Matt Cardona. Cardona is strongly holding on to the ropes and succeeds. Madman Fulton and Austin eliminate Fallah Bahh. Both Kimber Lee and Brandi Lauren are let go back to back. Fulton sends Cardona up and over the top rope.
Fulton steps in for Austin, who's trapped in the corner by Moose. Fulton sends Morrissey straight into Moose. Those two come together to send Madman Fulton out. Austin's muscle is gone. Austin remains in this thing.
It's down to the wire now. This Battle Royal will continue right after the second commercial break.
Fallah Bahh, Kimber Lee, Brandi Lauren, Matt Cardona and Madman Fulton are eliminated. 
.@FultonWorld LAUNCHES @brandilauren_ onto everybody on the floor. #IMPACTonAXSTV pic.twitter.com/1ajUeag2O8

— IMPACT (@IMPACTWRESTLING) October 15, 2021
As we return from the break, Morrissey and Moose wave bye-bye to Ace Austin, who said earlier this was going to be his tonight. It's down to Morrissey, Moose and Chris Sabin.
Ace Austin is eliminated.
Sabin sends Moose to the outside. Sabin hits a missile dropkick and grabs Morrissey by the leg. Moose pushes Morrissey back into the ring.
Moose is eliminated. 
Sabin tries to fight Morrissey off with a flurry of punches. Like a child, Morrissey hoists Sabin up and throws him out of the ring. Morrissey will enter at #20, while Chris Sabin enters at #1.
Overall Winner: W. Morrissey
- Coming soon, Minoru Suzuki will make his Impact Wrestling debut!
.@suzuki_D_minoru – coming soon! #IMPACTonAXSTV @njpwglobal pic.twitter.com/FrxOgAIbNb

— IMPACT (@IMPACTWRESTLING) October 15, 2021
We conclude tonight's broadcast with a Bound For Glory Summit with Impact World Champion Christian Cage and Josh Alexander.
Bound For Glory Summit
Josh Mathews hosts this Summit with Christian Cage and Josh Alexander. Mathews begins by talking about Cage's comeback from retirement. Cage says the moment he returned, his goal was to become a champion. Whether it was in AEW or Impact, he wanted to prove his stride and talent. As Impact's pinnacle champion, he wants to remain on top coming out of Bound For Glory.
As difficult as it was for @Walking_Weapon to give up the X-Division Championship, he knows the prize @Christian4Peeps holds is that much sweeter. #IMPACTonAXSTV pic.twitter.com/HvmDexT7YC

— IMPACT (@IMPACTWRESTLING) October 15, 2021
- Mathews turns his attention to Josh Alexander. Alexander explains relinquishing his former X-Division Championship. To Alexander, he felt it was time to showcase why he is "The Walking Weapon." And what better way than becoming the next man to hold the World Championship.
- Cage's objective is to remain the ring general, not just in Impact but in all of professional wrestling. He doesn't believe Alexander is good at controlling his emotions.
- Both men reveal they've followed each other's careers for quite some time now.
.@Walking_Weapon and @Christian4Peeps seem to disagree on any similarities between them. #IMPACTonAXSTV pic.twitter.com/lf30L2j3h4

— IMPACT (@IMPACTWRESTLING) October 15, 2021
- We see a video from AEW's most recent Fan Fest, where a fan asked Cage who he would like to face outside of AEW. Someone in the crowd yells out Alexander's name. Cage replies with, "Who?" That's when tensions start to escalate.
Before Alexander storms out of the Summit, Alexander warns Cage to be prepared because "Captain Charisma" has no chance of outlasting "The Walking Weapon."
Any respect between @Walking_Weapon and @Christian4Peeps seems to be gone, these two are ready to explode at #BoundForGlory. #IMPACTonAXSTV pic.twitter.com/LrnKvYsVjw

— IMPACT (@IMPACTWRESTLING) October 15, 2021