Keith Lee On Vince McMahon Being Hands On With His Heel WWE Persona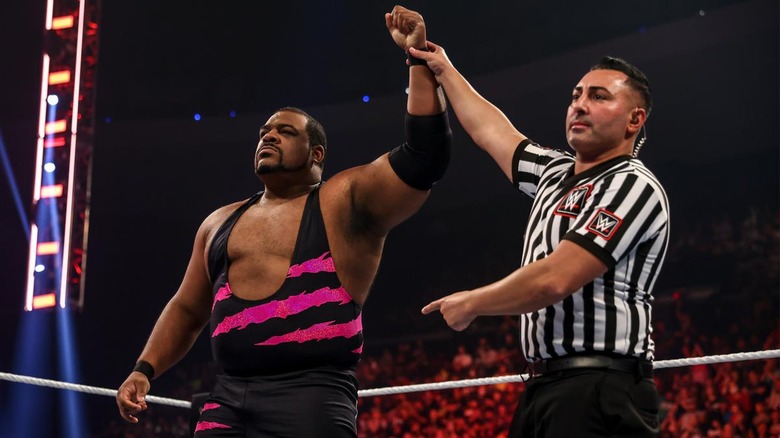 WWE
Keith "Bearcat" Lee joined the Out of Character Podcast with Ryan Satin to talk about his new character, and the transition he'll be making from baby face to heel. The former NXT Champion debuted his character in September and spoke about that.  Lee described how Vince McMahon has been involved in the creative process with his character,  and why his goal is always to give his boss what he wants most out of his character.
"Yeah, I would say that he's been quiet hands on, and that's honestly something that I need," Lee said. "I want to know what he wants as opposed to making a guess, or some sort of estimation, or hypothesis. If I know what he wants directly, then it makes it that much easier to give him what he's looking for. He's the man, he runs this, and if he wants a specific thing out of one of his talents, then the job is to give him what he wants."
Lee spoke about becoming a heel in WWE and why outsiders who don't know him don't want to see him become that guy. He also noted how his heel character will be something that nobody will be able to stop when he gets his chance.
"One thing I've had fun with is the fact that it's been probably one of the greatest challenges, and it's something that people point out. 'Oh, you're actually a nice guy but I want to see the other side.' You don't want that guy," Lee said. "Professional Keith is the best case scenario because the guy that played football, the guy that had been through a lot in his life is a different breed altogether. They want it, so it's a-coming and there's not much that anybody will be able to do about it because when I get to that mindset and get so fixated, it's kind of a jet that's hard to stop, trying to stop a jet with a piece of paper. It will be interesting.
"A lot of people really question the way that I speak and my choice of diction, my cadence, my tone, my voice, and how I should narrate, but they don't understand, before I was a book reader and I learned to be who I am, and be me, the guy that just walked down the street, you look at me face-to-face and it makes people uncomfortable. If I don't have that approach, that makes people comfortable immediately, if you saw me in real life and you had to bypass me, that makes people hard to see. If I'm walking through the airport and I don't have a smile on my face, then I don't speak to you kindly. If I just look at you, most people don't handle that very well. When you learn to be different, it's better. This character is very much that guy that makes you uncomfortable. We'll see how this goes."
If you use any of the quotes in this article, please credit Out of Character with Ryan Satin with a h/t to Wrestling Inc. for the transcription.