MLW Fusion Alpha Results (10/13): Opera Cup Tournament Begins With Lawlor Vs. Richards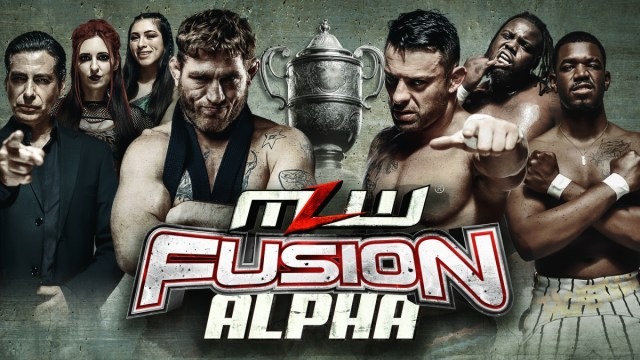 Welcome to Wrestling Inc's live coverage of MLW Fusion: Alpha, which airs every Wednesday on YouTube at 7 PM EST, as well as on beIN SPORTS on Saturdays at 10 pm EST! Be sure to chime in on your thoughts about tonight's show in the comments section below. Additionally, share our live coverage through social media. Make sure to click the REFRESH button to continue to get the most current up-to-date coverage. Above and below is what's on tonight's agenda for MLW:
Tonight's episode is the fallout from MLW Fightland. The full results from last Thursday's show are available here.
A new era is upon us, as Alex Hammerstone kicked things off by dethroning Jacob Fatu from his two-year reign as the MLW World Heavyweight Champion. Later tonight, we'll hear from the new dual champ!
Rich Bocchini and the newest member of MLW's play-by-play table Joe Dombrowski welcome fans to Fusion: Alpha! We kick things off with a singles match between two challengers set for their respective Opera Cup Tourament matches soon!
Calvin Tankman vs. Lee Moriarty
Lee Moriarty ducks under from a collar and elbow tie-up and looks for a single leg takedown. It takes Moriarty several shoulder tackles and a toehold to finally take Calvin Tankman off his feet. Moriarty shoves a knee strike straight across Tankman's face. Tankman returns it with a heavy forearm smash that knocks Moriarty's sails for a brief moment. Tankman pounces Moriarty just before the quick break.
Back from the brief break, Tankman floors Moriarty back on the mat with a nasty knife edge chop. Tankman continues to dominate Moriarty. Heading back to a vertical position, both men slug it out. Moriarty's heart shines through by dizzying Tankman with a powerful headbutt and enziguri. Moriarty baits Tankman into the corner with another enziguri. Moriarty executes a perfect knee strike. Cover. Tankman kicks out.
Moriarty grasps Tankman in the octopus position. Tankman finds the ropes to break it up. Moriarty traps Tankman for a rope-assisted DDT. He, instead, changes it into a missed double stomp. Tankman steadies himself on the ropes to hit a perfect powerslam. Can he capitalize? 1-2, Moriarty jumps out of the pin. Moriarty hits a few rapid-fire shots. He sets himself up for a powerbomb but recovers to hit a low cutter for another near-fall! Another kick follows. The near-fall process repeats. Moriarty crashes straight into a back elbow. Tankman hoists Moriarty up. Moriarty escapes and turns it into a springboard. Tankman catches him and dumps him on the mat with his Tankman Driver. Moriarty is out cold. Calvin Tankman wins this hoss fight!
Winner: Calvin Tankman
Post-Match: King Mo and Alex Kane want Calvin Tankman to join their fight team. The Heavyweight Hustle says he'll think about it and retreats to the back.
- Josef Samael says despite Jacob Fatu losing his World Heavyweight Championship, they took home the best trophy, and that's knowing Alex Hammerstone go injured during their match. Samael and CONTRA Unit want Hammerstone at War Chamber!
- Speaking of the dual champion, Alex Hammerstone walks into Cesar Duran's office. He's there to relinquish his National Openweight Championship. Duran says the next Openweight Champion has some big shoes to fill. They speak about Samael's proposal for War Chamber. Hammerstone thinks he can recruit a couple of guys to his team.
 Alicia Atout's Expose:
Ms. Alicia Atout has spent some time learning more about Cesar Duran. She was able to obtain some footage from his last ever appearance on Lucha Underground. In the video, Duran is hurryingly grabbing documents and shoving them in his briefcase.
Since his departure, he's been traveling around the world, doing business deals with some shady people. In another video, we see him on the phone. He says during his conversation, "A Wolf in the Henhouse." Atout would like to know if his past will catch up to him here on MLW.
Going back to yesteryear, we see a woman franticly looking for something. She seems upset she can't find it. When she sees a camera, she takes a statue of sorts and destroys the camera.
This investigation is far from over. Stay tuned!
- Before Davey Richards and Tom Lawlor duel in the main event, we hear from both of them. Can Lawlor become the two-time Opera Cup Champion, or will Richards send Lawlor falling to the sidelines?
Breaking News: Alex Hammerstone and Richard Holliday will reunite Dynasty to take on CONTRA Unit at War Chamber next month!
Next week:
* The second opening round match for the Opera Cup will continue next week with Matt Cross taking on Calvin Tankman.
Delmi Exo (w/Ashley Vox) vs. Brittany Blake
Delmi Exo applies a tight waist lock on Brittany Blake. Blake falls to the mat. Once on her feet, she tries for an arm drag attempt, but Exo overpowers her and sends her to the corner with an Irish Whip. Blake counters an exploder suplex. Exo holds Blake in a Northern Lights Suplex for two. Blake traps Exo with a lotus lock. Blake floats over and turns it into a pin. Exo pops out at two. Exo turns Blake inside out with three vicious clotheslines. Exo hits a perfect cutter. She hooks in another cover. Blake maneuvers out. Blake connects an enziguri to the back of Exo's head before connecting a tornado DDT. Blake misses a double-foot stomp. Exo closes this thing out with an Exocution (Pedigree) for the pinfall victory!
Winner: Delmi Exo
Backstage: Willow Nightingale is feeling herself after her big win last week. Her goal is to continue climbing the ranks and becoming MLW's first-ever Featherweight Champion.
- Alex Hammerstone recruits EJ Nduka to his team at War Chamber.
Breaking News: Will Ospreay will make his MLW debut in December when the company heads to New York!
- Following Alicia Atout's expose earlier, Cesar Duran denies everything she said about him.
Injury Report: We're told that Richard Holliday suffered an injury following CONTRA Unit's heinous attack on him and Hammerstone two weeks ago. It's reported that his case is day-by-day. Last week, Alex Hammerstone suffered a hairline ankle fracture. He should be cleared to compete at MLW's next TV tapings on Saturday, November. 6.
And now, the main event! Which fighter will be the first to punch their ticket in this year's Opera Cup Tournament?
Opening Round Match: Tom Lawlor (w/Kevin Ku) vs. Davey Richards
Both men take to the mat by showcasing their catch as catch can skills. Tom Lawlor trips Davey Richards back down on the mat and hooks on an armbar. Richards counters it into an inverted surfboard stretch. Lawlor throws Richards into the guardrail just before a quick break.
Heading back to the show, Richards connects a perfect leg strike straight across Lawlor's chest. Lawlor grabs Richards' hand and slams it down on the steel stairs. Back in the ring, Lawlor has Richards trapped in the corner with a foot chokehold. Lawlor sends Richards for a ride with a bulldog. Lawlor with a cover, Richards comes out at two.
Lawlor shuts down more roundhouse kicks from Richards. Richards wrenches Lawlor's knee with an assist from the ropes. Richards and Lawlor are in the center. Richards holds him in the cloverleaf position. Lawlor struggles for a minute but drags himself to the bottom rope. Lawlor finds himself again locks in a guillotine. Richards, surprisingly, slips out and turns it into an ankle lock. Both men's counters can be compared to two chess players. No matter the move, the other man has a counter.
Richards plunges off the top with a double foot stomp. Cover. Lawlor kicks out. Richards holds Lawlor in another ankle lock. Lawlor is trying to inch himself over to the ropes. He starts to fade and decides to tap out. The America Wolf has ended Lawlor's potential shot at becoming a two-time Opera Cup winner!
Winner: Davey Richards
- Davey Richards now advances to the semifinals of the Opera Cup Tournament.
-The IWA/MLW Caribbean Heavyweight Champion Richard Holliday is invited into Cesar Duran's office. Duran informs Holliday he will have to defend his title next week against King Muertes!
- Before tonight's show concludes, 5150 jump Injustice while they're cutting a promo on them.
That concludes this week's episode. Thanks for watching!