RK-Bro-Nament To Continue On Next Week's WWE RAW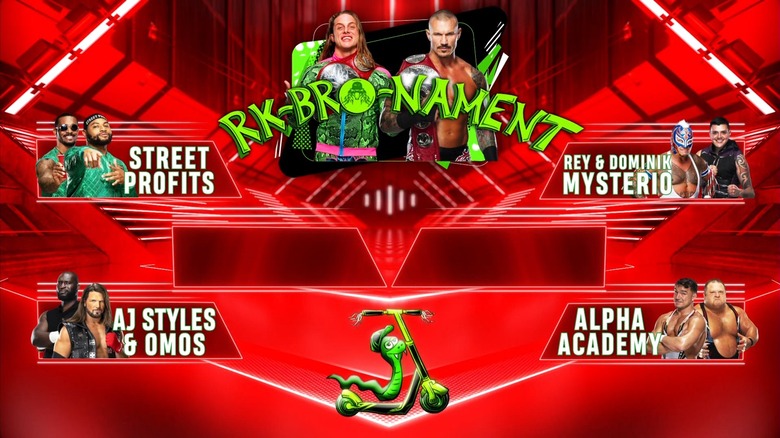 WWE
The inaugural RK-Bro-Nament kicked off on tonight's WWE RAW to determine the new #1 contenders to RAW Tag Team Champions Randy Orton and Riddle.
The opening match saw The Street Profits defeat AJ Styles and Omos after tension between AJ and Omos. The second match saw Rey Mysterio and Dominik Mysterio defeat Alpha Academy to advance.
Next week's RAW will now feature The Street Profits vs. The Mysterios, with the winners becoming the new #1 contenders to Orton and Riddle.
There's no word on when the RAW Tag Team Titles will be defended, but it looks like the tournament winners will get their shot at the WWE Day 1 pay-per-view on Saturday, January 1.
Stay tuned for more. Below are related shots from tonight's segments and matches on RAW:
The RK-BRO-NAMENT begins TONIGHT on #WWERaw

Who will be next in line to challenge @RandyOrton & @SuperKingofBros for the Raw #TagTeamTitles?! pic.twitter.com/0B4IMTCn94

— WWE (@WWE) December 7, 2021
.@SuperKingofBros ..... Aaaaaaace Reporter for the Daily Globe! #WWERaw@RandyOrton pic.twitter.com/6SzAUOZMBr

— WWE (@WWE) December 7, 2021
It took @RandyOrton long enough to wear pants ... now he's finally wearing a blazer! 🙌@SuperKingofBros#WWERaw pic.twitter.com/7I9nQMYidJ

— WWE (@WWE) December 7, 2021
The King of Memphis!@JerryLawler#WWERaw pic.twitter.com/R982NKHFcZ

— WWE (@WWE) December 7, 2021
𝙖𝙬𝙠𝙬𝙖𝙧𝙙#WWERaw @WWENikkiASH @RheaRipley_WWE @JerryLawler pic.twitter.com/AybNwaWhrr

— WWE (@WWE) December 7, 2021
name this duo
wrong answers only#WWERaw pic.twitter.com/AvLLe6jL9z

— WWE (@WWE) December 7, 2021
RK-Blazer@SuperKingofBros @RandyOrton #WWERaw pic.twitter.com/FZXwxoKPEx

— WWE (@WWE) December 7, 2021
A tale of two moods.@RandyOrton@SuperKingofBros#WWERaw pic.twitter.com/hNAflvA16V

— WWE (@WWE) December 7, 2021
Who's BAD?@MontezFordWWE#WWERaw pic.twitter.com/N2udI1KJb9

— WWE (@WWE) December 7, 2021
.@TheGiantOmos just got rocked & rolled!#WWERaw pic.twitter.com/7qBpaa95bO

— WWE (@WWE) December 7, 2021
"When I tell you to do something, you gotta listen!" – @AJStylesOrg@TheGiantOmos didn't take too kindly to that. #WWERaw pic.twitter.com/5L3W5gjngC

— WWE (@WWE) December 7, 2021
Cue the song from The Incredible Hulk... 😭@TheGiantOmos@AJStylesOrg#WWERaw pic.twitter.com/AJG7OBnN9Y

— WWE (@WWE) December 7, 2021
Nuff said.@RandyOrton#WWERaw pic.twitter.com/lMtMEJmzpi

— WWE (@WWE) December 7, 2021
Kid's got potential. 🎤@SuperKingofBros#WWERaw pic.twitter.com/7H0f3H94qr

— WWE (@WWE) December 7, 2021
just a couple of studs@otiswwe @WWEGable #WWERaw pic.twitter.com/iuRI3iQ50o

— WWE (@WWE) December 7, 2021
WOAH.@DomMysterio35#WWERaw pic.twitter.com/IbGpanSO2Z

— WWE (@WWE) December 7, 2021
The #RKBronament rolls on and WHAT A SLAP by @DomMysterio35!!!#WWERaw @reymysterio @WWEGable @otiswwe pic.twitter.com/ZdDWZ0g3XI

— WWE (@WWE) December 7, 2021
.@DomMysterio35 & @reymysterio advance in the RK-BRO-NAMENT!@SuperKingofBros#WWERaw pic.twitter.com/u7d6VGaHhR

— WWE (@WWE) December 7, 2021
NEXT MONDAY on #WWERaw@reymysterio & @DomMysterio35 vs. #StreetProfits in the FINALS of the RK-BRO-NAMENT! pic.twitter.com/HTwg5WrcWK

— WWE (@WWE) December 7, 2021
#AlphaAcademy has a lot left in the tank!@SuperKingofBros#WWERaw pic.twitter.com/D4ghZLSdvb

— WWE (@WWE) December 7, 2021
Who will win the entire RK-BRO-NAMENT? 🐍🛴@AngeloDawkins & @MontezFordWWE vs. @reymysterio & @DomMysterio35 next Monday on #WWERaw! pic.twitter.com/W2i2PU6pwJ

— WWE (@WWE) December 7, 2021