AJ Mendez Addresses Whether She Will Wrestle Again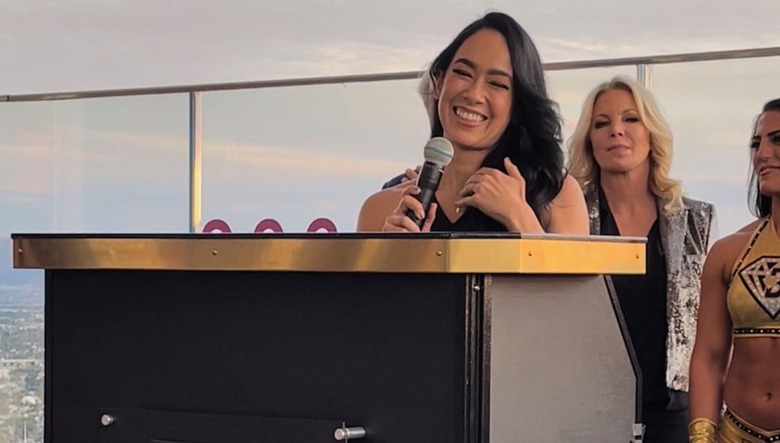 Twitter
If you're a fan of AJ Mendez, formerly known as AJ Lee, don't hold your breath waiting for an in-ring return.
"I'm going to keep it feeling great by not wrestling," Mendez said, discussing her late-career neck injury during a recent appearance on "The Sessions" with Renee Paquette. "I hurt my neck really bad the last year, and when it happened in the ring, I thought I was paralyzed, which was the scariest thing ever."
Mendez originally made her WWE debut on Season 3 of "NXT" in late 2010, back when it was still a kayfabe game show. She came in third place behind Naomi and eventual winner Kaitlyn, but all three were hired by WWE alongside fellow participants Aksana and Maxine (who would later star in "Lucha Underground" as Catrina). Lee ended up being one of the most successful competitors of the Divas era, racking up three Divas Championships, including a record-setting 295-day reign that was only eclipsed by Nikki Bella's 301. Lee also featured prominently in several major WWE storylines, acting as a romantic interest for top WWE stars like Daniel Bryan, Kane, Dolph Ziggler, John Cena, and CM Punk, who would later become her real-life husband.
Lee isn't exactly sure when she hurt her neck, but she's pretty sure it was in a match with Paige, who ironically would eventually be forced into retirement with a neck injury of her own. Their lengthy feud (and subsequent alliance) was Mendez' last major program before retiring in 2015.
"I f*cked up her move," Lee said. "I like, jumped a little early and I landed on the top of my head, couldn't feel my legs, and they were like, 'You gotta sell to hard cam,' and I was like, [whispering] 'I can't feel my legs.' And then I just roll over and sell to harm cam.
"And then I got my feeling back and went to the doctor, it turned out three of my discs are so compacted it is shutting off a nerve, so my hands just go numb randomly ... I had the option to do surgery to alleviate that pain or do rehab, and I went the rehab route. I was doing rehab and I was still on the road as champion ... My hands still go numb, but other than that, I was very lucky!"
Lee hasn't stepped back into the ring since the "Monday Night Raw" after "WrestleMania 31," where she teamed with Naomi and Paige to defeat the team of Natalya and the Bella Twins. Lee has done work for WOW, but that remains as her only venture in the world of pro wrestling. When pressed by Paquette about whether or not WWE had ever approached her for a return, Mendez had no comment.
If you use any quotes from this article, please credit "The Sessions" with Renee Paquette with a h/t to Wrestling Inc. for the transcription.