10 Awesome AEW Tag Teams That Brought Excitement To The Promotion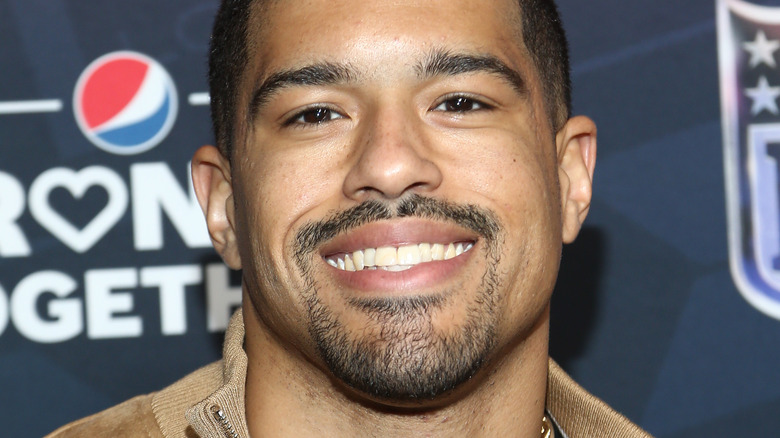 Tommaso Boddi/Getty Images
Given that two of the founding executive vice presidents of AEW, Matt and Nick Jackson, are one of the best tag teams of their generation, it can't be much of a surprise that AEW has put a lot of focus into their tag division from day one. In some wrestling promotions over the years, we've seen anemic divisions propped up by just a few teams that were sold as unimportant in the grand scheme of their companies. Meanwhile, in AEW tag teams are usually given prominent spots on cards and are sometimes among the hottest acts on a given night. Look back at AEW's history and you might be surprised to see just how many of your favorite matches and moments haven't been one and one competitions.
In fact, AEW has managed to build a roster of quality teams so big that there hardly seems room for all of them. Today we're going to highlight ten awesome teams that we think have been big parts of putting the division, and the promotion, on the map. Some have been here since day one, some are more recent arrivals. Many were pre-existing teams brought in from other places, but a few were formed right before our very eyes on TV and PPV. But no matter their origins, every team on this list has brought the goods, be it with matches or even with great promos.
Honorable Mention: The Stables
Before we get into the list of teams, we need to tip our cap to all the great tag matches from people who aren't in dedicated duos. AEW is a federation built around stables, with most wrestlers having some sort of affiliation with one. Take AEW's original Tag Team Champions, SCU. Yes, Frankie Kazarian and Scorpio Sky were the most common partners from that stable and the ones who held the tag titles, but they also found time for matches in different combinations with teammate Christopher Daniels. Ditto for stables like House of Black, where on any given night you could see a different configuration. There have been many great AEW tag matches from wrestlers who aren't in a strict two-person team.
We also want to shout out all the tag matches larger than two on two. AEW has been big on six-man tags, even before they instituted a Trios Title. Going even beyond that, some of AEW's most famous team-based matches have been massive ten-man wars, such as Stadium Stampede, Anarchy in the Arena, and Blood and Guts. AEW's gigantic roster encourages them to go big on tags in order to get as many people on the shows as possible, and as a result, we've been given a treasure trove of tag matches in all types and sizes. There is something special about the simplicity of the classic two-person tag team though, so let's get to the real list.
The Young Bucks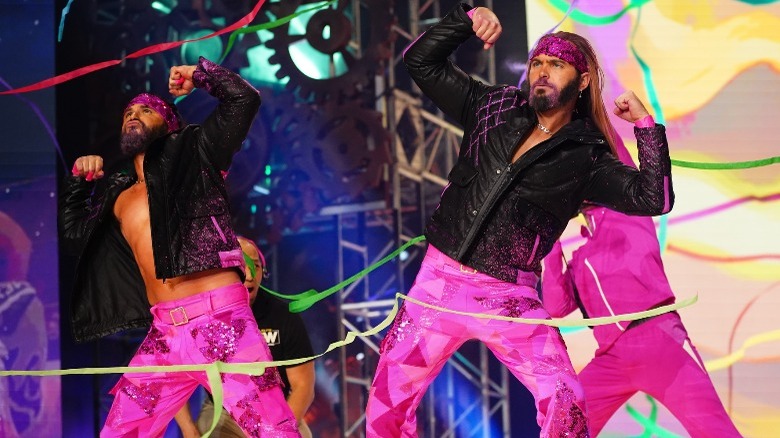 AEW
Come on, can there be any other team we'd start this list off with other than the Young Bucks? They are the DNA of this promotion. Without the Bucks, there is no Elite, and without the Elite, there is no All Elite Wrestling. They work behind the scenes, and their "Being the Elite" web series continues to be a showcase for some of the roster's personalities, as well as sometimes a place where storylines are advanced. They've also been way more selfless than you'd expect wrestlers in their position to be in terms of putting other teams over, at times almost to a fault. In so many ways, the Bucks are the MVPs of AEW's tag roster.
The most impressive thing? Throw all of that out and just focus on their wrestling, and they still are at the top of the mountain. In the ring, the Bucks are a hall of fame worthy duo, who can hit the greatest heights in terms of match quality, but also have one of the highest floors. Regardless of who they're matched up against, a Young Bucks tag is almost always some level of fun. They're the pizza of tag teams, even a bad version of themselves is still pretty good. A lot of their contemporaries, including others on this list, have had their best matches ever against Nick and Matt. They're the bar other teams of this generation are measured against.
The Lucha Brothers
From the Bucks we move on to perhaps their best opponents, Rey Fenix and Penta El Zero M, the Lucha Brothers. From their regular tags to their ladder match to their cage match, the Bucks and Lucha Bros' best matches against each other stand as not just some of the best tag bouts in AEW history, but some of the best wrestling matches of any form anywhere in the world in recent years. When AEW was just getting off the ground, it was the matches these two teams had that helped kicked things off. Years later, when AEW made its debut in California and the Bucks had their chance to handpick any team to face in what was basically their hometown, they chose Fenix and Penta. That's respect.
Watch a couple of Lucha Bros matches and you'll quickly see how that respect was earned. Rey Fenix may be the best high flyer of the last decade, a man who seems to defy gravity and physics and makes fans feel like they did when they first discovered another wrestler named Rey a few decades ago. Penta is a perfect partner as the heavier, more powerful base. More importantly, Penta is a charisma machine. How many other wrestlers can seem so cool while saying so little? The two men are both excellent talents on their own, but together there's a special way their strengths stack together and at the end of the day — isn't that a big reason tag wrestling is so awesome?
Proud and Powerful
Debuting at the very first All Out, one of the very first free agent teams signed after the initial founding of AEW was Proud and Powerful. Previously known for their work as LAX in Impact, Santana and Ortiz were pretty much immediately given the highest profile spot of their careers by AEW when they were slotted into Chris Jericho's new Inner Circle stable. It was a great move, with the two getting the name-value rub of being aligned with a top star and Jericho in turn getting to partner with a workhorse tag team with a cool aura. Soon, dream matches with the two teams they attacked in their AEW debut, the Young Bucks and Lucha Bros, would follow.
Proud and Powerful have maybe been taken a little for granted in AEW, but have been valuable contributors. Consistent hard workers, they've been involved in a bunch of excellent matches, be it two on two or as part of larger tags. Where they carved out a little piece of AEW history for themselves though was the Parking Lot Brawl they had with The Best Friends. One of the highlights of wrestling's COVID era, the four men had an absolutely bonkers no-DQ battle that would turn out to be the best match of either team's career. It was a night where Santana and Ortiz proved they didn't need fans, or even a ring, to steal the show.
Best Friends
The team Proud and Powerful created that magic moment with, The Best Friends, are also very deserving of being on this list. Yet though the two teams made beautiful music together in that one match, they couldn't be more different in terms of characters. Where Santana and Ortiz are all grit and street cred, Trent Beretta and Chuck Taylor are all about being colorful, silly, and lovable. This is a team whose signature move is taking a mid-match hug break and somehow they make it work. They're the perfect allies of another of AEW's lovable odd ducks, Orange Cassidy.
Best Friends are at their best when they're up to goofy antics. They've stacked on top of each other and thrown on a trenchcoat like they were kids sneaking into an R-rated movie. They've had Trent's Mom drive them to and from multiple shows. Even their Twitter accounts are among some of the funniest in the business. At the same time, their comedy sometimes hides the fact that they are a good team bell to bell, two veteran workers who have both even made stops in New Japan. There have been tag teams in wrestling history that can't wrestle a lick and live or die on their ability to make people laugh. Chuck and Trent bring the humor without sacrificing the wrestling.
Jurassic Express
This is a team that just felt made for each other. On one hand, you had Jungle Boy, a young hot prospect — smaller, agile. On the other, you had Luchasaurus, a veteran who had been on the scene for years, had come up through WWE developmental and Lucha Underground, a man with the size and intimidation factor. The wrestling Tarzan and the wrestling dinosaur. Working together briefly as "A Boy and His Dinosaur" on the independents before being rechristened as Jurassic Express in AEW, this is a team whose progression we saw week by week. They went from a fun undercard team to AEW's tag champs, one that could be counted on to deliver good matches week in and week out.
At times, others have tagged along for the fun. Marko Stunt served as a mascot for the team, while Christian would later lend his veteran guidance. What remained constant was how this team was a crowd-pleaser from day one, no matter who was in their corner. There was something so fun about seeing Jungle Boy run around with the likes of the Young Bucks, keeping up with them as they worked a million miles a minute, only for Luchasaurus to then turn the tide hitting a big power move, and then whipping out some kind of feat of athleticism you would not expect from a guy his size. Jurassic Express' pre-existing gimmicks synced up beautifully, but how they filled each other's gaps was just as important.
Swerve In Our Glory
Keith Lee and Swerve Strickland have followed similar career trajectories. Both were standouts on the independent scene. Both went on to success in NXT and got called up to the main roster, only to get released. Lee and Strickland even both debuted in AEW in the same one-month span. They joined forces almost immediately, forming the team Swerve In Our Glory. On one hand, it seemed a natural fit given their parallel paths, but on another, it seemed very unnatural in terms of their personalities. Swerve has an edge to him, is loud, brash, cocky, never afraid to say what's on his mind. Lee, meanwhile, carries a quiet confidence and a polite demeanor.
That contrast turned out to be half the fun. There was friction between the two men in storyline very quickly after forming a team, and it felt like they were being put together only to immediately feud with each other. Instead, the team just kept winning, carving a path to the AEW Tag Team Titles. The odd couple dynamic of two completely personalities that sometimes clash but find great success together was a hit. Of course, it doesn't hurt that the two kill it bell to bell as well. Lee does things in the ring that seem impossible for a man his size and Swerve brings a top-tier swagger to everything he does. A breakout act, they seemed poised to reign on top for a long time.
The Acclaimed
Turns out that the only thing that could stop Swerve In Our Glory was not themselves, but another act that had the momentum of a runaway freight train. The Acclaimed are one of AEW's truly homegrown teams, personally put together by Tony Khan. Fans got to see them grow in real-time, developing their chemistry and personas. The charisma was always there, with Max Caster's pre-match raps being the initial draw. Anthony Bowens was no slouch in that department himself, and was the more polished of the two from an in-ring standpoint. The team was humming along as a fun act in the middle of the card, with not many people crying out for them to be elevated. And then Billy Gunn came along.
Uniting with the tag legend during a storyline they had with his sons, The Gunn Club, The Acclaimed found an unlikely chemistry with Billy and a new catchphrase hook when Billy became scissoring partner "Daddy Ass." It was more than a hand gesture that pushed Caster and Bowens to the top though. At All Out 2022, The Acclaimed had a show-stealing performance when they challenged Swerve In Our Glory for the tag titles. They lost the match, but proved in that one night that they could be as entertaining wrestling as they were talking. Immediately fans were calling for a rematch and new champs, and just weeks later at Grand Slam, they got both. The Acclaimed have arrived.
2.0
"Daddy Magic" Matt Menard and "Cool Hand" Angelo Parker are shining examples of what a change of scenery can do for a team. When AEW gave them a look after they were released from WWE, some fans complained that, on a roster already overstuffed with talent, 2.0 was a somewhat pointless signing. But with just a small opportunity, the team quickly showed off their biggest strength, which was charisma. They overflowed with it and were pure entertainment in whatever opportunities they received, no matter the size. Soon official AEW contracts followed, along with spots in Chris Jericho's new stable, the Jericho Appreciation Society.
2.0 have proven to be a great utility team for AEW. They excel at comedy, but they are more than capable in the ring. They're great henchmen, and also perfect veteran opponents for people that need a little hand-holding, be it rookies like Hook or celebrities like Action Bronson. What people didn't expect was their hidden talent of cutting emotional, serious promos. Menard in particular gained some real buzz for one particular interview after a brutal Blood and Guts match. Backstage, covered in blood, Matt gave an emotional, impassioned speech about the sacrifices he made for wrestling, including missing his son's first steps. It was not just incredibly compelling, it opened a lot of eyes that as good as 2.0 has already been in AEW, there's a whole other world of potential yet to be tapped from them.
Kenny Omega and Adam Page
Often when you throw tag titles on two singles stars, it's a sign that the division is weak and you're out of ideas for it. As this list has hopefully proved, that's never been the case for AEW. So when they did visit that trope by uniting Kenny Omega and Adam Page, it wasn't out of desperation, but for a legitimate reason, part of a storyline that would last over a year and culminate in a PPV main event between the two. While Page and Omega ended up becoming champs, they didn't run over the division and weren't made to look four levels above every other team. In their matches, they were in tough to win the belts and in tough to keep them.
The payoff to the Page/Omega team wasn't just the storyline between the two, it was the tag matches themselves. To no one's surprise, when you put two excellent solo wrestlers together, you often create a great tag team. In particular, their title defense against the Young Bucks at the 2020 Revolution PPV stands as one of the greatest tag matches in wrestling history. Yes, this team was short-lived, but that match alone is so fantastic it warrants everyone involved with it a place on this list. Kenny and Adam were an example of how good a brief tag run from single stars can be when it's done right.
FTR
We started this list with the Young Bucks, so it only makes sense to finish with the Yang to their Yin, FTR. Where the Bucks love nothing better than to troll old-fashioned veteran thinking, FTR celebrates the past at every turn. Take a closer look, though, and you'll see in the ring, the two teams share much more in common. Yes, FTR will pull out tribute moves to teams of yesteryear, but just like the Bucks, they work a fast-paced, action-packed style full of modern offense. Oh, and just like the Bucks, FTR are one of the best tag teams of this generation. Cash Wheeler and Dax Harwood had already authored a long list of amazing tag matches before they got to AEW, and since their arrival, they've only added to it.
The long-awaited dream match with the Bucks delivered, but that's not FTR's only highlight since joining AEW. They were the team that was able to dethrone Omega and Page for the tag team titles, and they were chosen to be the tag team in MJF's stable, The Pinnacle. But it was when they turned face that the team really seemed to find their groove, reaching a level of popularity they had never seen before. Their two matches with the Briscoes in AEW's newly acquired sister promotion, ROH, rank with anything they've ever done and were key selling points of those PPVs. Simultaneously holding the ROH, AAA, and New Japan tag team titles, AEW has been FTR's home base as they established tag team supremacy across the globe.