Becky Lynch's Career Before Signing With The WWE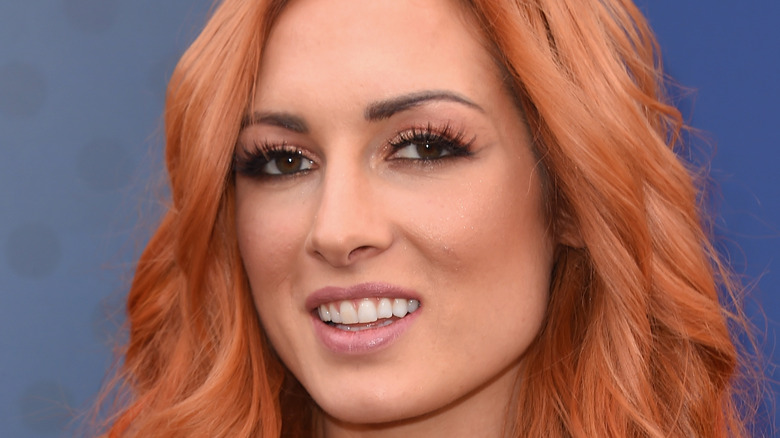 Michael Loccisano/acma2018/Getty Images
Becky Lynch has carved out her place in wrestling history as a multi-time WWE Women's Champion and the first woman to win a WrestleMania main event. What some fans may not know is that Lynch had a completely different occupation before joining WWE.
The Dublin native began wrestling at the young age of 15 when she started training under Finn Balor in Ireland. Once she hit adulthood, Lynch — whose real name is Rebecca Knox — moved to Canada to further her training. Unfortunately, in 2006, Lynch sustained a major concussion while competing in Germany. As a result, she decided to put her wrestling career on hold.
During her seven years away from the squared circle, Lynch tried her hand at a variety of "real" jobs. In particular, she served as a flight attendant for Aer Lingus for over two years, a job that her mother once occupied. Speaking to Sky Sports, she stated, "I knew it wasn't what I wanted to do with my life. I didn't know how to get out, so it was a tough time for me." During this period in her life, Becky suffered from depression.
Becky Lynch's return to wrestling
Sarah Stier/Getty Images
While looking to fill the void left by stepping away from the ring, Lynch obtained her B.A. in acting, which led to her being cast in plays and participating in stunt work for the television show "Vikings." It wasn't long after that before Becky Lynch took part in a WWE tryout in Birmingham, England.
"I remember going in without a doubt in my mind. There was no way I wasn't walking out of there without a contract. It didn't matter who was there, it didn't matter if you had the world's most elite athletes and freaking Victoria Secret models, or whatever they were looking for at the time, I was getting it," she told ESPN in 2019.
Lynch impressed the likes of William Regal and Jim Ross at the tryout and signed with the "NXT" brand in 2013. From there, she would eventually work her way up to superstardom.
Needless to say, life took Becky Lynch in several different directions before bringing her back to the one thing that helped her put all of her passions together. Lynch has captivated audiences worldwide, whether as the "Irish Lass-kicker," "The Man," or "Big Time Becks." Now that she's accomplished virtually everything there is to do in the squared circle, the world waits to see what is next.