Facts About Bray Wyatt Only Hardcore Fans Know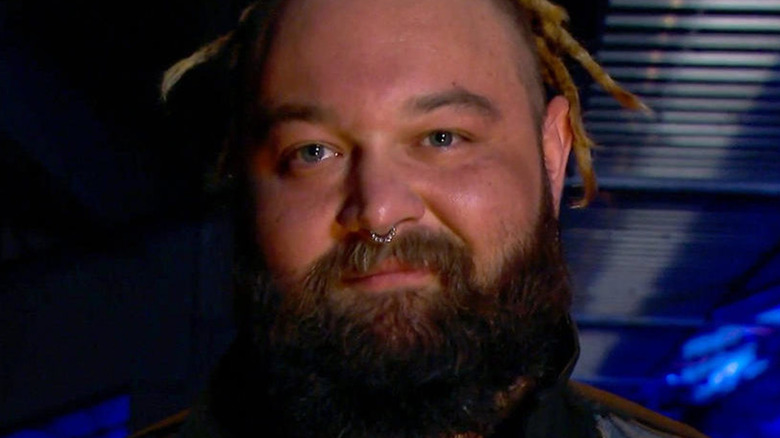 WWE
Bray Wyatt, also known as Windham Rotunda, claims to have the whole world in his hands — and by this point, it's fairly hard to argue with him. If the size of the reaction for his return at Extreme Rules 2022 was any indication, Wyatt has cemented himself as this generation's Undertaker equivalent. From his methodically creepy promo delivery to his eye-catching horror visuals, the man is truly in a league of his own. Despite the fact that the powers that be might have stifled him a bit over the years, the fan support for him has rarely wavered.
Whether he was leading his followers through the darkness or teaching the Muscle Man Dance, Wyatt has never delivered anything less than 110%. But what's really going on behind all the smokes, mirrors and creepy masks and what are the true facts surrounding the Eater of Worlds? Grab your lanterns and follow the buzzards, because these are facts about Bray Wyatt that only hardcore fans know.
He thought everyone went to work and wrestled when he was growing up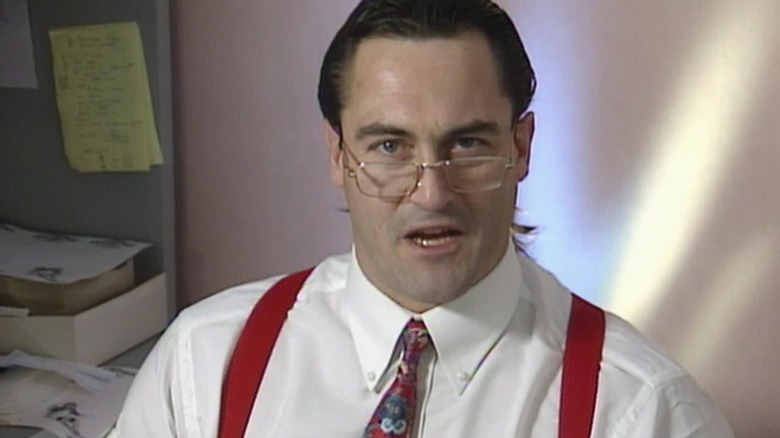 WWE
It's no secret by now that professional wrestling has always been in Bray Wyatt's blood, due in large part to his family. Wyatt, real name Windham Rotunda, is the son of Mike Rotunda AKA Irwin R. Schyster and the grandson of Blackjack Mulligan. In addition, Rotunda's brother Taylor is better known as Bo Dallas, WWE star and the third ever NXT Champion. This fact regarding Wyatt's wrestling heritage, though hardly acknowledged on screen, has been circulated online in countless videos and articles. However, what many won't know is how this upbringing slightly distorted a young Wyatt's perception of the real world.
In an interview with The Daily Journal, summated on 411Mania, Wyatt took the time to explain his adorably naïve world view. He noted, "Growing up in that environment is a strange thing. Most people couldn't imagine it. When I was a child, I thought everyone was a wrestler. I thought when you went to work, you went to go wrestle." While the image of professional wrestling being everyone's job is hilarious, sadly that is not the world we live in.
He once had a different career path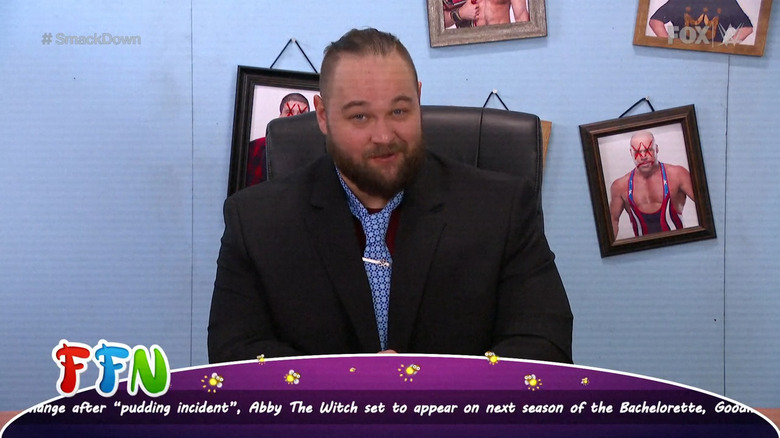 WWE
It's a bit weird to imagine Bray Wyatt in any career other than professional wrestling, which makes this next fact all the more bizarre. Much like many professional wrestlers, Wyatt began with aspirations of playing football, even getting a head start in high school (via Hernando Today). This parlayed into a collegiate football scholarship to Troy University, his last stop before fully embracing wrestling as his career.
It was during his time as a Troy student that Wyatt also looked to major in the field of broadcast journalism. This does make a certain amount of sense, as Rotunda's greatest in terms of wrestling has always been his eloquent style of speech. This career path obviously didn't come to pass, as Rotunda dropped out just 27 credits shy of his bachelor's degree. This premature departure was made in order for him to pursue his true passion and his family's vocation, professional wrestling. Clearly, that decision paid off, but it's still humorous to imagine Bray Wyatt in the newsroom as opposed to the squared circle.
Bray's beginnings in WWE were rough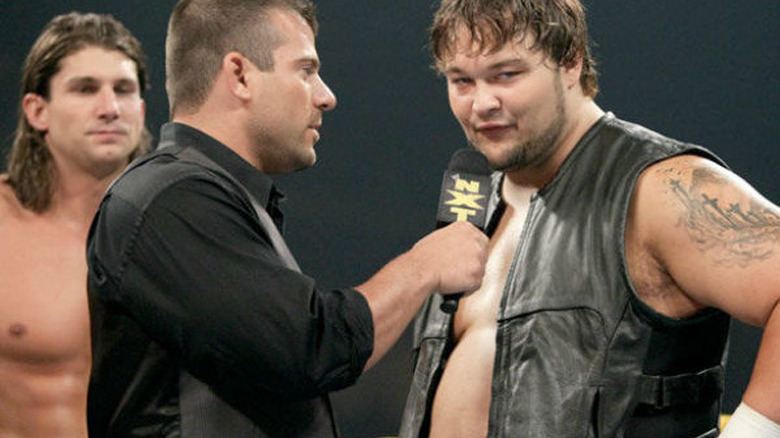 WWE
In stark contrast to the highly touted presence he is today, Bray Wyatt was once at the bottom of the pro wrestling ladder. Following a run in FCW alongside his brother Taylor, Rotunda was repackaged as Husky Harris, a play on his heavy physique. In an early promo following this name change, Harris even referred to himself as a "Tank with a Ferrari engine." After this comical rebranding, Harris was given a slot on "NXT" in 2010 under the onscreen-tutelage of Cody Rhodes. This eventually led to Harris joining the Nexus faction. His major contributions were being fed to whomever Nexus 2.0 were feuding with that particular week, be it John Cena or Randy Orton.
It was the latter who saw fit to punt Harris in the head on a 2011 episode of "Raw," which saw him written off television. This allowed Harris to be sent back down to WWE's developmental system for some much needed refurbishing. Everyone has to start somewhere, but sadly the early 2010s served as a painful proving ground for the third generation talent.
He was once a Jason Voorhees rip off
Following his stagnant run as Husky Harris, Rotunda was sent back down to WWE's developmental system for a revamp. In the first example of utilizing horror tinted imagery for his in-ring persona, Rotunda began wearing a pseudo-SlipKnot mask. Along with this new visual accoutrement came a new name, that being Axl Mulligan — a reference to his legendary grandfather. The gimmick was a far cry from Rotunda's later ones in terms of quality and presentation, but was a marked improvement over his previous one.
It was under the veil of this refurbished persona that Rotunda began showing traits he'd later use as Bray Wyatt. This included his bizarre crab walk, modeled after Reagan from "The Exorcist," and his pose while slumped in the corner. The gimmick never made it to "FCW TV," with the only known footage of its existence being fan cam footage from early-2011. It was a step in the right direction, but only a taste of the madness that Rotunda would soon unleash on the wrestling world.
His original gimmick was given to him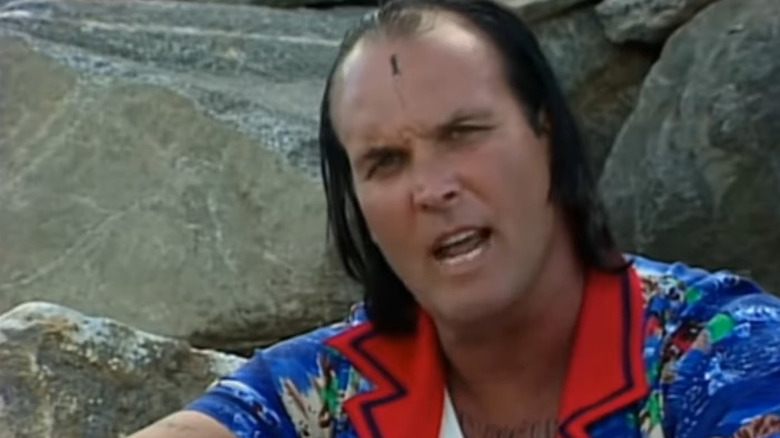 WWE
Rotunda arrived on the other side of his retooling in FCW as Bray Wyatt, a sinister southern preacher with a silver tongue. Complete with a stylish fedora and a Hawaiian shirt, the new and improved Bray Wyatt was definitely rocking some "Cape Fear" vibes. His fashion sense and manner of speech was a dead ringer for the film's main character Max Cady, played in 1991 by Robert De Niro. However, Wyatt wasn't the first man to take influence from Cady, as Waylon Mercy had done it nearly two decades prior.
For years, Dan Spivey was a true wrestling journeyman, stepping between the ropes for the likes of WCW, AJW, and WWE. During his time in WWE, Spivey also took a page out of Max Cady's book and created the Waylon Mercy persona. He came complete with a Hawaiian shirt and a barrage of cryptic words, often delivered in a polite southern drawl. This subdued demeanor stood in sharp contrast to his matches, wherein he'd take great pleasure in decimating opponents. During an interview on "The Steve Austin Show," Wyatt revealed to Steve that Spivey had happily bequeathed the character to him during a Performance Center visit.
He originally had a different tag team partner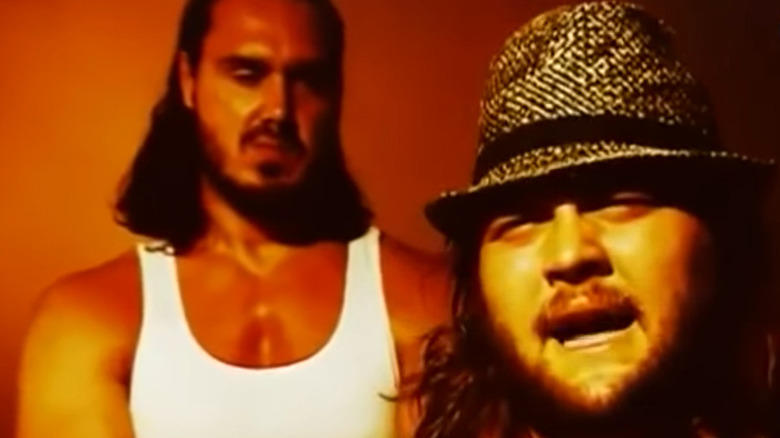 WWE
Over the course of his career, especially in WWE, Wyatt has seen many tag team partners and confidants. From his own brother to The Wyatt Family to Randy Orton to Alexa Bliss, Wyatt has seen his fair share of partners and sidekicks. However, one partner that many fans will likely be unable to recall is Eli Cottonwood AKA Kipp Christianson. 
This was an interesting period for WWE's development system, as the whole thing was on the verge of a tremendous overall. In 2012, Florida Championship Wrestling was rebranded into NXT, WWE's unofficial third brand and developmental space for future stars.
Amidst this transition, Bray Wyatt appeared alongside Cottonwood, teasing a tag team consisting of the duo. This included a promo wherein Wyatt, with Cottonwood listening on, told a story where he burned his own father's boat down. 
The pairing wouldn't last long, as that very same year Wyatt was set up with Luke Harper and Erick Rowan. The Wyatt Family made quite the impression in NXT during their run, quickly becoming favorites amongst the early NXT fans. Considering the faction's now-well established legacy, it's hard to imagine Wyatt breaking big with anyone else at his side.
Bray setup the Fiend very early
One of Bray Wyatt's greatest strengths has often been the multitude of easter eggs and lore he packs into his personas. A good example of this are the names he gave his roster of puppets on the Firefly Fun House. This includes Mercy the Buzzard, an homage to Waylon Mercy who'd given Bray his original gimmick, and Abby the Witch, a cartoon version of Sister Abigail. It was these little references that intrigued fans as to what dark secrets the Fun House truly held within. This was eventually revealed to be The Fiend, a monstrous new persona with which Wyatt would dominate the WWE universe.
However, while he debuted in 2019, The Fiend was actually set up much earlier and in a rather interesting way. As a Halloween treat, WWE released a series of videos featuring wrestlers, including Dean Ambrose and Paige, telling "Superstar Ghost Stories." But when Bray got his turn to tell a story, he saw fit to regale viewers with the story of the man in the woods. In this tale, Bray recounted a brush with a mysterious entity in his childhood woods — a large man with pale white skin and wispy long yellow hair. This description, matched with the eerie screaming that accompanied him, is a dead ringer for what would eventually emerge as The Fiend.
He's known for staying quiet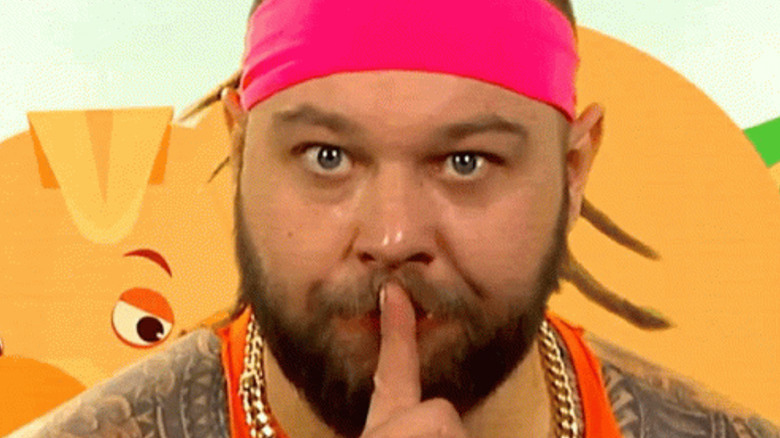 WWE
As Kenny Rogers once said, "You've got to know when to hold 'em, know when to fold 'em, know when to walk away." Bray Wyatt has certainly been one to keep fans, and even his colleagues, guessing in terms of his next moves. A major example of this came in 2018 when, following a run with Broken Matt Hardy, Wyatt took time off from television. This resulted in a lengthy eight month absence, wherein the often vocal Wyatt made nary a peep online or otherwise. This silence was eventually broken with the emergence of the Firefly Fun House gimmicks and arrival of The Fiend.
During the aforementioned eight month sabbatical, Wyatt largely isolated himself, working on developing his eclectic new gimmick. Braun Strowman, a former member of the Wyatt family, commented on this during an interview conducted by Sam Roberts on the "Notsam Wrestling" podcast. The Monster Among Men even noted that "He got in a pretty weird place for a while with what was going on character-wise, and he literally went into the drawing board and started from scratch." He'd even go on to say that "[Bray] cut himself off from the world," a true endorsement of his friend's dedication to his craft.
Braun Strowman is his son's godfather
During their peak, The Wyatt Family were truly one of WWE's more consistent and entertaining heel factions. Tag and trios matches between the Wyatt Family and the likes of The Shield, The Usos, and The New Day were frequent show stealers. Partway through the faction's existence, they received a new recruit in the form of Braun Strowman — a hulking beast of a man complete with an impressively on-brand beard. While Strowman was undoubtedly still finding his way between the ropes, his size and strength was enough to cement him as a dominant presence. Strowman and Wyatt have even squared off with each other, sharing a delightfully cornball feud part way through 2021
Despite his intimidating presence, Strowman and Wyatt's real life friendship is nothing short of heartwarming. Case in point, Strowman confirming his status as the godfather for Bray's child via a supremely adorable Instagram photo. It helps to have friends, but it helps even more when that friend is the size of a semi truck.
Bray Wyatt worked with Tom Savini
In the world of horror cinema and special effects, there are few names that carry as much respect as Tom Savini's. The man's work has been the backbone of several horror classics, including: "Friday the 13th," "Creepshow" and "Day of the Dead." It's only fitting then, that WWE's modern master of the massacre, Bray Wyatt, would collaborate with Mr. Savini. Interestingly enough, Wyatt isn't the first WWE talent to work with Savini, as confirmed on the Paltrocast show. From Triple H to Alexa Bliss, Savini has had a hand in looks for many men and women of the squared circle (via Fightful).
So when Bray Wyatt handed Savini and fellow effects artist Jason Baker some concept art from Kyle A. Scarborough for The Fiend, he knew the idea was in good hands. Savini churned out the mask for The Fiend, a haunting white maw complete with dark carved out eyes and sharp yellow teeth. Needless to say, Savini was integral to the Fiend's now legendary look, here's hoping he and Bray will team up again in the future.
He has cinematic aspirations
Bray Wyatt has always shown a great appreciation for horror cinema throughout his WWE career, often lifting elements from some of the genre's best. From the "Texas Chainsaw Massacre"-tinted visuals of his early days to the "Nightmare on Elm Street" aesthetics from the Firefly Fun House, Bray certainly has taste when it comes to madmen and monsters.
Following his 2021 release from WWE, Bray Wyatt once again went off the grid, fueling rampant speculation regarding his next career move. As is now the norm for Wyatt, he hardly made a peep during his downtime, sans a few sporadic tweets and posts. One major update finally arrived courtesy of effects artist Jason Baker who revealed that he and Bray were teaming up once again. Baker explained that he had been collaborating with Wyatt on a potential horror film, one with a rather interesting log line. He was quoted as saying that their tentative film was to be "Ichi the Killer meets Xanadu" (via Metro). Earlier this year, Baker appeared on the "Roll & Roll Beer City" podcast to confirm that the film was still in the works.
Not every idea he's had has made it to television
In a recent interview with Ariel Helwani, Triple H commented on Bray Wyatt, stating that "[His] mind just never stops thinking of creative, but it's like being in a whirlwind of stuff." Indeed, as Wyatt's creativity can best be described as a whirlwind of macabre madness. From his swamp-tinted sermons to the Firefly Fun House to his recent White Rabbit ARG content, the man's mind has crafted some true gems.
That being said, not every single one of Wyatt's ideas have manifested on WWE television, with many not leaving the conceptual stage. One of Wyatt's frequent collaborators, tattoo artist and illustrator Kyle A. Scarborough, has helped craft many of his creations. This includes the design for the Fiend and the severed head lantern that he'd carry to the ring before matches. However, following Wyatt's 2021 release, Scarborough revealed some ideas that never left the drawing board, including a Fiend persona equivalent for Alexa Bliss. Additionally, he explained how a pitch for a real life Firefly Fun House was kicked around behind the scenes. This pitch was toyed with enough that concept art for a deranged variant of Huskus the Pig Boy was mocked up.