The Meaning Behind Chris Jericho's Music Persona Moongoose McQueen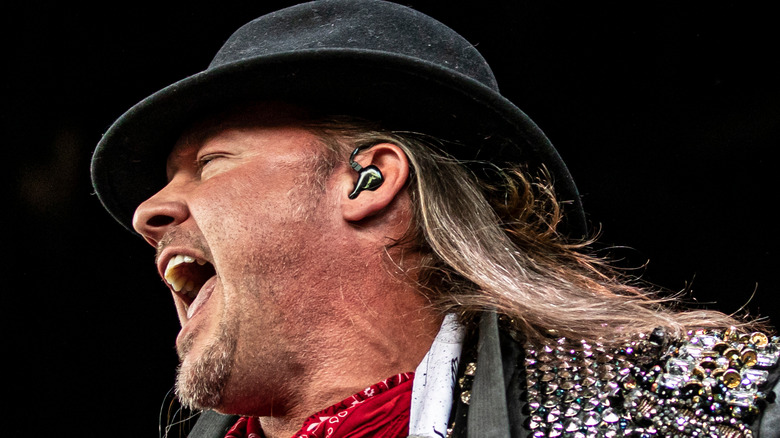 Crystal Huffman/Shutterstock
Chris Jericho is mostly known for his wrestling career thanks to his work in WWE, ECW, WCW, NJPW, and AEW. Outside of the squared circle, however, he's an author, actor, television personality, podcaster, and cruise enthusiast. However, rock and heavy metal fans might know "The Wizard" for his band Fozzy, and those who were there from the start will remember Moongoose McQueen.
Formed in 1999, Fozzy has released eight studio albums and a slew of high-charting singles as of this writing. Their song "Judas" — which Jericho currently uses as his theme music in AEW and NJPW — recently achieved gold status, proving that the "Ayatollah of Rock 'n' Rolla" is just as over with rock fans as he is with wrestling enthusiasts.
Jericho's fame from wrestling probably hasn't hampered Fozzy's success throughout the years. Back in the day, though, he distanced himself from his wrestling persona and used a separate moniker while performing rock 'n' roll.
Moongoose McQueen is the name Chris Jericho's old metal gimmick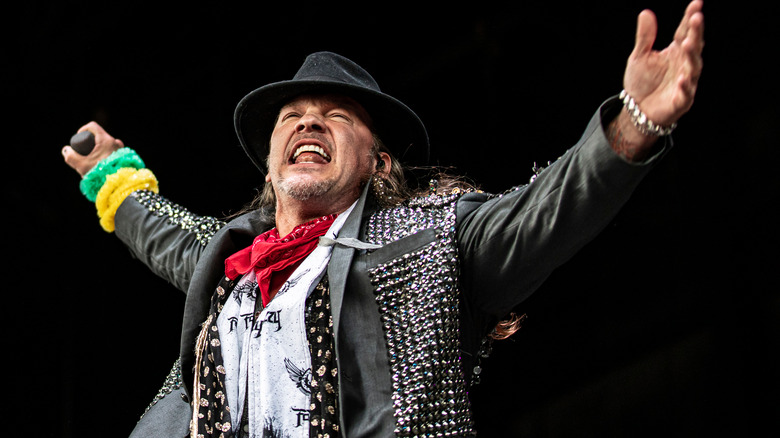 Crystal Huffman/Shutterstock
When Fozzy started out, they were a spoof band that mainly covered songs by other artists such as Iron Maiden and Judas Priest. They even came up with their own backstory, claiming that they signed with a Japanese record company that went out of business, which led to them being stuck in the Land of the Rising Sun for 20 years while popular Western metal bands stole their songs (via The Pop Break). Chris Jericho, meanwhile, adopted the persona of Moongoose McQueen, the arrogant lead singer who disrespected other rockstars and insisted that he and his wrestling persona were entirely different people.
However, Jericho took cues from sports entertainment during Fozzy's early years, as his McQueen persona was a gimmick that he used to try and attract fans. "People don't pay to see David Lee Roth. They pay to see Diamond Dave. They pay to see Paul Stanley as the Star Child. And that's what it is with Fozzy," Jericho told MTV in 2002. "Moongoose McQueen is the most pompous, arrogant lead singer of all time, but also flamboyant, very charismatic, and one of the greatest live performers of all time in his own head."
Eventually, Jericho came clean and admitted that he was Moongoose McQueen the entire time. Nowadays, Fozzy is widely regarded as a credible metal band and Jericho is more than happy to use his main persona in his rock career.