WWE Hall Of Famer Recalls Kissing The Undertaker On The Lips After A Match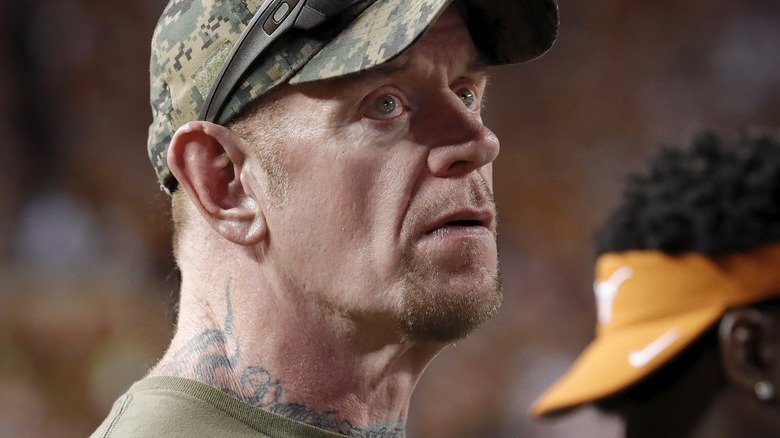 Tim Warner/Getty Images
While answering questions on his "The Kurt Angle Show" podcast, Kurt Angle shared a story about him trying to get The Undertaker to break character.
"I got the Undertaker one night, we were over in Japan and we ended up having this match," said Angle. "Afterward, you know, him and I shook hands and then I gave him like, 'Let's hug,' we went to hug, and I kissed him on the lips. He was so freaking mad. He's like, 'It's a long plane ride home, Angle,' that's what he said to me. But I kissed him right on the lips. The only time I ever heard him laugh."
Angle and The Undertaker had a long history together while in the WWE. The two faced each other countless times including at WWE No Way Out 2006, where Angle pinned The Undertaker and retained the WWE World Heavyweight Championship. The title match was almost over 30 minutes long too.
In past interviews, the Olympic gold medalist has spoken about how The Undertaker was a positive influence on him early in his WWE career. One of Angle and The Undertaker's earliest matches was in 2000 at the Fully Loaded pay-per-view, where The Undertaker got the win over Angle. The show also featured a last man standing match between Triple H and Chris Jericho, and even a cage match between Rikishi and Val Venis for the Intercontinental Championship. 
Angle's appearances in WWE are infrequent these days, but he made his "WWE SmackDown" return recently, appearing on the December 9 episode to celebrate his 54th birthday.
If you use any quotes from this article, please credit "The Kurt Angle Show" podcast with a h/t to Wrestling Inc. for the transcription.