Ricky Steamboat Reveals Why He Won't Compete In A Royal Rumble Match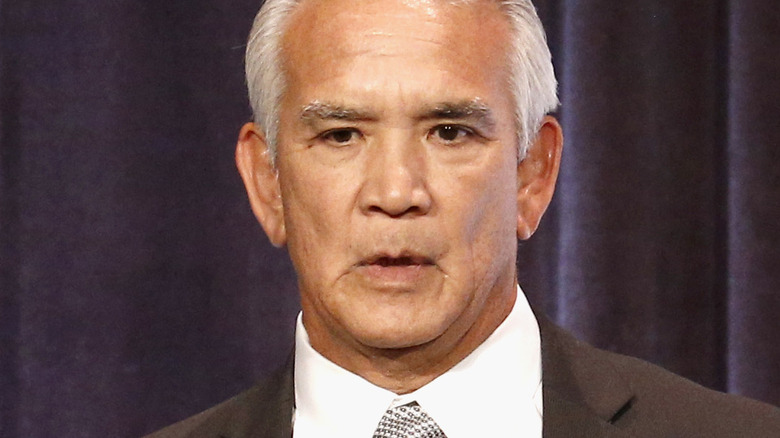 Brian Ach/Getty Images
January has begun, and that means we are getting closer and closer to the annual WWE Royal Rumble premium live event. It's expected that the titular matches of the event -– the men's and women's Royal Rumbles –- will likely feature surprise entrants, as they typically do each year. However, WWE Hall of Famer Ricky "The Dragon" Steamboat wanted to make it clear that he's not interested in returning to WWE in a high-pressure matchup like the Rumble.
"I think it's too big of a stage for me. I had a really good showing 9 or 10 years ago ...12 years ago with [Chris Jericho at WWE Backlash in 2009]," Steamboat told Sportskeeda. "God bless him. He took care of me. That was really the last Steamboat that people saw .... I felt that was the last time that people saw 70% of the young guy. I could carry my weight, and that's the way I want it. No, Triple H could say, 'We're going to take care of you.' No, to be honest with you, it's just not in the heart anymore."
His return to WWE in 2009 brought him back to the limelight for younger wrestling fans to witness his greatness inside the squared circle. He managed to defeat Drew McIntyre in a singles match, and was also on the winning side when facing the team of Edge, Chris Jericho, Kane, Matt Hardy, and The Big Show during his brief but memorable stint. 
The last time Steamboat featured on television was the February 25, 2019, episode of "WWE Raw" for the birthday celebration of Ric Flair, which was ultimately sabotaged by a returning Batista. Steamboat returned to action this past November for Big Time Wrestling's event dedicated to him, "Enter The Dragon." On that night, FTR and Steamboat defeated Brock Anderson, Jay Lethal, and Nick Aldis in a six-man tag team match.