Ricky Steamboat Discusses Return To The Ring, Tagging With FTR, Possible WWE & AEW Matches, New WWE Leadership, More! - Exclusive
Gilbert Carrasquillo/Getty Images
This Sunday, WWE Hall of Fame inductee Ricky "The Dragon" Steamboat will return to in-ring action for the first time in 12 years. Steamboat will team up with FTR, the IWGP/AAA/ROH World Tag Team Champions, to take on Jay "Black Machismo" Lethal, Brock Anderson and a mystery opponent. Of course, Steamboat has many legendary rivals so the mystery opponent could be someone very notable.
The last time fans saw Steamboat in action on a major stage was back in 2009 when he seemingly turned back time in a feud against Chris Jericho. The two men initially faced off in a 3-on-1 handicap match at WWE WrestleMania 25 when Steamboat teamed with fellow WWE Hall of Fame inductees Jimmy "Superfly" Snuka and "Rowdy" Roddy Piper against Jericho. Jericho was able to come out victorious that night but that wouldn't be the last shot Steamboat got against the now former AEW world champion. Steamboat blew people away with his WrestleMania performance and was granted a singles match against Jericho at WWE Backlash later that month. Jericho once again came out on top but it was Steamboat who walked away from the experience a winner in the eyes of many. Notably, Steamboat declined participating in Ric Flair's last match in July.
In this exclusive interview with Wrestling Inc. Senior News Editor Nick Hausman, Steamboat opens up about his decision to return to the ring, what his future looks like, the changing WWE landscape, and more!
You can watch Big Time Wrestling: Return Of The Dragon this Sunday at 5e/4c on FITE.
Redefining The Game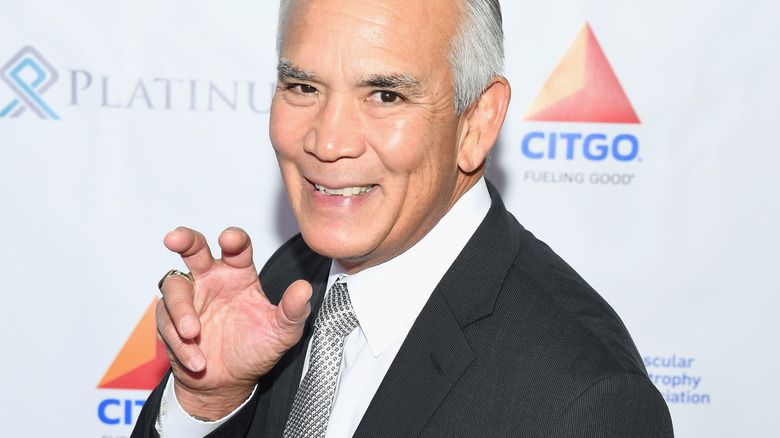 Dave Kotinsky/Getty Images
Nick Hausman: Wow. Ricky, thank you so much for talking to me today, man.
Ricky Steamboat: You're welcome. Thanks for being... It seems like you're a big time fan.
Well, Ricky, you probably hear this from a lot of people of my generation, I'm 37. I mean, you're going to do an homage to you and Randy Savage as part of the Big Time Wrestling thing, right? Jay Lethal is going to be Black Machismo, but, dude, you changed the game. That WrestleMania 3 match specifically a lot of people point to, but your style man, you were way ahead of the curve. I don't know if that resonates with you when I say something like that.
I've been told that and there were a lot of things I took into consideration when I started in the business and I capitalize on them. And because I did what I did, the other team, the heels, or bad guys, afterwards, they enjoyed working with me in the ring. I guess I turned out to be like a chameleon because it didn't matter if I worked with a guy that had a style that was fast like a Savage or a guy that was slower. And I'll throw a name out there for the Carolinas. His name was Blackjack Mulligan, he was a big man, and another guy by Ernie Ladd. Both were big men. 6-foot-5, 6-foot- 7, 340 pounds. So the difference in style of a Rick Flair and those guys, or a Randy Savage and those guys, I learned early on.
See, a lot of guys would say, I want you to work my style. But I learned early on to adapt to their style because guys can't work my style if I was working my regular style of up-and-down and quick-and-fast and they just couldn't go the speed. So I learned early on to adjust to their style and I was able to do that, but at the same time, sprinkle in some Ricky Steamboat dust throughout those type of matches.
Man, that "Ricky Steamboat Dust," that's really the glue that holds it all together, man. And I like that you called yourself a chameleon. It's always some kind of reptile with you.
Stepping Back Into The Ring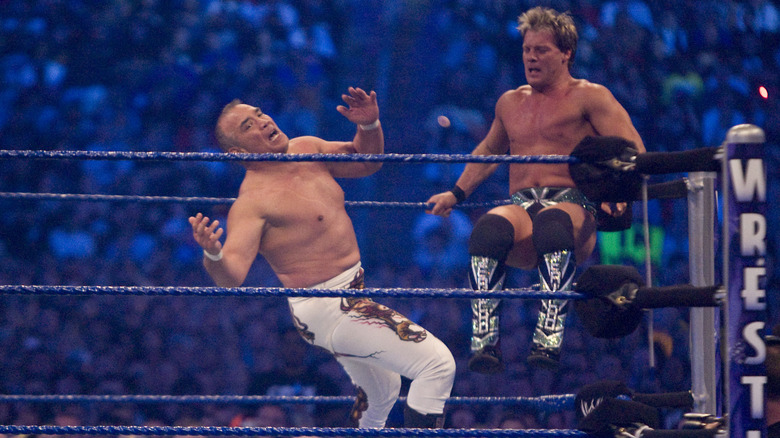 Bill Olive/Getty Images
I've got to ask on behalf of all the fans, why now? Why have you decided this is the time to get back and have another match?
This took almost four months for me to make a decision. It was very difficult. And before I could give a final, this past month or so, I've been... Glenn Jacobs, that name ring any bells?
Yeah, that's Kane. I know who Glenn Jacobs is.
Yeah. And Tom Pritchard, they have a wrestling school outside of Knoxville... So for the past month or so, I've been venturing down to that school once or twice a week just to get some back. But I learned more so on my limitations.
Okay.
Like you said, it was 12 years ago the last time I was in the ring. But at that time I was one of the trainers, coaches for WWE. So I was pretty active at the school, getting in the ring with the young guys and being more hands-on. I learned this past month that I've acquired new limitations and then some of the things that I thought that I could do well, I capitalized on those when I was practicing.
I kept saying to myself, 'Ricky, don't be stupid. Don't be stupid. Don't let ego get in the way.' So [I'm] still able to sprinkle some of that dust, Steamboat dust, and hopefully the fans in Raleigh will enjoy reminiscing, going back. But you asked why. I was thinking that the longer I wait, the less chance I will have. I'll be 70 in February and Mother Nature does creep up on you and the older you get, it creeps up on you faster. And Raleigh's Dorton Arena holds a special place in my heart. I've been around the world, wrestled in Japan, the Madison Square Gardens, Philadelphia Spectrums, and the list of places that I've wrestled and headlined goes on and on, but good old Raleigh, North Carolina, Dorton Arena. And I've got a specific reason: I stepped into the ring with the world champion for the first time and it was Harley Race. And he was old school, tough guy. He was an old-timer tough, brought up in the '60s, this guy. And so that was the first time I ever stepped in the ring with the world champion.
And then the second reason: back in the day, the main events had 60 minute time limits. And it was the very first time I wrestled anybody to a 60-minute time limit, to a draw. And I did it with the world champ. So Raleigh holds a very dear and close wrestling memory out of all the places that I've been. You could go with me and Savage at the Silverdome in Pontiac, Michigan, at WrestleMania III. But that match, it wasn't filmed, it wasn't televised, it was just what you call a regular house show match. But what a night it was for me to be in the ring with the champion and then go 60 minutes and hold my own with him. So for that very reason, and a big thanks to all the fans in Raleigh that have come out over the years to support Mid-Atlantic. Jim Crockett was the promoter and I was there from '77 to '85. So eight years of being in one territory back in the day was a pretty good stretch.
Setting The Stage For A Return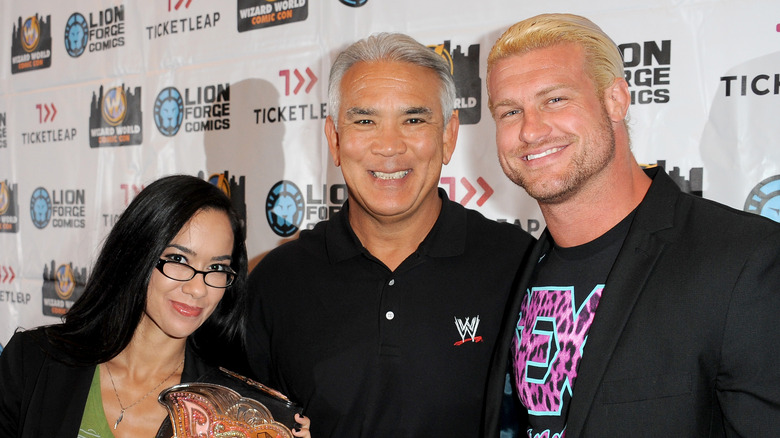 Albert L. Ortega/Getty Images
If this goes well and you feel good when you get in there, do you want to have one more big AEW or WWE match? I mean, is that something the cards you see for yourself or no?
I really don't think, I don't think so. Going down to Pritchard's ring, understanding my limitations and just going to give it one more shot. I don't have the type of ego to where I need to go out there, whether it's to enjoy it or whether to prove something that I can still do it. I don't have that mindset. I'm looking at this really as a big thank you to all the fans in Raleigh. That's basically, and the reasons that I gave. Being in the ring for the first time and the support. Being in the ring the first time with the world champion, the support they gave me through the eight years that I campaigned throughout the Carolinas. And that's the reason, I'm passing off a big thank you card to the wrestling fans. That's what come to my mind.
And it's got to mean a lot to the guys that you're tagging with. FTR obviously have a lot of respect for the business, their connection with Bret Hart. And now you. Whose idea was it for FTR to be your tag team partners for this big match?
Well, let me tell you this. Like I said, this, for me to make a final, final decision was three or four months in the making. I just didn't jump on it the first time I was approached from Big Time Wrestling and I have an agent guy, Tony Hunter, who also works with Big Time Wrestling, and when I was first approached, but FTR, when I was first approached were heels.
Right.
They were going to be two guys on the other side of the ring that I was going to be wrestling.
Oh.
And AEW turned them baby faces, turned them good guy. So they said, 'We can't have heels working against you, Ricky, you're a baby face. So what would you think if we had them as your partners?' And I thought it was great too because they were at the school WWE, back in the day when I was a trainer and I'd work with them in the ring and I know they're good hands and I'm glad how they've grown in the business with AEW. And so the adversaries, the Jay Lethal and then Old Arn Anderson's boy, Brock and they still got a mystery partner and I haven't been privy to the mystery partner. Can you believe this? It's coming up this week.
I was going to see if we could get a tease because you have so many legendary rivals. There's any number of people this person could be, Ricky.
Yeah, I know. And there's been names that have been thrown at me and every time they throw a name out, I say, yeah, worked with him and on and on. But they never got the signature. They never nailed it. And it's not that they don't have somebody. I've heard through the grapevine, through my agent, that they do, but they want to make sure everything is... I's are dotted and t's are crossed before they make the big announcement. So here we are, what are we? About four or five days, four days out. And even the Dragon doesn't know the mystery partner, they weren't fooling.
A Changing Of The Guard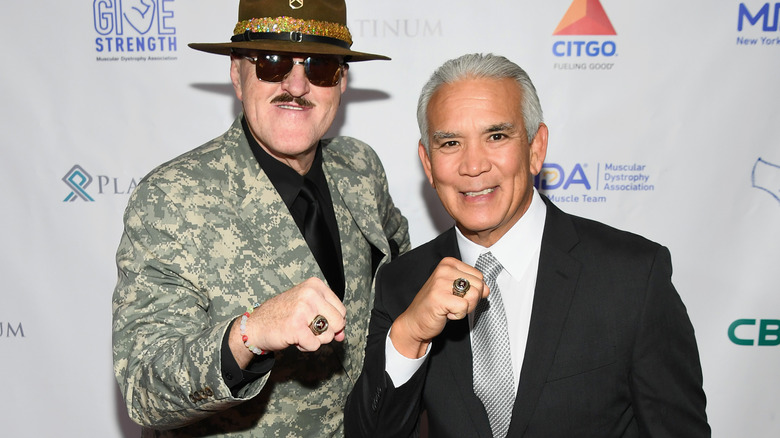 Dave Kotinsky/Getty Images
You brought up Brock Anderson. I was going to ask you about Brock, obviously you and Arn, rivals, partners, you guys have a lot of history together. What do you think of Brock? What's it like for you to stand across the ring and work with this kid?
When the first time I heard it was Brock, it immediately brought back memories of working with his dad. And I've never worked with Brock, not even coaching, but I do have a feeling that it's going to be stepping in the ring with a young Arn Anderson. And I'm really looking forward to it. I'm looking forward to locking up with him just like the way I locked up with his dad. And I also understand that Arn's going to be there sitting in their corner.
Oh, okay. So I don't know, maybe a little something happens there. I don't know.
There might be some outside fare with the enforcer.
Well, Ricky, I did want to ask you while I have a couple minutes, man, the pro wrestling landscape has changed so much this year and we're kind of closing in on the end of 2022. As somebody who has obviously dedicated their life to this and also spent a lot of time in a lot of different roles with WWE, what do you think about the new direction of the company under Triple H and Stephanie? How do you think they're doing without Vince McMahon right now?
To be honest, I had not watched a whole lot. But what I have watched, and also what I've heard, is I like the fact that you have to bring wrestling to 2022, but they have not relinquished, I believe the foundation of the business and some of the old school stuff. The business was founded and carried for so many years on the ideology of the way I worked and Flair worked and all that. And I still see it being sprinkled among the young kids out there now. So I feel good about it, as long as they continue to do that, the psychology of the business, and keep bringing it back. I mean, it worked for so many years and if it's not broke, don't fix it, right?
Triple H's New WWE Creative Direction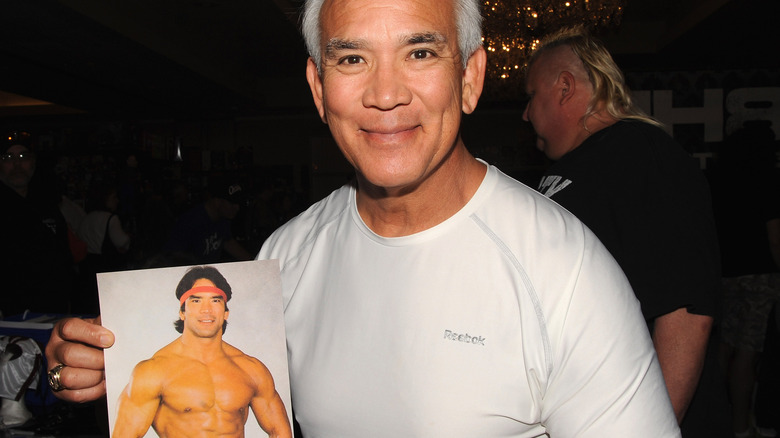 Bobby Bank/Getty Images
Yeah, for sure. And I mean, you were in that system. I mean, is that the vibe you get off of Triple H, do you get the impression he's going to continue to retain some of those old school things even as they try to grow and find, I guess, new ways to connect with audience and things like that?
Yeah, I have no doubt. I have no doubt. I worked with H [during his] first year or two in the business, when he was with WCW.
Oh, how was that?
It was just one of those enhancement matches and wasn't a main event thing, it was a TV enhancement. But I do remember that as a young kid, he's one of those guys that had it, that got it. Light bulbs clicked on. When you're talking to somebody about the story that you tell in your match, and very, very good diplomat, let me put it to you that way. A good diplomat and that's somebody that you need in the position that he's in, because that type of person who may have an idea but is also open to other people's ideas, other people's being wrestlers.
Sure.
Maybe their vision of how they see it, he's very open to that.
Okay, cool. Fair enough. All right, well, Ricky, hey, thank you so much. The pleasure was all mine here getting to speak with you.
Yeah, man.
And very much looking forward to your return to the ring this Sunday. Anything you want to let the fans know about, put over? Anything like that, as we wrap up here today?
Once again, I'm doing this just to, I don't know what, I'm not really passing the torch to, let's say the other guys in the ring. It's just more, like I said earlier, it's a huge big thank you card to all the fans that have supported this business and I hope they continue to come out to support the business. I've always had a lot of big respect to the fans because I wouldn't have what I have if it wasn't for them. They paid the money, they bought the tickets, and I'm in a good place and maybe it's just saying a big thanks to all that. Without them I wouldn't have what I have and I'm comfortable. Let me put it to you that way, both within my heart and soul and looking forward for me going out to greener pastures.