Ricky Steamboat's First Pro Wrestling Championship Came By Defeating Ric Flair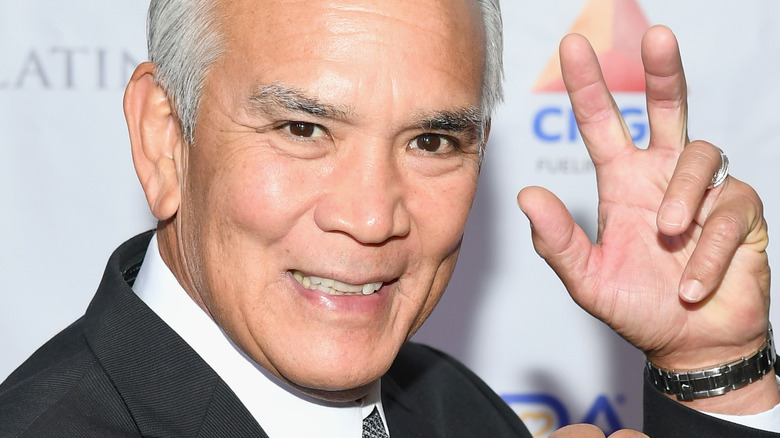 Dave Kotinsky/Getty Images
Before he was "The Dragon," and long before his days with WWE, Richard Henry Blood was simply Ricky Steamboat. Shortly before his debut with Championship Wrestling from Florida (CWF), promoter Eddie Graham walked him through what his ring name would be. Speaking with the "Shining Wizards Podcast" (h/t PWInsider) in May 2014, Blood recalled: "The late Eddie Graham gave me the Steamboat name. In 1976 I walked into the Tampa office and there sat Eddie Graham, and Verne Gagne had sent him pictures of me wrestling as 'Rick Blood,' and Eddie said what a great wrestling name — but for a heel."
From there, the Steamboat name was born — and just one year later, he would take his talents to Mid-Atlantic Championship Wrestling, thus embarking on arguably one of the greatest pro wrestling rivalries of all time, because it was there that he first collided with Ric Flair, ultimately setting up a decades-long rivalry in the process.
The chemistry between Steamboat and Flair was palpable from the start, and on June 15, 1977, Steamboat sent shockwaves through the promotion when he defeated Flair to become the Mid-Atlantic TV Champion — thereby securing his first-ever championship in pro wrestling. There's even old footage from a Mid-Atlantic house show bout between the two from 1978.
Ricky Steamboat and Ric Flair Were Long-Time Rivals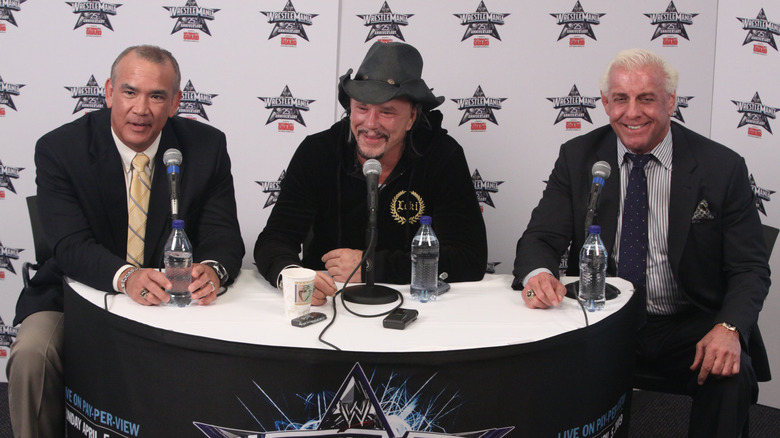 Bill Olive/Getty Images
Steamboat's early success didn't stop with that title win, however. And plenty of it would come at his rival's expense.
In August 1977, Steamboat teamed up with Paul Jones to defeat Flair and Greg Valentine for the Mid-Atlantic Tag Team titles. However, his Mid-Atlantic TV title reign would be short lived, with Baron von Raschke defeating him for the strap just four months later in October 1977. Not even a month later, though, Steamboat defeated Flair once again — this time capturing the United States title for the first time.
A WWE Hall of Famer as of 2009, "The Dragon" is one of the most decorated pro wrestlers of all time. All the way back in 1977, one of the great pro wrestling rivalries was born. It would have been fitting if, for Steamboat's last match, he could've faced his nemesis one last time. Yet while that was not meant to be, he still came back to feud with Chris Jericho — competing in but ultimately losing two memorable matches against him in 2009.