The Tragic Story Of The Von Erich Family
In the annals of professional wrestling history, the name "Von Erich" will always be a name that conjures feelings of joy and sadness in equal measure. What can one truly say about the prolific, iconic and unfortunately tragic saga of the Von Erich family wrestling dynasty? Their story is one built on perfecting their in-ring craft alongside each other as a family, resulting in ample mainstream success. However, it's also a story that shows just how good the pro wrestling business can be and how simultaneously cruel it can be as well. Spanning several years, this is a tale regarding how one of wrestling's greatest families fell from grace.
We cannot pretend this is the happiest of stories, but it serves as an important cautionary tale regarding one of the world's oldest sports. With A24's "The Iron Claw" — starring Zac Efron, Jeremy Allen White, and Maxwell Jacob Friedman — slated for release in 2023, the time is right to get all the facts straight.
This article contains mentions of substance abuse, self harm, and suicide.
The rise of Fritz Von Erich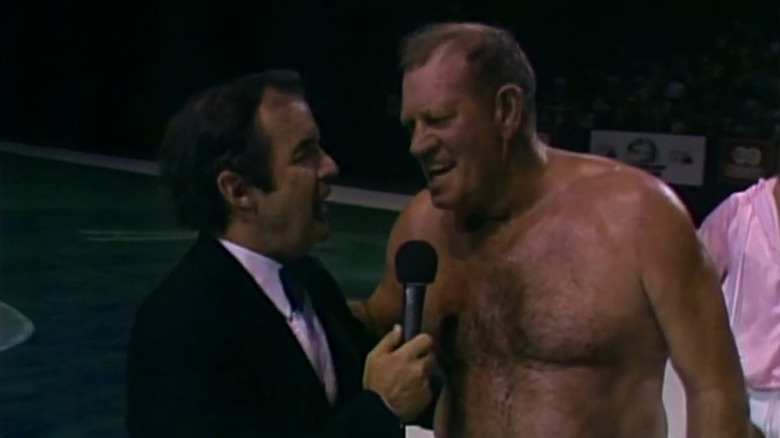 WWE
It pays to be the bad guy, but no more so than in professional wrestling, a business hinged on the battle between good and evil. The balance of in-ring skill mixed with a larger than life heel persona is perfectly exemplified by Jack Adkisson AKA Fritz Von Erich. Per Kevin Von Erich's interview in "Dark Side of the Ring," he noted that his dad, a former football player, wanted to stand out as a wrestling heel ... so he opted to portray a Nazi.
Fritz's problematic yet effective gimmick actually originated while he was training under the tutelage of another pro wrestling legend, Stu Hart. (Interestingly enough, Von Erich wasn't wrestling's first Nazi gimmick, that distinction still goes to Guy Larose AKA Hans Schmidt, who developed his persona following World War II.) Billed in kayfabe as being from Berlin, Von Erich quickly became a widely despised heel, especially alongside his tag team partner Waldo Von Erich, whose Nazi gimmick also preceded Fritz's. Despite neither being German, the two portrayed the most dastardly of foreign heels, easily able to rile up fans.
Throughout the '50s and '60s, few people could generate the kind of nuclear heat that Fritz could, easily preying upon people's patriotism. Fritz also became known as the creator of the Iron Claw, a simple yet effective move of grabbing an opponent's head/temples and squeezing. 
Fritz helped pave the way for his family's future success.
The death of Jack Junior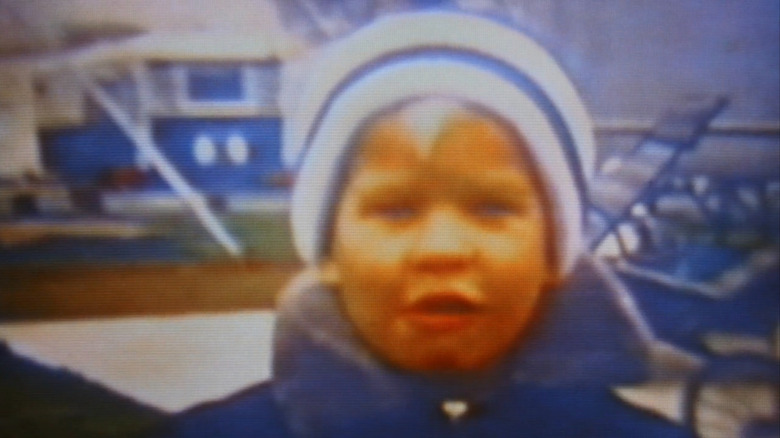 Vice
The darkness that grew to envelop the Von Erich family began in earnest, and quite tragically, with the family's youngest. In 1952, Fritz and his then-wife Doris welcomed his first son, Jack Barton Adkisson Junior, into the world. Sadly, Jack Junior, much like a majority of his brothers born after him, didn't get to live a long life. One snowy day in 1959, Jack Junior was electrocuted and subsequently drowned via a puddle in Niagara Falls, Canada.
Jack was declared dead at just the age of six — a definite tragedy and the first of many for the Von Erich clan. On "Dark Side of the Ring," Kerry confirmed having seen his father breaking windows in a violent rage following Jack's passing. His death, while emotionally damaging for sure, didn't stop Fritz from doing his job, who opted to maintain his weekly travels. Sadly, not much is documented in regards to Jack Junior's brief life aside from a few scant photos, home movies and some archived obituaries. 
This proved to be merely a precursor to the rampant tragedies that ended up defining the Von Erich legacy.
Like father, like son
The Von Erich boys all grew up watching their father work between the squared circle, learning about the business from a very early age. Born a year after one another, Kevin, David and Kerry Von Erich began training from a young age for careers in pro wrestling. Raised out in the country, the young Von Erichs, when they weren't training, would often hunt alongside their father. This instilled in them a strong familial bond that ended up benefiting them down the line, especially when in between the ropes.
Under their father's tutelage, the brothers all showed great promise in the ring. When the time was right, they were unleashed on the pro wrestling world, a task made easier via their father's position of power. Following the end of his in-ring career, Fritz took control of World Class Championship Wrestling AKA WCCW and proceeded to push his sons to the moon. Per Kevin's recollection on "Dark Side of the Ring," their sibling bond made it all the easier to communicate non-verbally in the ring. Before too long, the three brothers, with their dear old dad at the helm, were rocketing towards meteoric success.
They were very popular public figures
The Von Erich brothers — Kevin, David and Kerry — saw great success in pro wrestling during the '70s and '80s. This is due in part to many factors, not the least of which being their father helping to shine the spotlight on them. This spotlight in question was only magnified by the advent of wrestling's boom period on television helping them reach a wider mainstream audience. Each brother got the opportunity to stand out, with each one bringing something different to the table. In Kerry's case it was his physique and charisma, for David it was his understanding of technical wrestling and, for Kevin it was his mind blowing speed and agility.
The Von Erichs soon became household names, gracing television screens and even the pages of comic books, often in crazy science fiction style situations. Yes, there exist black and white comic books that saw the Von Erichs, with Fritz in tow, taking on intergalactic menaces. Additionally, the sibling trio found themselves in television commercials advertising the Pizza Inn restaurant chain, despite their comically limited acting abilities.
As the surviving sibling Kevin said on "Dark Side of the Ring," this increased exposure also made them quite popular with the ladies as well. Watch any match during the height of their popularity and you'll note the boys' frequent difficulty even entering through the often raucous crowds.
The death of David Von Erich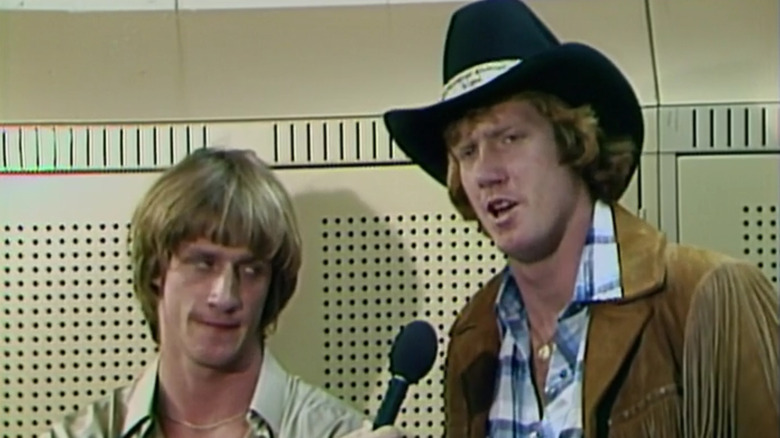 WWE
Often regarded as the best technical wrestler of the family, David Von Erich was en route for major success within pro wrestling. In fact, David seemed on track to beat then-NWA World Heavyweight Champion Ric Flair for the title in 1984. The story was already in place, with Mike Von Erich surviving a ten minute challenge with Flair to earn his brother a title shot. Unfortunately, those plans never came to fruition as that very same year, David Von Erich died at the age of 25.
David, serving as the reigning United National Champion, was set to wrestle several times over the course of the tour. However, on February 10, David was found dead in his hotel room, reportedly positioned as if he was reaching for the phone. While rumors persisted that David had overdosed on drugs, the truth was much different, as David had actually passed from a medical matter — specifically a tragic case of acute enteritis, resulting in ruptured intestines filling his body with blood causing a subsequent heart attack. News of David's death spread quickly and, as a highly publicized public figure, fans of the Von Erichs were devastated.
The death of Mike Von Erich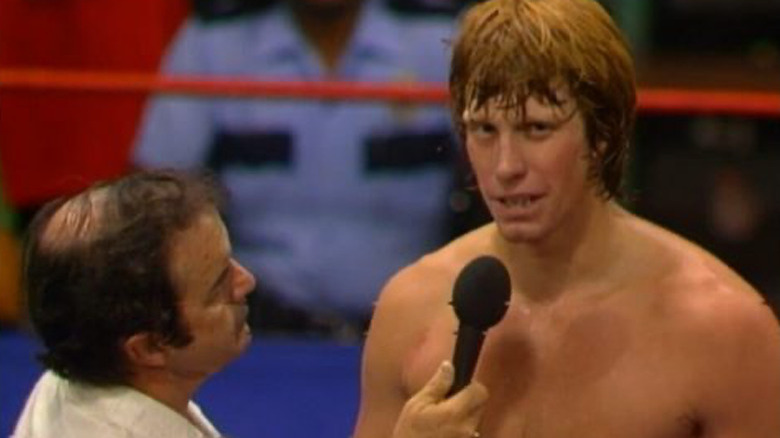 WWE
The hard times only continued for the Von Erich family with yet another unexpected passing just three years later. In 1987, Mike Von Erich suffered a shoulder injury while touring in Israel, receiving surgery on August 22 shortly thereafter. After the surgery and his subsequent release from the hospital, he developed a fever of 107 degrees — later revealed to be the result of toxic shock syndrome. This condition not only saw him losing weight, looking quite sickly as a result, but he'd suffered brain damage as well.
Given his appearance and limited communication ability, his following public appearances made for very uncomfortable viewing, a side effect of being brought back too soon. The family tried to carry on despite this, still trying to maintain the prestige of their in-ring brand. It became clear that Mike was no longer fit to compete, wrestling in a haze due to his condition. Things only worsened following an incident behind the wheel which resulted in Mike being arrested for a DWI charge.
Following this, as well as the pressure to compete at the level he had before, Mike could simply take no more. On April 12, 1987, Mike Von Erich was found in a sleeping bag, overdosed on tranquilizers only a short distance away from his childhood home. The third of Fritz's children has passed on and sadly, even more tragedies were on the horizon for the Von Erichs.
The death of Chris Von Erich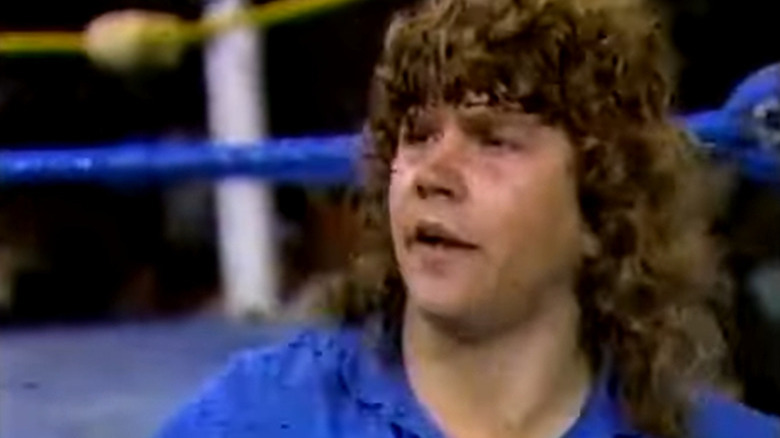 WWE
Chris Von Erich wanted nothing more than to be like his big brothers, a desire that ultimately turned out to be his downfall. The youngest of the Von Erich brothers, Chris sadly wasn't physically predisposed for pro wrestling — lacking any real size, strength, or agility. As noted by Jim Cornette on "Dark Side of the Ring," Chris also suffered from asthma, which severely limited his abilities as well. By the early '90s, Chris was wrestling full time, mostly alongside his brother Kevin, more so to compensate for his limited abilities.
As time went on, it became abundantly clear that despite his pleasant demeanor in real life, Chris wasn't cut out for wrestling. This pressure and sense of inadequacy, especially in comparison to his brothers, weighed on Chris until he simply couldn't cope anymore. It was later revealed that Chris, dealing with depression following Mike's passing, was severely abusing drugs in order to dull the pain. Experiencing distress on both a mental and physical level, Chris finally took his own life on September 12, 1991. Chris' body was found by Kevin outside of the Von Erich family farm, dead via a gunshot wound to the head.
The death of Kerry Von Erich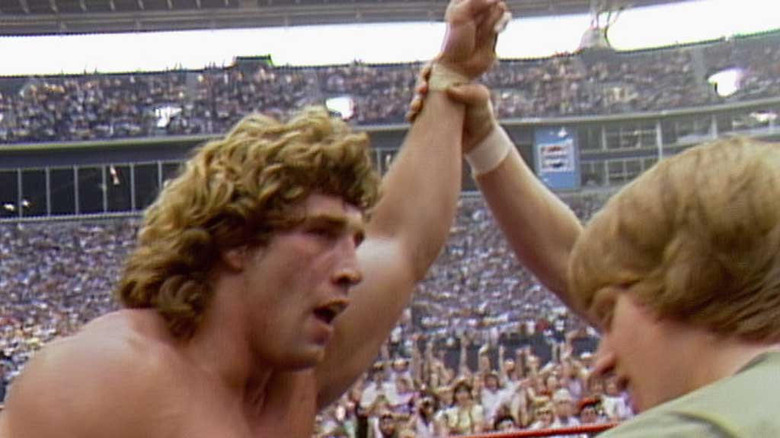 WWE
As previously mentioned, Kerry Von Erich was often viewed as the most marketable member of his family. Possessing a magazine-worthy physique and movie star style charisma, Kerry seemed destined for long term success. By far his biggest career accomplishment came in 1984, just three short months after the death of Mike Von Erich. Kerry ended up dethroning Ric Flair for the NWA World Heavyweight Championship in front of 45,000 at the Texas Stadium.
Sadly, following this stellar career accomplishment, Kerry's career was tragically rear ended just two years later via a motorcycle accident. This accident not only resulted in Kerry receiving a dislocated hip, but due to rushing his recovery would end up losing his right foot. Despite this clearly career-ending injury, Kerry was dead set on hiding it from the public and expected his family to maintain the ruse. This not only limited his in-ring ability but resulted in an addiction to painkillers and two subsequent arrests. At the same time, Kerry's marriage with his wife Cathy had also gone up in smoke in 1992. This swift downfall resulted in Kerry taking his own life via gunshot wound the next year, only a week or so after turning 33.
The death of Fritz Von Erich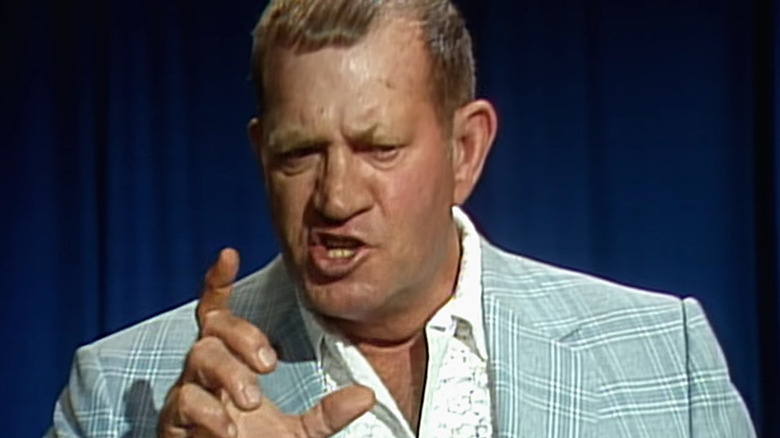 WWE
No parent should ever outlive their own child. In the case of Fritz Von Erich, the wrestling legend got to see five of his sons buried before his own time. However, despite having already done significant damage, the purported curse on the Von Erich family had one last life to claim. Losing that many sons in the short timeline he did definitely took its toll on Fritz both mentally and physically. Additionally, after over 40 years of marriage, his wife Doris ended up divorcing him in 1992, only intensifying his decline.
Suffering from brain cancer in his final years, Fritz began to destabilize more and more, even going as far as to threaten his remaining son. Per his testimony on "Dark Side of the Ring," Kevin confirms that his father pointed a loaded gun at him. In 1997, Fritz's prolonged suffering finally came to an end when he finally died at age 68 from the cancer that had been plaguing him.
Kevin Von Erich: The last of the Von Erich family
When you hear Kevin Von Erich speak in regards to his family's trials and tribulations, it's clear he's a man who's been through a lot. We've referred to it a lot here, but Kevin's appearance on "Dark Side of the Ring" is honestly required viewing. At one point during the interview, Kevin even asks the show's producers if he can take a break to recoup. It was very clear that addressing the darkest period of his family's life definitely weighs on him, even today.
In the closing section of the episode, Kevin spoke openly and honestly about his mental state following his family's tragic demise. He even references his mental health and how he was very close to taking his own life like many of his siblings. Thankfully, Kevin resisted that urge and went on to start a beautiful family of his own — breaking the streak of familial tragedy once and for all. Kevin now resides in Hawaii and seems very content living amongst nature, even taking barefoot walks through the woods. Despite this being far from a happy tale, it does have a happy ending, one that the Von Erichs were long overdue.
The future of the Von Erichs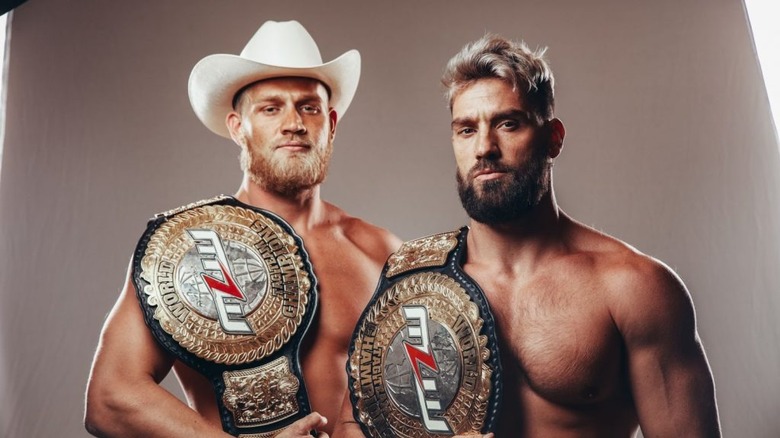 Major League Wrestling
We end the tragic story of the Von Erich family with a much needed glimmer of hope in the form of the next generation. Kevin Von Erich, the last of the first generation, and his wife Pam went on to have four kids — Kristen Rain, Jillian Lindsey, David Michael Ross, and Kevin Marshall. You might know the latter siblings as Marshall and Ross Von Erich, both current professional wrestlers, just like their father.
The duo wear the family name proudly and have seen ample success since their in-ring debuts back in the 2010s. The duo have showcased the levels of physical strength and agility that has become synonymous with the Von Erichs. On a few occasions, Kevin had stepped back into the ring to aid his sons — even teaming alongside them in Israel for his final match. Marshall and Ross even won and held the Major League Wrestling World Tag Team Titles for over a year, ending their reign at 438 days.
Kevin Von Erich told TMZ that he is looking forward to Efron's portrayal of him in "The Iron Claw." We can only hope that director Sean Durkin does justice to the sobering real life story regarding one of pro wrestling's finest families.
If you or anyone you know is having suicidal thoughts, please call the National Suicide Prevention Lifeline​ by dialing 988 or by calling 1-800-273-TALK (8255)​.