Tony Schiavone Cautions Against 'A TV Company' Buying WWE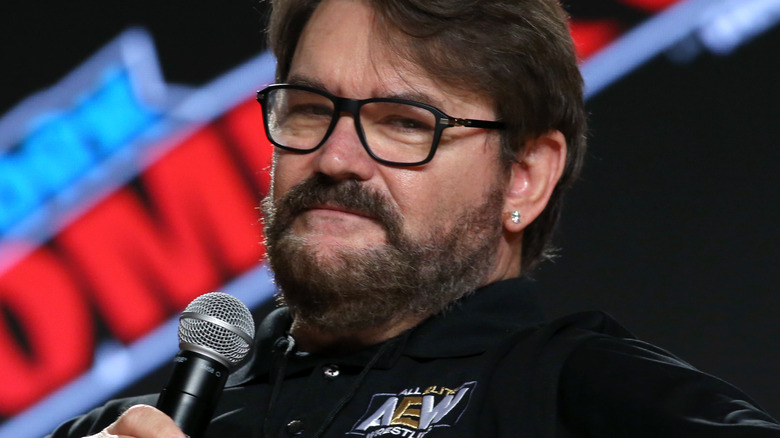 Bennett Raglin/Getty Images
Tony Schiavone is once again calling professional wrestling matches on Turner networks as he did in the 90s, but Schiavone hopes that both wrestling promotions and television networks have learned some lessons in the years in between. On the latest episode of "What Happened When," Schiavone was talking about the debut of "WCW Thunder" in 1998. Coupled with the infamously convoluted end to Starrcade, and adding a third hour to "WCW Nitro," Schiavone feels this was the decision that doomed the company.
"Eric [Bischoff] says 'Thunder' was a bad call," Schiavone said, "'Thunder' was TBS's call. Nobody wanted 'Thunder,' and there again is the rub and there again is the reason I know I'm right on this. Why WCW would've never worked. You cannot have a television company, that knows nothing about running a wrestling company calling the shots. That's why WCW went down because it was owned by a television company."
Schiavone's co-host Conrad Thompson segued into the recent reports that Vince McMahon is returning to WWE in the hopes of selling the company, with media conglomerates like Disney and Comcast as possible buyers.
"I don't work for the WWE, so I don't know [if a sale to a television company would work]," Schiavone said. The AEW announcer doesn't think it's a good idea even for WWE. "You can't just be another cog in the wheel so to speak like we were, can't be another WCW/Atlanta Braves/[Atlanta] Thrashers/CNN/TBS/TNT like we were. You've got to be your own entity."
WWE isn't just courting television networks. According to recent reports, UFC parent-company Endeavor, as well as Formula 1 Racing parent-company Liberty Media are both listed as potential buyers.