WWE Refused To Film This Intensely Personal Natalya Family Moment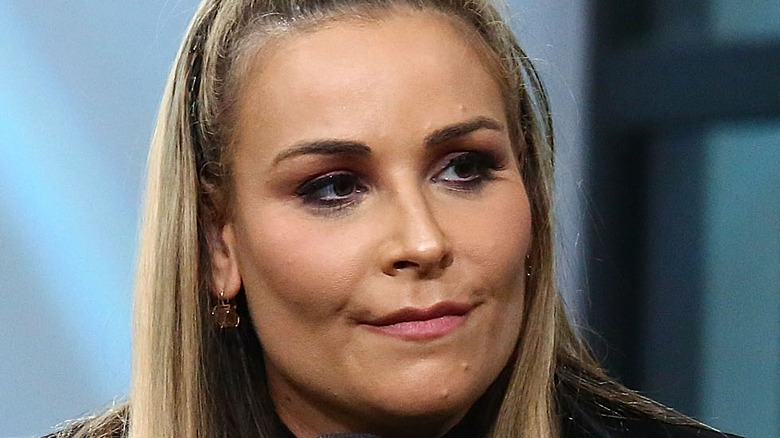 Astrid Stawiarz/Getty Images
"Total Divas" was a reality TV show which aired on E! that showcased the lives of certain women's wrestlers, then known as Divas, outside of the ring. Different episodes of the show saw relationship drama within the couples, verbal fights between friends, and much more. However, former "SmackDown" Women's Champion Natalya revealed WWE refused to air a very important certain aspect of her life on "Total Divas" regarding her father, WWE Hall of Famer Jim "The Anvil" Neidhart.
"On the WWE end, they tried to sugarcoat too many things," Natalya said appearing on "The Bellas Podcast." "I really wanted be able to share what was going on with [Neidhart] in his, you know, with his, with his condition, you know, with him having Alzheimer's and stuff. I really wanted to talk about it more because Alzheimer's is one of, like, the five leading causes of death in the world ... I remember people at WWE saying, 'No, we don't want anybody at your dad's funeral. We don't want to film it.'" Neidhart passed away on August 13, 2018, with "Total Divas" filming the funeral of Neidhart despite their original intention to stray away from the somber event.
Natalya was not the only member of the "Total Divas" cast to have felt hurt by the producers of the show. Former "WWE Raw" ring announcer JoJo revealed what the producers of the show had her do that she felt she was not ready for. "They deleted that out of the show which was really hard for me," JoJo said. "I had my reunion with my dad after not seeing it for 10+ years and they never aired it which was hard to like, have that happen."