WWE Hall Of Famer Is Impressed By Cody Rhodes' Comeback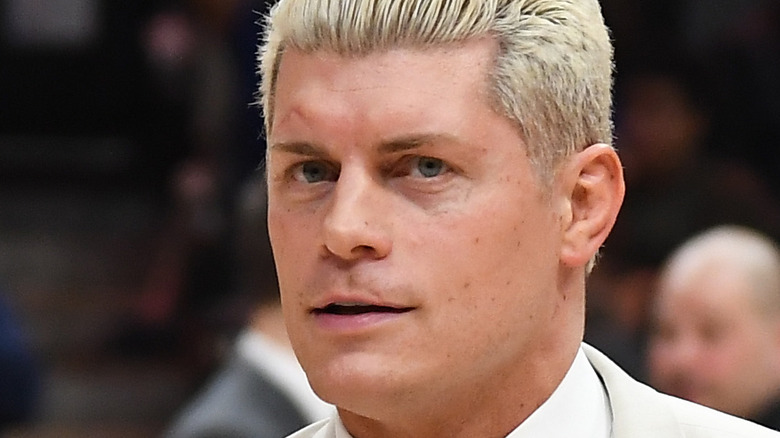 Paras Griffin/Getty Images
Despite reportedly not being cleared when the announcement was officially made, Cody Rhodes has been announced as an entrant in the 2023 men's Royal Rumble match. Some questioned the decision to announce Rhodes' return ahead of the Royal Rumble, an event that is typically known for its surprise returns. 
However, whether people believe his return should have been kept a surprise or not, most would agree that this return after just over seven months is very impressive.
WWE Hall of Famer Booker T is seemingly impressed by Rhodes' quick return, which he addressed on "The Hall of Fame." "Whether he's 100% or not, that's one thing about this business — you're never going to be 100%," Booker said. "To see him comeback is a testament. It's a testament to his will. So, let's see what Cody, "The American Nightmare," has. I'm looking forward to it."
Rhodes has been out of action since he suffered a torn pectoral muscle days before Hell in a Cell 2022 — an injury that required surgery and extensive rehabbing. While he has not physically been on TV performing in front of crowds leading up to the Royal Rumble, WWE has been airing video packages for the past few weeks that have been giving updates on Rhodes. 
These updates have shown Rhodes undergoing surgery and rehabbing while also having his wife, Brandi Rhodes, comment on his recovery as well. He last wrestled at Hell in a Cell with the torn pectoral muscle, leaving the audience in stunned silence when he removed his coat to show off the bruising. Rhodes won the match and will look to keep his WWE winning streak trucking forward this Saturday at the Royal Rumble.