Backstage News On Why WWE Announced Cody Rhodes For Royal Rumble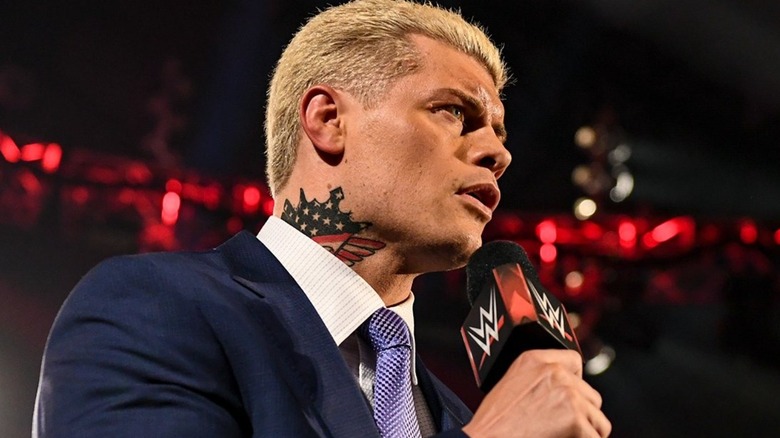 WWE
Cody Rhodes has officially been announced for the Royal Rumble after being sidelined for months due to a torn pectoral muscle. A number of fans were expecting Rhodes as one of the Royal Rumble's surprise entrants this year prior to his confirmed involvement, looking to video packages airing on "WWE Raw" that showcased his road to recovery as an overt hint of his comeback. However, with the Royal Rumble just over a week away, some have questioned WWE's decision to announce Rhodes' return ahead of time.
Wrestling insider WrestleVotes shared on Twitter why WWE went forward with getting Rhodes' entry into the Rumble out there in advance. "It's twofold, one being that nearly everyone expected it to happen already and two, source states they are 'more than pleased' with the other surprises that are lined up." Bring on the speculation as to what other possible surprises WWE could have in store that would overshadow Cody Rhodes arriving back on the scene. 
Dwayne "The Rock" Johnson seems like an easy starting point. The Rock has long been rumored to return and face Undisputed WWE Universal Champion Roman Reigns in the main event at WrestleMania — something a Royal Rumble win would surely guarantee. However, surprise entrants don't always have to be in line to win the Rumble. Sometimes their very involvement could be to set up potential matches down the road — like at WrestleMania — with encounters within the Rumble match serving as the catalyst for those storylines to kick off. The names of John Cena and "Stone Cold" Steve Austin have certainly come up in recent months for this year's WrestleMania, and they would certainly fit into the "more than pleased" category. We'll find out on January 28 when the countdowns for the next entrants begin.