Wrestling Legend Offers Apology To Becky Lynch At Raw XXX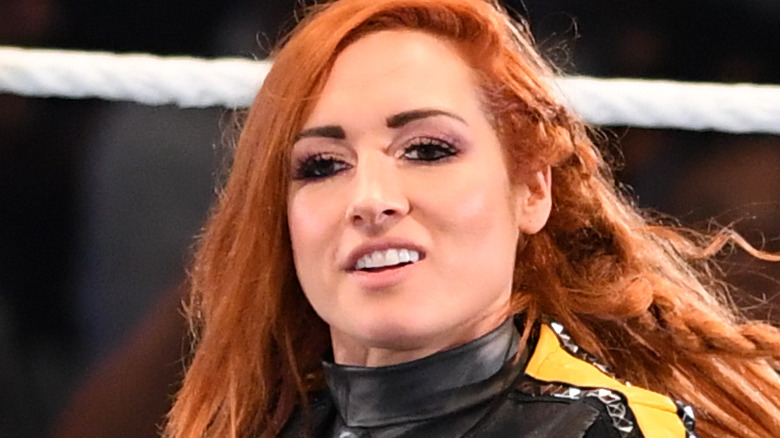 Etsuo Hara/Getty Images
"WWE Raw XXX" allowed a wrestling legend to walk away with a better understanding of himself. On the latest episode of "To Be The Man" Ric Flair reflected on his Monday night and brought up to co-host Conrad Thompson that he took a moment to apologize to Becky Lynch.
"Yup. I walked up to her and said, 'May I speak with you for a minute?' And I just said 'I'm sorry it got to where it is,'" Flair said, adding that he also walked up to Seth Rollins and shook his hand, saying he was going to apologize to his wife. Flair's previous contention with Lynch involved WWE's usage of "The Man" trademark, a moniker Flair went by during his in-ring days and after.
"The whole thing was decided by somebody besides she and I," he said about the whole situation, but what really put things in perspective was seeing Lynch with her baby. "I thought, 'God, this will be Ashley someday.'"
"I am not 'The Man' anymore," Flair added. "'The Man' is whoever the people think it is, and basically we've turned it over to social media to decide who 'The Man' is."
Later on, Flair added how cathartic of a moment that was for him to walk up to Lynch and apologize for their past tensions.
"It makes it a better world for me to be in," he said. "I don't think they care one way or the other, but I feel better about myself. I mean they were all very nice, don't misunderstand me, Becky was very receptive and said nice words to me and so did Seth, but my daughter works there and I want it to be perfect. Nothing's perfect, but you want it to be as best as it can be."