Teddy Long Comments On The Undertaker And Bray Wyatt In Wake Of Raw XXX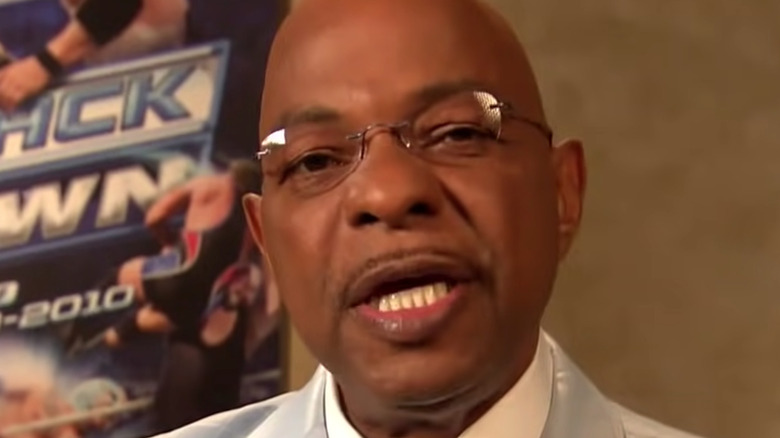 WWE/YouTube
The recent "RAW is XXX" episode saw an interesting moment between the Undertaker and Bray Wyatt. The Undertaker came out as his "American Badass" persona and helped Wyatt take out his current rival, LA Knight. Before leaving the ring, the Undertaker said something privately to Wyatt, seemingly symbolizing a passing of the torch. But Hall of Famer Teddy Long isn't sold on that theory just yet.
"Well my feeling about that, you know, this is professional wrestling and until I know exactly what 'Taker said to him, then I'm gonna stay quiet," Long said on the "WrestleBinge" show. "I may never find it out ... because like I said this is wrestling. That could be part of the story. When you pass the torch there's a different way to do it. We did it the old-school way. Like I said until we actually know what was said then we can make that decision."
Long likes the way the segment was done because it leaves an air of mystery and opens the door for a possible continuation of the story between the "Deadman" and the "Eater of Worlds." The Undertaker returned to WWE as his classic "American Badass" persona, which he played during his 2000-2003 run. While Long enjoyed seeing the biker gimmick once again, he believes it marked the end of the "Deadman" character.
"I like that part about it because I don't think that the Undertaker is coming back ... I think that's done now," Long said. "And for him to come out with the Badass gimmick, the biker gimmick, one that he did try one time. Then he went back to being the Undertaker. But I think the Undertaker is really dead now."
If you use any quotes from this article, please credit "WrestleBinge" with an h/t to Wrestling Inc. for the transcription.