Update On WWE Futures Of Tyson Fury And Clash At The Castle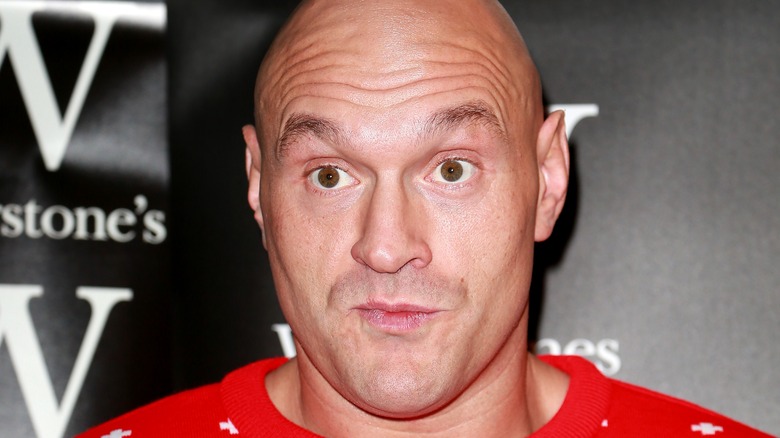 Fred Duval/Shutterstock
Champion boxer Tyson Fury has his eye on a world title of a different kind and is "hoping" to get his shot at it soon inside a WWE ring.
Fury, the WBC heavyweight champion, said in a recent interview with GiveMeSport.com that he's been keeping his eye on WWE and is looking to build a future with the professional wrestling promotion. "I'm hoping to get back in there soon," Fury, 34, told the website.
Fury made his first debut inside a WWE ring back in 2019 when he got involved in an angle with Braun Strowman on "WWE SmackDown" and later defeated "The Monster Among Men" at that year's Crown Jewel event. Fury, a well-documented professional wrestling fan, was also in attendance at WWE's first Clash at the Castle event in Cardiff, Wales last September.
Sitting in the front row near the announcer's table, Fury reached over the barricade and knocked out Austin Theory, who was attempting to cash in his Money in the Bank contract towards the end of the Undisputed WWE Universal Championship match between Roman Reigns and Drew McIntyre.
"They're doing Clash at the Castle 2 soon I think so I'm looking at maybe getting back in there," Fury continued, adding, "I'm looking at taking that heavyweight title for sure."
After that match, Fury jumped into the ring and celebrated the WWE event with McIntyre and the fans, singing Don McLean's "American Pie."
"If Roman Reigns vacates or something then maybe me and Drew can finally get that battle on," Fury told GiveMeSport.com, mentioning a dream match for many fans in the United Kingdom. Fury, a native of Manchester, England, is 33-0-1 in his boxing career and has said he's "open" to joining WWE full-time.