Eric Bischoff Believes WWE Story Will Be Remembered For Years To Come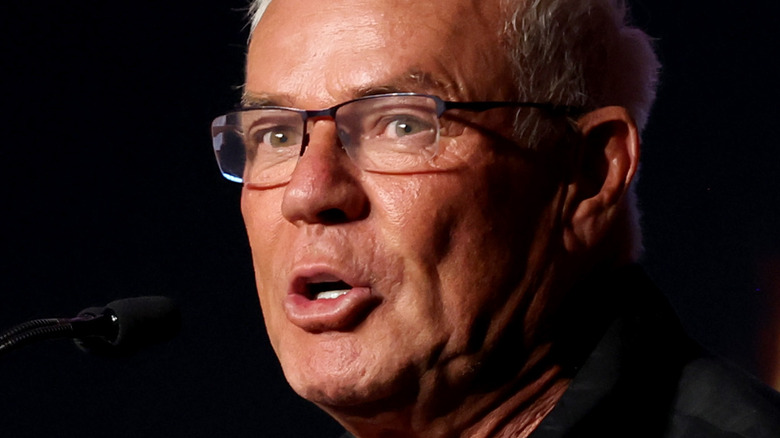 Jason Kempin/Getty Images
WWE's 2023 Royal Rumble premium live event was incredibly successful, posting a multi-million dollar gate while also being the highest-grossing Rumble in history. Although the story going into the show was based around the two Rumble matches and the matches fans would get at WrestleMania 39, the most talked about moment coming out of Saturday involved Sami Zayn, Roman Reigns, and The Bloodline.
WWE Hall of Famer Eric Bischoff praised The Bloodline storyline during a special edition of "Strictly Business," highlighting how iconic this moment and storyline is. He also explained why he has a new level of respect towards Reigns after Royal Rumble. He stated that he wasn't into him as a heel before his turn on Zayn because he was someone who everyone in America "related to."
"One that people will remember probably for the next 10-15 years and for me personally," Bischoff said. "I've enjoyed watching Roman, I've admired his performance, his character, his consistency, everything about it. My take on Roman, up until the Rumble, has been silent but violent; every guy in America wants to be silent but violent in America, in real life. We aspire to that subconsciously or consciously, we relate to that consciously or subconsciously."
Biscoff also explained what changed with Reigns' character after being attacked by Zayn at Rumble, saying that initially, Reigns was too "cool" to be hated by the audience.
"To me, that doesn't make a great heel," Bischoff said. "To me, that's a cool-ass babyface that is a heel, but he's so frickin' cool that he doesn't have any heat. That's one characterization for Roman. Up until Royal Rumble, when he got real heat. He didn't get 'I wish I was you' heat. He got 'I want to see you burn' heat."