DDP Hopes To Head Back To Shark Tank With New Invention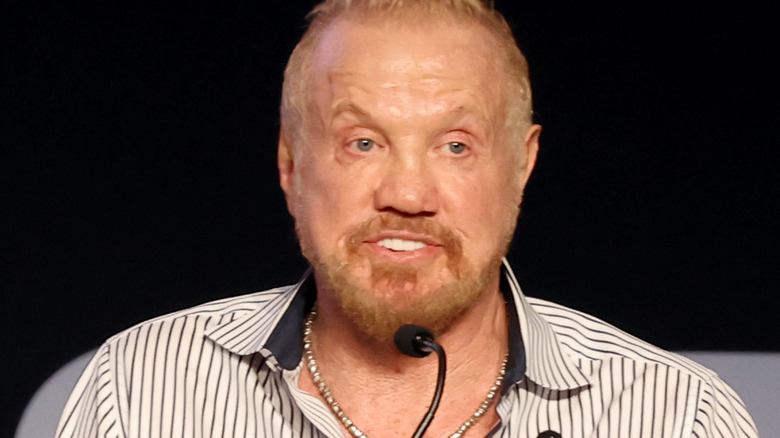 Jason Kempin/Getty Images
Correction 2/2/23: A previous version of this article, under the headline "DDP Is Headed Back To Shark Tank With New Invention" reported as fact that "Diamond" Dallas Page would be appearing on "Shark Tank" again, per quotes from Marcus "Buff" Bagwell. Page has clarified to Wrestling Inc. that he hopes to appear on the show to strike a deal for his product but that there has been no confirmation as of yet. Page confirmed that he has, indeed, created a new invention that he says "is going to change the face of fitness."
Ever since walking away from being a full-time wrestler, Diamond Dallas Page has become known for his entrepreneurial spirit. He invented his own form of yoga that was featured on the popular "Shark Tank" television show, while also creating a safe space for addicts to try to get clean with his "accountability crib." Now, DDP is on to his next business venture: creating a fitness product called DDPY Power Cuffs, one he hopes to bring before the sharks once more.
The cuffs are designed to build and define muscle in the arms and legs using blood flow restriction.
"Dallas has spent $300,000 perfecting these things, and now we've got the finished product," former WCW star Buff Bagwell, DDP's close friend, told "The Undisputed Podcast." 
"He flew to Salt Lake to see how it all worked to make sure he was doing the right stuff," Bagwell said. "We didn't understand it and how it all works. Man, I am sold on it now. It's a big deal, and there's medical knowledge behind it now. It's not just, 'Wear these cuffs because I think they're cool.'" Bagwell said the medical science behind the cuffs is pretty straightforward and has to do with restricting blood flow for increased gains in the gym.
"Like, keeping the blood flow from going there and then after the set, releasing it and it flushing the blood into them," Bagwell said. "That releases growth hormone, and the results are better for your arms, and actually they've got cuffs for your legs, too." 
If you use any quotes from this article, please credit "The Undisputed Podcast with a H/T to Wrestling Inc. for the transcription.