Freddie Prinze Jr. Hopes WWE Gives Star A Better Creative Direction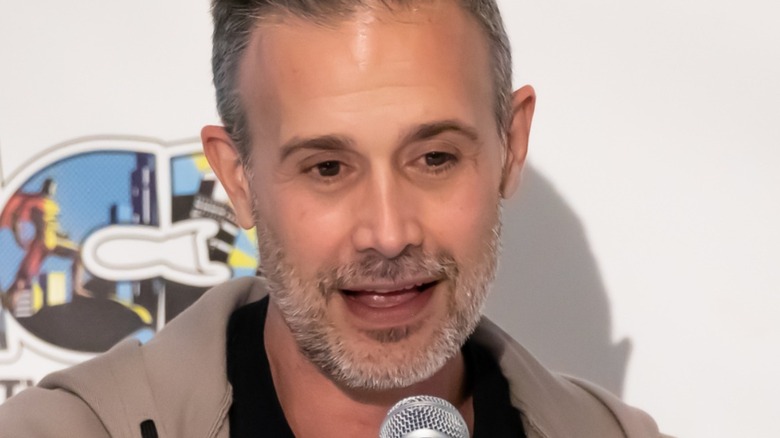 Brandon Nagy/Shutterstock
LA Knight has made a lot of waves since being called up to the WWE main roster. First arriving on the Smackdown brand as the eccentric Max Dupri, leader of the Maximum Male Models stable, Knight eventually left the group and returned to his more known persona. He then found himself in a feud with Bray Wyatt, who has been involved in a storyline that has seen him confront his former personas and a new manifestation — Uncle Howdy. 
Wyatt and Knight competed in the first-ever Pitch Black match at this year's Royal Rumble event. The contest, sponsored by Mountain Dew, took place in a darkened arena with the participants and ringside items covered in a glow-in-the-dark covering. Actor and former WWE creative team member Freddie Prinze Jr. spoke about the match on "Wrestling With Freddie" and endorsed Knight. "Oh, Bray Wyatt won. No surprise. So hopefully, LA Knight can, and I'm sure he'll recover from this because he has the personality to. But I'd like to see him in a better story where he makes someone else's life miserable, and he gets over."
Prinze Jr. went on to express disappointment with several things regarding the contest. "The crowd didn't really get hot for it. I didn't understand it, and it felt about the same amount of time as the Women's World Championship match — about seven minutes," he said. "So if you don't have time to tell the story, I don't know how I'm either A) supposed to get behind it and support this match, or B) believe anything that's going to happen in there, man. It's just too short a time, so it's either you give them more time, or you lose the match, man. It's always been something that has frustrated me."