Tay Melo Feels Alive When Competing In This Type Of AEW Match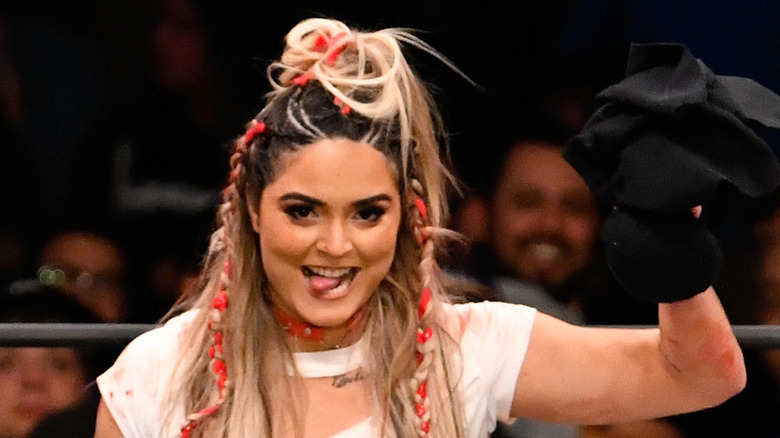 AEW
Tay Melo has competed in various match types in AEW, including mixed tag team matches alongside real-life husband Sammy Guevara — however, the match type she may be most synonymous with is the Street Fight. Melo has competed in two Street Fights in AEW history, with both receiving lots of attention, both positive and negative. In an interview with "Dark Puroresu Flowsion," Melo discussed competing in Street Fights, and what she knows going into the potentially dangerous match.
"Of course, when I say I'm street fighting, I really mean it," Melo said. "I love every second of it, I feel very much alive when I'm doing a street fight. I love the feeling of giving everything I have, I love to feel the pain after the match and be proud of myself ... I understand the danger and that we need to build something to get into a match like that and I'm super down to have a street fight at the end of every feud I have haha!"
Melo's most recent Street Fight saw her and Anna Jay AS suffer a loss to Ruby Soho and Willow Nightingale in a bloody encounter on the January 13 edition of "AEW Rampage." Some were unhappy with the violence and blood displayed in the match — however, despite those criticisms, others had a more positive reaction, including Nightingale herself. Melo and Jay also teamed up together in their previous Street Fight on the December 31, 2021 "Rampage," which saw them defeat the team of Penelope Ford and The Bunny in yet another brutal battle.