JBL Recalls Backstage Shoot Fight Between Eddie Guerrero And Kurt Angle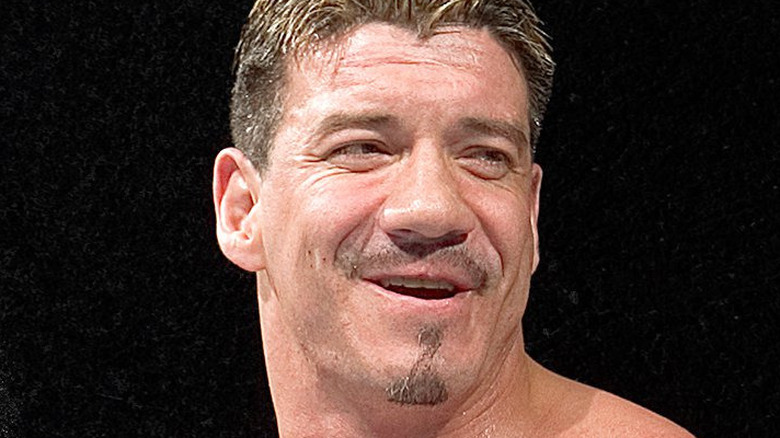 WWE
Most fans associate Eddie Guerrero and Kurt Angle from their various onscreen battles, including a match for the WWE Championship at WrestleMania 20. As it turns out, however, they also came to blows for real once upon a time, right near fellow WWE wrestler John Bradshaw Layfield. On the latest "Stories with Brisco and Bradshaw" podcast, JBL recalled the incident, which he says started in the Gorilla Position after a match the two had. While Angle has stated the fight started due to Guerrero believing Angle stiffed him in the ring, JBL was unsure what started it, he just knew it was serious.
"You know a fight's going on in the locker room ... you can tell by the noise, and this was a fight," JBL said. "So finally, [John] Laurinaitis had gotten between Eddie and Kurt. Kurt was outside the dressing room, Eddie was inside it, I was dressing right by Eddie. Laurinaitis shut the door, so that separated Kurt and Eddie." What JBL recalled next caused himself, Brisco, and podcast guest Doug Basham, who was also in the arena for the fight, to crack up laughing.
"Eddie comes back and sits down, and I could tell by the noise that's going on that ...  Eddie had tried to leg dive [him]," JBL continued. "So I'm sitting there looking at Eddie, and he's not looking at me at all. He's looking at the door, just mad as mad as he can be, breathing so loud you can hear him breathe. ... Finally I said 'Why would you leg dive a Gold Medalist?' And without looking at me, he goes 'Cause I'm stupid!' That was great. Then he finally started laughing."
If you use any quotes from this article, please credit "Stories with Brisco and Bradshaw" with a h/t to Wrestling Inc. for the transcription.