AEW Star Says Brock Lesnar Was 'The Right Guy' To Break Undertaker's WWE WrestleMania Streak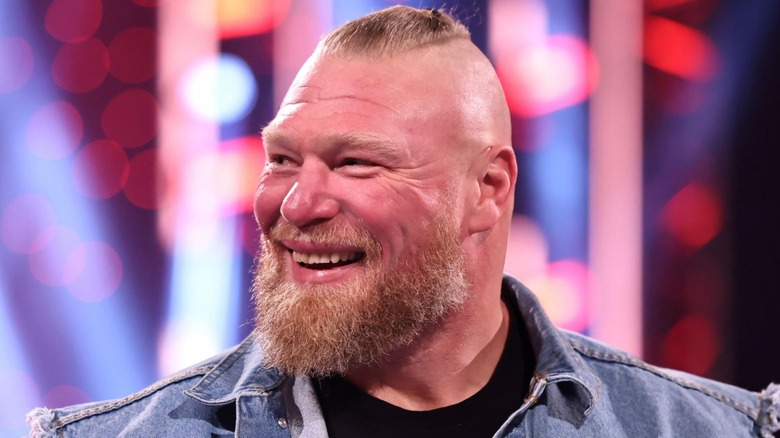 WWE
While some have argued that The Undertaker's illustrious WrestleMania streak never should've been broken, others have proposed alternative options as to who really should have been the one to end it. But according to AEW star Matt Hardy, WWE made the correct call of bestowing that honor upon Brock Lesnar at WrestleMania XXX.
To that point, The Undertaker had accrued an impressive 21-0 record in WrestleMania with it almost assumed by fans that yet another triumph would be added to his win column — that year, with Brock Lesnar's name joining his list of WrestleMania victims. But it wasn't to be, as the end of the match came with Lesnar escaping a Tombstone Piledriver, countered with an F5, and scoring the pinfall, prompting a deafening silence from the WWE Universe. Much like the fans in attendance, and at home, Hardy "was shocked when it happened," but upon later reflection — as he revealed on "The Extreme Life of Matt Hardy" – he "thought it was brilliant."
"I think Brock is the guy that should have beat him. On top of Brock being such a legitimate badass [by] beating him, they got so much greatness out of Brock over the next ten years or so. So yeah, I think it was a good call," he said.
Hardy recognized that Lesnar was "already made at the time" as a former three-time WWE Champion but believes defeating "The Streak" elevated him even further. Following his massive win, Lesnar added seven more world championships to his resume in WWE. The Undertaker would add five more WrestleManias to his career, notching one other loss along the way — at WrestleMania 33 to Roman Reigns.