Jake Roberts Comments On 'Flash In The Pan' AEW Wrestlers With No Character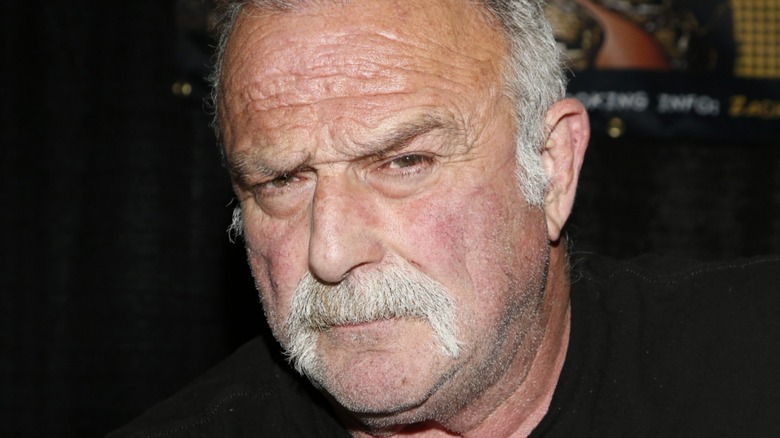 Gabe Ginsberg/Getty Images
Not every professional wrestler is going to be memorable. Some will be regarded as all-time greats whose legends will live on long after they've hung up their boots, and then there are others who quickly fade from memory having not made much of an impression while they were on the scene. WWE Hall of Famer Jake "The Snake" Roberts is certainly categorized as one of the former. Be it his promos, his psychological approach to wrestling, or the snake he carried in the bag, fans do not forget Roberts. But there are a lot of wrestlers in the industry today — particularly in AEW — that "The Snake" doesn't believe will stand the test of time, much like he has, and he made that crystal clear this week on "Cheap Heat with Peter Rosenberg." 
"10 years from now, half those guys — you won't even remember their names," Roberts said.
Speaking on the vast array of high-fliers, his biggest point of contention stemmed from how much work they put into their acrobatics only to lose on something like a Schoolboy pin, declaring that some are "too prideful" to lose to their opponent's finishing maneuver. In his mind, he'd want to be defeated by his opponent's best move. He then corrected his initial assessment of how many of today's wrestlers will be forgotten in the years to come, going much higher than 50%.
"I say 85% of 'em — you won't even remember their names," Roberts added. "Because they're flash in the pans and they don't have any character," criticizing the lack of care and effort in persona development that others have noted exists in AEW's model. Roberts didn't elaborate on the 15% that he thinks is doing things well, but he did use himself as a measuring stick for relevancy, noting how long he's been out of the ring and yet how in demand he remains.
"Jake 'The Snake' has not been in the ring since 1997, 2000? That's 20-something years," he continued, "and I'm so friggin' busy now, man, I'm barely keeping my head above the water. I don't see these young kids doing signings, and you know why? Because nobody knows who the f*** they are."
If you use any quotes from this article, please credit "Cheap Heat with Peter Rosenberg" with a h/t to Wrestling Inc. for the transcription.