'WrestleMania Goes Hollywood' Movie Trailers Reportedly Include Seth Rollins, Rhea Ripley, And More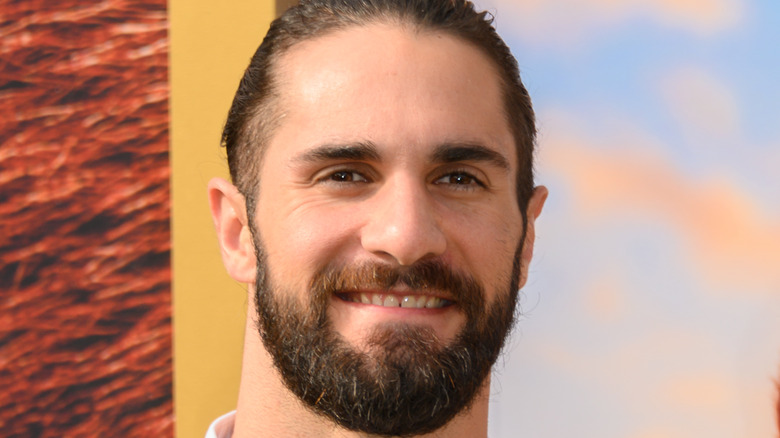 Silvia Elizabeth Pangaro/Shutterstock
WrestleMania is going Hollywood, and it looks to once again be going Hollywood in style.
WWE fans familiar with the build to WrestleMania 21, the last WrestleMania held in Los Angeles, have been keeping an eye out in recent weeks, hoping to see a callback to the parody movie trailer advertising campaign the promotion used for the 2005 event. The trailers — which, at the time featured various WWE stars parodying famous movies including "Braveheart," "A Few Good Men," and "When Harry Met Sally" — haven't popped up yet during this year's lead up to WrestleMania 39. However, according to a report from Pro Wrestling Insider, a batch of parody movie trailers is in the works and will start airing on television in the coming weeks.
The report named several WWE stars as actors in the trailers, including Rhea Ripley in a parody of "Stranger Things;" the Brawling Brutes in a parody of "The 40-Year-Old Virgin;" and Bianca Belair and Montez Ford in a parody "Titanic," while fellow married couple Becky Lynch and Seth Rollins will be in a "superhero parody." Rumor Twitter account WrestleVotes claimed the superhero film would involve Batman and The Joker, and also said The Bloodline will appear in a parody of "Goodfellas" and that The Miz and Maryse would parody "Top Gun," but these parodies weren't mentioned by PWI.
Nothing has been confirmed yet by WWE. During the 2005 ad campaign, Triple H and Ric Flair were in a mock trailer of "Braveheart;" Eddie Guerrero and Booker T parodied "Pulp Fiction;" The Undertaker parodied Clint Eastwood in "Dirty Harry;" and more.