Former Cody Rhodes Opponent Weighs In On His WWE Royal Rumble Victory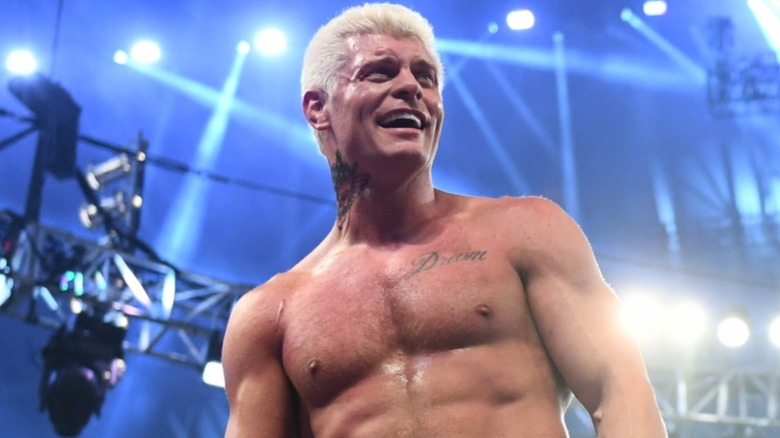 WWE
Everyone around wrestling has their thoughts on Cody Rhodes winning the 2023 men's Royal Rumble, and that now includes former NWA Worlds Heavyweight Champion Nick Aldis. Aldis joined AdFreeShows.com for an interview where the topic of Rhodes' comeback at the Rumble came up. According to Aldis, he felt the same way about Rhodes' victory as he did when "The American Nightmare" returned to WWE at WrestleMania last year: proud.  
In fact, Aldis takes a little bit of pride in knowing that, once upon a time, he was a small part of Rhodes' road to this very moment in history. The two faced off at the historic All In pay-per-view where Aldis was defeated by Rhodes for the NWA Worlds Heavyweight Championship. "That sounds like a silly thing to say but I was a part of his journey, and it's cool to think like 'Well, there you go; you did the right thing and it's inspiring,'" Aldis said. "He and I stay in touch and he's been very supportive of me which is cool. I guess I'm a little biased in that respect but I think it's really cool."
Aldis has also been following along with WWE's weekly programming and has enjoyed seeing Rhodes quickly rise to stardom on "WWE Raw." He believes  WWE is in a great spot with both Sami Zayn and Rhodes as top babyfaces to Roman Reigns on the road to WrestleMania.
"I think it's indicative of perhaps [WWE] is just letting things happen a little bit and not necessarily so steadfast on one plan," he said. "I don't know, that's just an educated guess but it's cool that they've happened on this really unique situation with two really hot babyfaces. It's a good problem to have — to have too many acts who people see as deserving of the top spot."