NJPW Star Praises Mercedes Mone's Love Of Wrestling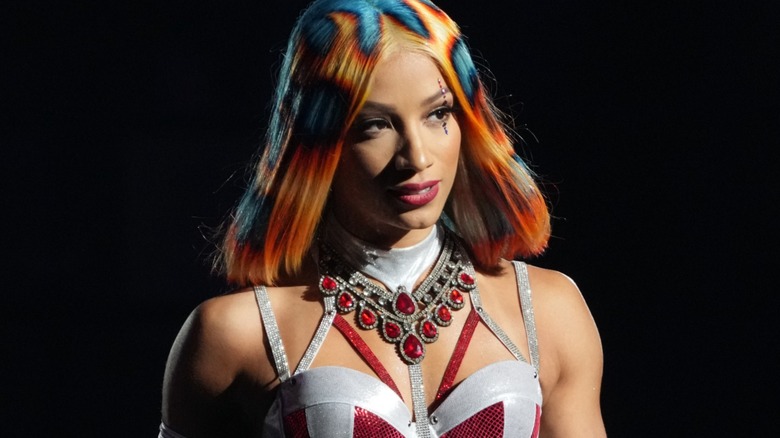 Etsuo Hara/Getty Images
Mercedes Mone makes her long-awaited return to the ring this weekend, stepping between the ropes to debut in New Japan Pro-Wrestling at Battle In The Valley. She'll be going one-on-one with the IWGP Women's Championship KAIRI with the title on the line. But along the way, she stopped by a seminar run by KUSHIDA at the NJPW LA Dojo, and "The Timesplitter" had nothing but kind words to say about her in a new NJPW interview. 
"She is such a great model to follow. She's at the top of the world when it comes to being a female pro-wrestler and just an entertainer in general," he continued, "but she has such a love for this that she comes in to share and figure different stuff out."
As for the seminar which took place on January 19, it operated as a test for the planned NJPW Academy that was announced not long ago. KUSHIDA is set to be one of the instructors there for the Advanced Course, alongside Strong Openweight Champion Fred Rosser. KUSHIDA explained why an environment is something he's looking forward to and the benefits of it for those looking to expand their learning — especially if pop-ins like Mercedes Mone happen from time to time. 
"This kind of seminar — by wrestlers for wrestlers — is pretty popular in the U.S. Like, the Gracie Dojo will sell personal training sessions at about $300 an hour to teach technique. I think with wrestling there's a little bit that's more closed off than that," he continued, "but I'm perfectly happy with some move or some little thing I do gets used somewhere else, and this kind of opportunity is a great way to share that stuff."
NJPW Academy is currently accepting applications for enrollment and is scheduled to begin classes on March 27.