Seth Rollins And Becky Lynch Play The Joker And Batman In WWE WrestleMania 39 Commercial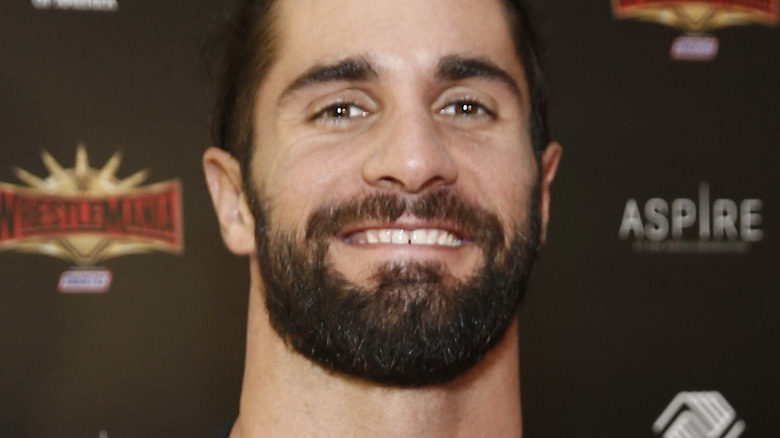 Brian Ach/Getty Images
WWE WrestleMania 39 is heading to Hollywood this April for the first time since WrestleMania 21, and along with it comes the return of movie trailer parodies. In 2005, WWE created several parodies of famous movies, including Triple H and Ric Flair mocking "Braveheart" and Eddie Guerrero and Booker T parodying "Pulp Fiction." 
Recent rumors had revealed that WWE would bring back the infamous movie parodies involving WWE superstars like The Bloodline, Rhea Ripley, The Miz, Montez Ford, and Bianca Belair.
During tonight's WWE Elimination Chamber PLE, the company dropped their first movie spoof, with Seth "Freakin" Rollins portraying Joaquin Phoenix in the 2019 film "The Joker," playing out his iconic stairs dancing scene.
The commercial played a mashed-up version of Rollins' theme song while the former WWE Champion was shown on-screen dawning The Joker's face paint. As Rollins continued to copy Phoenix' epic dance, his wife, Becky Lynch, appeared. The former Raw Women's Champion played Batman, spoofing the legendary comic book hero and foil to Joker.
Lynch dressed in all black, mimicked the dark voice of the "Dark Knight" and told her husband that she's "The Man," when talking about going to the "Man Cave." Following the first showing of the commercial during the PLE, Lynch took to social media to post a photo of her "Batman" inspired look, once again saying, "I am the man." 
More WWE movie spoofs are expected in the lead-up to WrestleMania 39 as the original report hinted at parodies of "Stranger Things," "The 40-Year-Old Virgin," "Titanic," "Goodfellas," and "Top Gun."