Austin Theory Gets New US Title Challenger During WWE Elimination Chamber Press Conference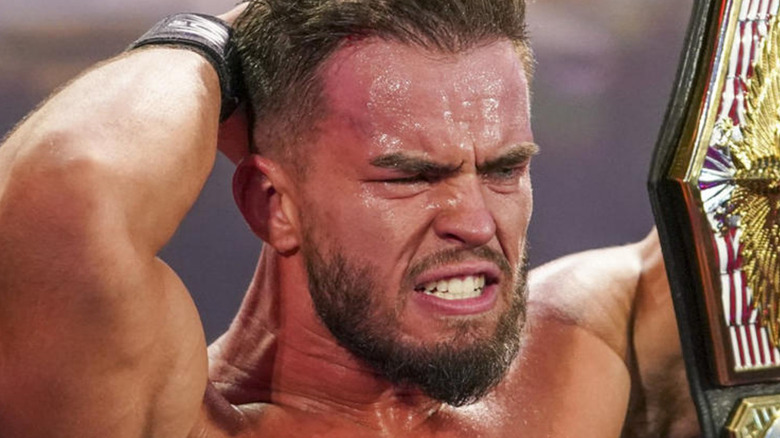 WWE
Austin Theory successfully defended his WWE United States Championship inside the Elimination Chamber tonight, although it didn't come without help from Logan Paul. The YouTube star attacked Seth Rollins which handed the win to Theory, who outlasted the five other men to retain his championship heading into WrestleMania 39.
Following the event, Theory jumped on the WWE Elimination Chamber Post-Show Press Conference to rave about his night, and also followed in the footsteps of his favorite wrestler growing up, John Cena, by issuing a United States Championship Open Challenge for the "WWE Raw" after Elimination Chamber.
"Who's going to step up? If I have a United States Championship Open Challenge this Monday on 'Raw,' who's going to step up? Because when I look around the locker room, there ain't nobody on my level," Theory said.
"If there is someone that maybe thinks they can at least get to my level, sure maybe they can face me for the United States Championship on Monday. But I'm going to be honest, I'll have an Open Challenge on Monday but there's nobody that's going to accept it because nobody's in the now, nobody is forever like Austin Theory."
Fortunately for Theory, the US Champion didn't have to wait long for someone to accept the challenge. The press conference's next guest, WWE Hall of Famer Edge, immediately threw his name into the challenger pool.
"I saw the kid out here with the shades and an open challenge? We're in Ottawa, Monday, I haven't wrestled there in probably 17-18 years, and I haven't had gold in a while, I mean I retired as a World Heavyweight Champion," Edge said.
"He was a [John] Cena fan, so he's clearly stupid. Mind you, that being said, I respect Cena because he has work ethic, which is something I don't know Austin Theory has, and maybe we prove that Monday when I accept his US Open Challenge."