Kenny Omega Comments On Fans Absuing Riho And AEW Joshi Wrestlers On Social Media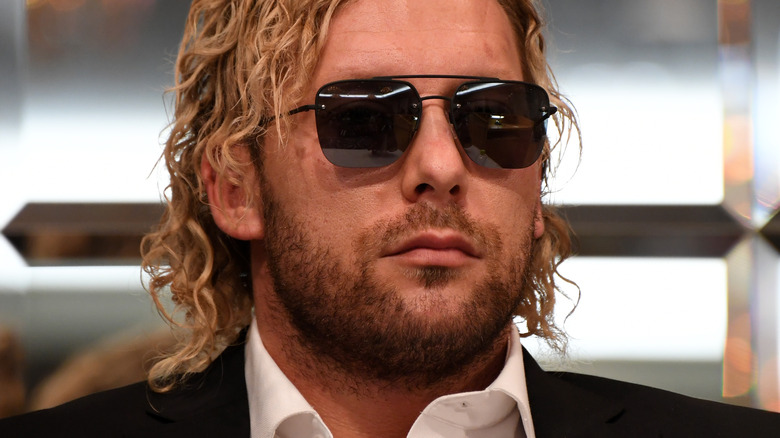 Etsuo Hara/Getty Images
The inclusion of joshi wrestlers on AEW television has been a staple part of the company since its first events in 2019. From Riho being the first ever AEW Women's World Champion to Hikaru Shida being the longest reigning AEW Women's World Champion, joshi wrestling has long been a unique highlight of AEW's tumultuous women's division. However, many joshi wrestlers that AEW has showcased have experienced unnecessary hate and racism over the years, something that AEW EVP Kenny Omega has consistently taken a stand against as a figurehead of the company.
In a recent interview with Swerve Strickland on the Swerve City Podcast, Omega went into detail on his frustrations regarding the treatment of joshi wrestlers in AEW. "You're gonna see it everywhere, to some degree, you're gonna find trolls," Omega explained, "but you'll never see it to the degree that you see it in wrestling in America."
Omega then elaborated on the many cultural adjustments that joshi wrestlers must go through to compete in the United States before praising their persistent work ethic regardless of these struggles. "From year one onwards they were so reliable, never had a bad performance, and really showed a level of professionalism and a level of dedication to their craft from a technical standpoint." Omega complimented.
Omega addresses the online harassment of joshi stars
The AEW EVP then got into the hatred that joshi wrestlers experience online from his perspective. "[They] ask me, 'Why does everyone hate me?... Why do they want me to get hurt? Why are they calling me a schoolgirl?" Omega recalled. Kenny then pointed out the hateful comments that Riho received due to people feeling that she doesn't look like a conventional pro wrestler. "It goes without saying, not every wrestler looks the same," Omega reminded, "Not everyone is gonna look like Big Bertha Faye... Just because someone isn't [big] doesn't mean that they haven't committed their entire lives to what we do."
 Omega then acknowledges that some of the hate the joshi wrestlers in AEW get was because of him being one of their biggest advocates in the company. "There are people that hate what I do, and because they know that I had a hand in signing them and introducing the world to their style or a different style," Kenny said, "It's like 'Oh, you represent what Kenny Does and we hate Kenny so I'm gonna come up with a reason to hate you.'" 
Despite these struggles, Omega is proud that the perception of joshi wrestlers in AEW has improved in recent times with stellar performances from the likes of Hikaru Shida and Emi Sakura on AEW television. "I'm glad to see [the haters] eat their own words," Omega said.