Corey Graves Says Sami Zayn Is Now A WWE Main Eventer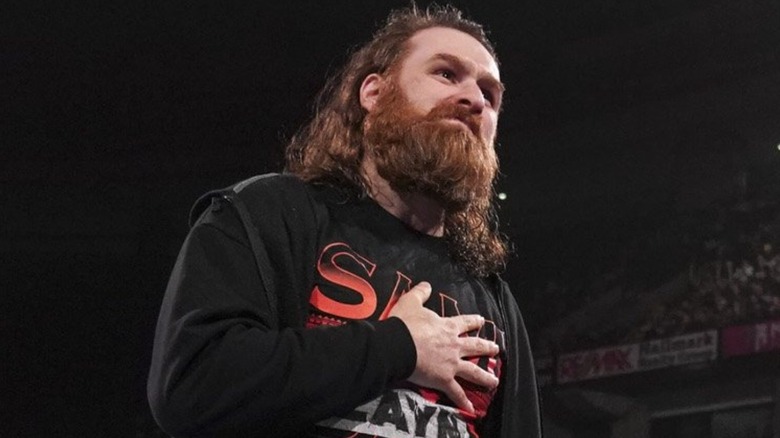 WWE
Despite the lingering heartbreak among wrestling fans following Sami Zayn's loss to Roman Reigns at Elimination Chamber, commentator Corey Graves maintains a positive outlook on the standing of the former "Honorary Uce" in WWE. 
Speaking on his "After The Bell" podcast, Graves said that even in the wake of his defeat, Zayn's performance against Reigns was "so special" because it propelled him to another level. "Sami went from lovable underdog — incredibly valuable utility player — to a main eventer," Graves pointed out, and that itself speaks volumes of the progress Zayn has made in just the last year.
Graves then compared Zayn's character arc to that of the fictional underdog boxer Rocky Balboa. "The story never ends, it only constantly evolves," Graves said. And much like Rocky, when given the opportunity to face a major champion, Zayn stepped up his game and came within a hair of dethroning the champ. Both Zayn and Balboa fell short in their first attempts to become world champion.
But in "Rocky II," it was "The Italian Stallion" who was victorious in their rematch, perhaps setting a precedent for Zayn's future prospects. "Sami Zayn is Rocky Balboa right now," he stated.
As Reigns shifts his attention to 2023 men's Royal Rumble winner Cody Rhodes now, Zayn remains hellbent on taking down The Bloodline. On the latest episode of "WWE Raw," he attempted to recruit the assistance of friend-turned-adversary Kevin Owens who shares a similar goal. However, Owens rejected his proposal, leaving Zayn's quest to be a one-man mission — at least for now.