Dominik Mysterio Is Open To Wrestling His Father At WWE WrestleMania 39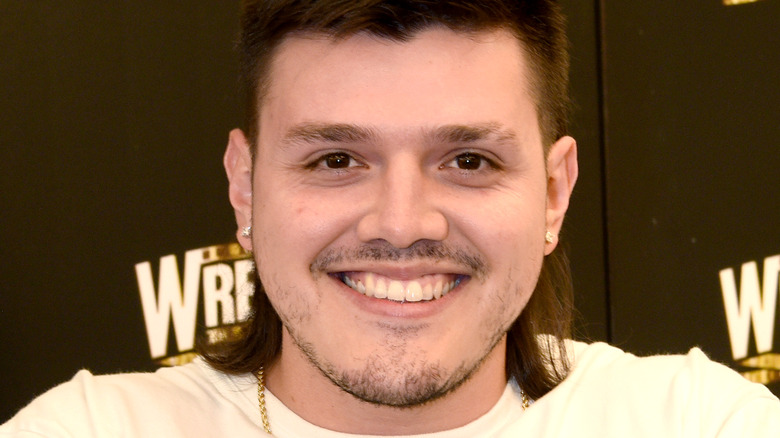 Gregg Deguire/Getty Images
When Dominik Mysterio isn't too busy living the thug life or asking for the finest chicken tenders, he's busy wreaking havoc in WWE with his "Mami," Rhea Ripley, and the rest of the Judgment Day. With Rhea winning the 2023 women's Royal Rumble match and challenging Charlotte Flair for the Smackdown Women's Championship at WrestleMania 39, the group is now frequenting Smackdown, and "Ex-Con Dom" now has every opportunity to continue to torment his father, Rey Mysterio.
"Inside the Ropes" recently spoke with the younger Mysterio, and he mentioned his plans for WrestleMania. "I think at this year's WrestleMania, you can definitely see Dom Mysterio in 'Mami's' corner," Mysterio stated. He also spoke about the possibility of facing his father. "If it's my dad, which I don't think he's going to do it, but we'll see what happens."
Dominik recently provoked Rey, challenging him to a fight, that his father walked away from again. Mysterio explained why he doesn't think his dad will fight him. "I did interviews in the past, and I always said that I never want to wrestle my dad just because [of] what he's done for me and this and that. And yeah, I get that, but I don't think he wants to get in there with me, to be honest."
Following in his "Mami's" footsteps, Mysterio is ready to cement his place in the business that his father excelled in for so long. "I think it's gotten to the point where I've shown that I'm willing to do what it takes to take him out and to prove that, once again, I'm the only Mysterio that matters in this business at the end of the day."