Alundra Blayze Told Rhea Ripley She Would Make For A 'Good Retirement Match'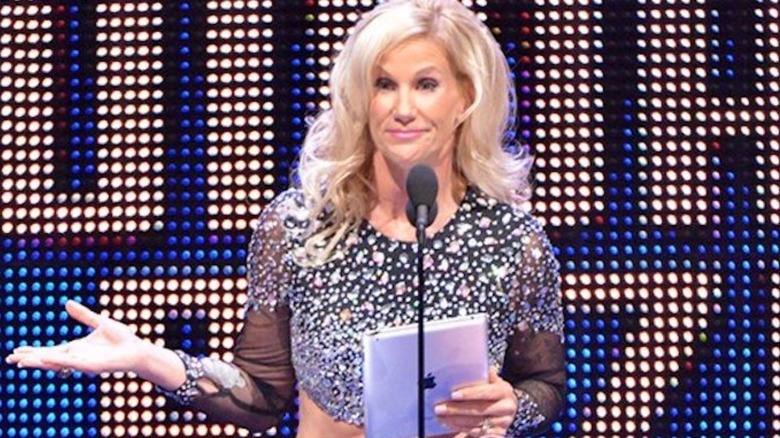 WWE
It's been five years since Alundra Blayze stepped into the ring for the battle royal at WWE Evolution, but she has not ruled out lacing up the boots just one more time — with designs on Rhea Ripley as her ideal final opponent. 
In an interview with "PWMania," Blayze reflected on her appearance at "Raw XXX." In doing so, she revealed a backstage interaction with The Judgment Day star where Blayze told her that she'd "probably be a pretty good retirement match." That was something Ripley was extremely flattered by. "She's like, "Oh my God. That's such an honor." She's so funny. She's a wonderful girl," Blayze said. "Just amazing."
Prior to competing in 2018, Blayze hadn't wrestled in 18 years, which is why she'd like a decent amount of time to get back into ring shape if the chance for an actual retirement match presented itself. "If I were going to dive into a retirement match, I would take it serious and I would definitely want, you know, a good build-up, a little bit of a storyline," she said. "Not just coming in and doing a one-and-done. Maybe they'll have me show up in a show or something once a couple of weeks or whatever, or with WWE doing stuff."
It's not unheard of for WWE to bring back past stars with both Lita and Trish Stratus recently making returns on "Raw," and former talent regularly entering the Royal Rumble. However, Blayze made it clear if it is going to happen, it would have to be within the next year or two.
"It needs to be shouted out. I'm not getting any younger, but I still have it in me," she said. "I won't be coming back to the ring in my 80s for a final match. I won't — that's just my choice."