Kenny Omega On AEW All Out Brawl: 'It Was A Terrible Situation That Was Unnecessary'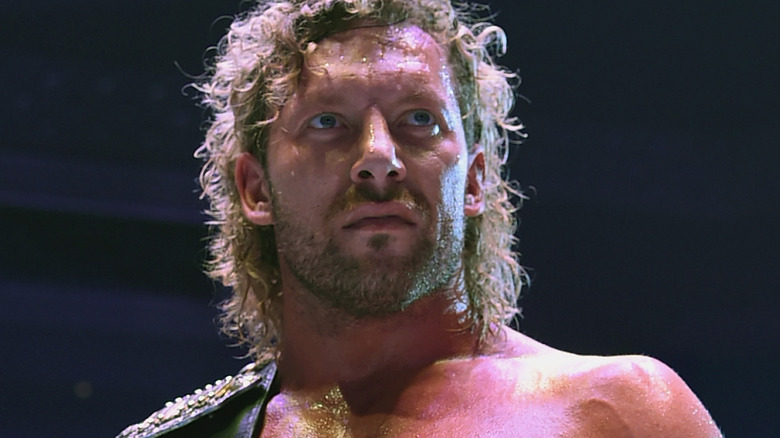 New Japan Pro-wrestling/Getty Images
Kenny Omega has opened up for the first time about the now infamous backstage brawl that took place after AEW's All out pay-per-view last September. On "The Sessions" with Renee Paquette, Omega called the fight "a shame" and that "a lot of people aren't ever going to know what went down, and how it could have been prevented, or how it could've ended differently."
"I don't think anyone is happy that it happened or is proud that it happened or anything like that," he said. "I think across the board everyone thinks it was a terrible situation that was unnecessary." After a contentious All Out press scrum, Omega and The Young Bucks reportedly got into a legitimate backstage fight with CM Punk and Ace Steel, resulting in suspensions for everyone involved and Steel being fired by AEW. Omega and the Bucks returned to AEW in November, while Punk has yet to return or open up about the incident publicly. Omega said that "legally" those involved in the fight could not speak about the incident. "It's so surreal because it's almost like it never even happened," he said. "It happened. Of course it happened."
The lack of public insight into the incident from people like AEW boss Tony Khan allowed opinions to propagate online, which Omega lamented, saying it's more likely the real story is "a combination of various theories." "We might never get to speak about it," he said. "But what's important was no one was seriously injured, emerging from that ... and we've moved on with life. I'm completely fine. It doesn't dictate what I do, what I say. I'm sure The Bucks are in the same boat. I can't speak to the other parties. Hopefully, they are doing well, and I mean that."