What We Know About The AEW All Out Brawl And Fallout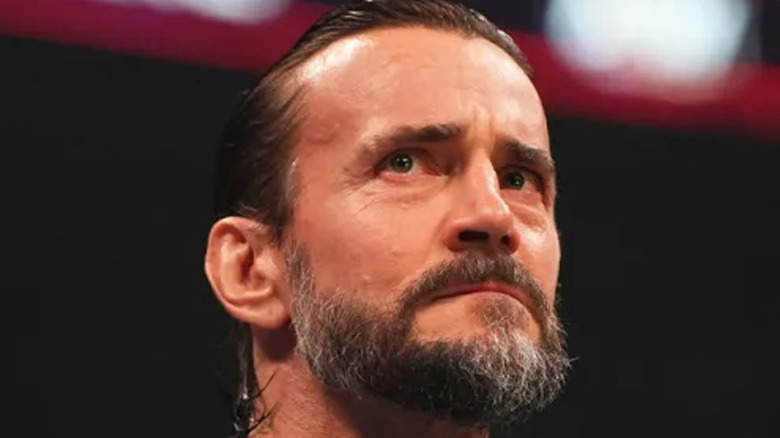 AEW
For the world of professional wrestling, 2022 was rife with unexpected twists and turns. From Cody Rhodes departing AEW to Vince McMahon stepping down as WWE's chairman, it's been quite the year to say the least. However, at the center of everything, amidst all the signings, firings and online controversies, are events surrounding the aftermath of AEW All Out.
In what can only be described as the perfect storm, AEW saw a level of locker room destabilization not seen since WCW's final days. Following the main event of the show, newly crowned AEW Champion CM Punk opted to use the show's media scrum to air some grievances. These comments resulted in The Elite — Kenny Omega and The Young Bucks — paying Punk's locker room a post-scrum visit. What ensued resulted in not only investigations but altered creative plans, championships being vacated, and rampant online speculation. So grab some muffins, courtesy of Mindy's Bakery, and take a look at what we know about the AEW All Out brawl and fallout.
CM Punk's WWE walkout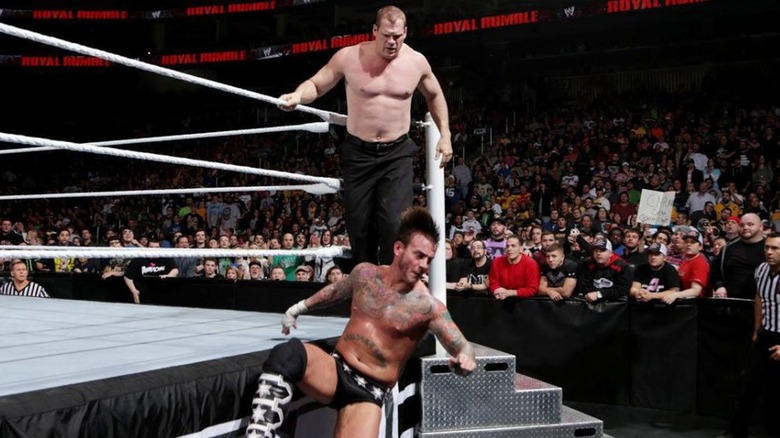 WWE
The story, or at least the seeds of it, began in 2014 when CM Punk did the unthinkable and walked out on WWE. The tail end of 2013 into the early months of 2014 will always be a curious time for WWE, especially looking back nearly a decade later. This is most evident especially when looking at WrestleMania 30 and its buildup on weekly television, which saw great creative fluctuations.
Bear in mind, this was the same period that saw the rise of Daniel Bryan and his bumpy road to the 'Mania main event. It was also at this time that CM Punk was slowly being slotted into a feud with The Authority. The corporate faction lead by Triple H and Stephanie McMahon had quickly become a recurring heel presence across WWE TV. Always one to challenge authority, Punk quickly became a recurrent nuisance for them, which invoked some penalties courtesy of Corporate Kane.
All seemed primed for Punk to feud with Kane before being slotted into a program with The Game at WrestleMania. However, following his elimination from the Royal Rumble due to the interference of Kane, things took a turn for the weird. The following day, news began widely circulating that Punk had left that night's taping of "Raw," walking out following a meeting with Vince McMahon and Triple H. It soon became clear that Punk had gone home and it didn't seem like he was coming back anytime soon.
The Art of Wrestling podcast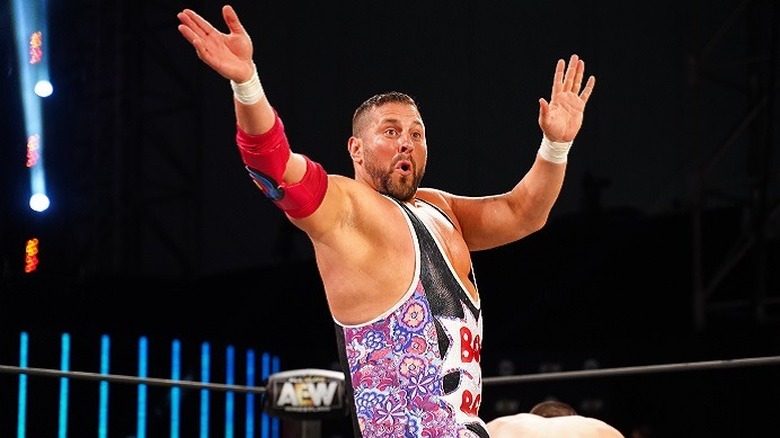 AEW
Following his walkout, CM Punk remained mostly silent aside from a few scant comments made here and there. It wasn't until November 2014 that Punk finally broke his silence in regards to his former-relationship with the WWE. The venue for this rundown was "The Art of Wrestling" podcast which is hosted by fellow pro wrestler Colt Cabana. The two, at this time, were good friends, which provided Punk the perfect venue to vent on his highly scrutinized departure.
For over an hour, Punk proceeded to list off every factor that contributed to his disillusionment with the WWE system. This included creative issues, especially when it came to how he was being booked, and his mistreatment at the hands of certain talents. He saved some extra venom for Ryback, who had botched a table spot which resulted in a concussion for Punk. However, at the heart of the matter was Punk's health, which WWE had done far from a satisfactory job at maintaining. What was originally diagnosed by a WWE doctor as a fatty deposit on his back was later diagnosed as a potentially deadly staph infection. With the main event spot clearly no longer in cards and his health waning, Punk decided that he'd had all that he could stand. Following a tense meeting with Triple H and Vince McMahon, Punk went home and — outside a brief foray into MMA — would stay there until 2021.
Legal ramifications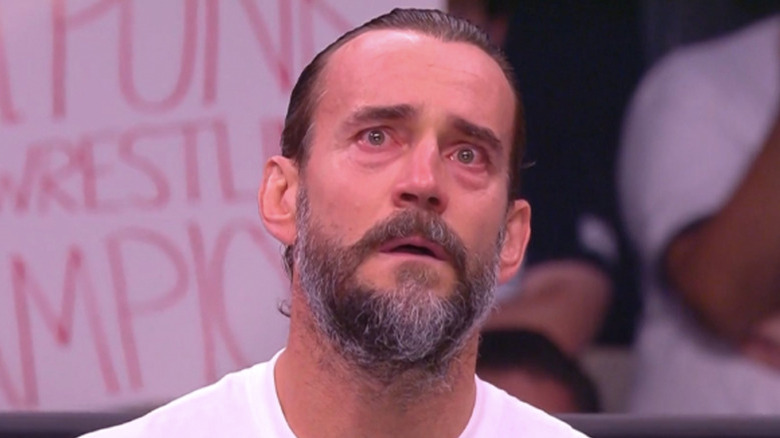 AEW
Following the release of his tell-all interview on "The Art of Wrestling," Punk was hit with some unfortunate consequences. In February 2015, WWE doctor Christopher Amann opted to sue Punk and Cabana for defamation regarding the allegations made about him on the podcast. As reported by the Wrestling Observer, Amann was looking to get $4 million in damages, which was apparently a dollar for everyone who downloaded the podcast. It's worth noting here that WWE put out a bullet pointed statement on their website during this time actively supporting Amann. In 2018, the jury ruled in favor of Punk and Cabana, which should be the end of this story ... right?
Sadly not so, as later that same year, Cabana himself took Punk to court alleging breach of contract and fraud. This was in regards to sizable legal fees that allegedly Punk had promised to pay but then later reneged on (via Chicago Sun Times). Punk ended up counter suing, with both his and Cabana's lawsuits being settled and dismissed in late 2019, resulting in no financial compensation for either man. Needless to say, after this, both men were as far from being buddies as one could possibly imagine. It's a good thing these issues won't reemerge years down the line in an incredibly public forum ... right?
CM Punk arrives in AEW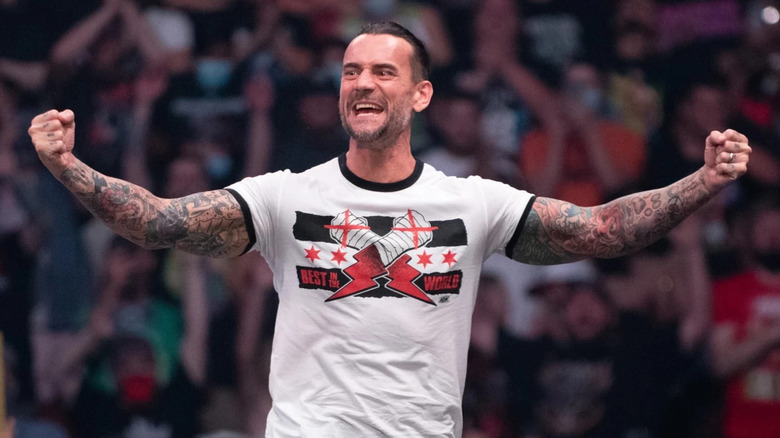 AEW
Following his departure, chants of Punk's name became a rallying cry for fans bored with whatever WWE was presenting. Despite being out of the game for nearly a decade, it was clear that Punk's name still carried a fair amount of power. So it makes sense that when All Elite Wrestling hit the scene, many fans saw it as a chance for Punk's comeback. Despite testing other entertainment outlets for himself — including comic books, movies, and MMA — fans were still rabid for Punk to wrestle again.
However, what began as simple speculation and fantasy booking from eager fans soon became a very possible reality. Rumors were swirling that Punk was inking a deal with WWE's main competition, something that AEW took full advantage of. AEW did everything short of flashing a neon sign that read "CM Punk: Coming Soon," especially by having various talents drop various easter eggs in their promos. Even more interestingly, AEW had booked the United Center in Chicago, Punk's hometown, for a special episode of "Rampage."
Needless to say, when "Cult of Personality" played that night in Chi-town it was as if time stood still. Punk sat cross legged, much like during his original pipe bomb promo, and told the story of his departure from Ring of Honor in 2005. He noted that, "August 13, 2005, I left professional wrestling. August 20, 2021 ... I'm back."
That Hangman Page promo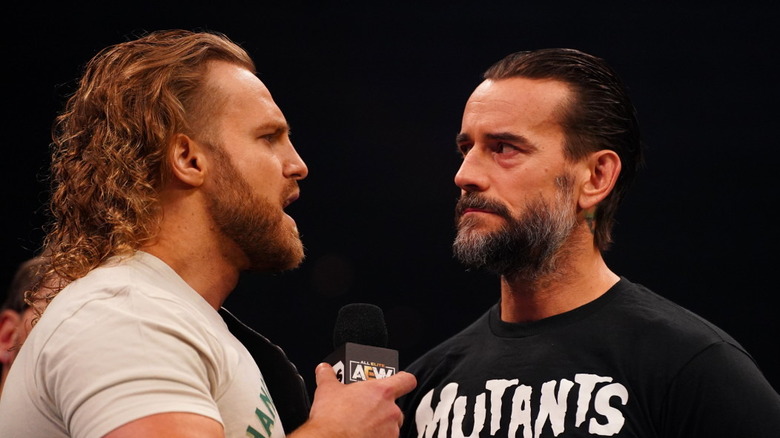 AEW
Following some solid matches against Darby Allin, Eddie Kingston, and MJF, CM Punk finally set his sights on the AEW Championship. This resulted in a match between Punk and Hangman Page being set for the main event of Double or Nothing 2022. The feud, for many fans, wasn't quite as heated as many would have hoped, with many of their promos feeling rather tepid. One promo in particular, which took place on May 25, seemed fairly heatless considering their impending title match. The most Hangman said were some comments in regards to Punk's true nature, one that he was protecting All Elite Wrestling from him. The match took place as planned and it was Punk who left with the title draped on his tattooed shoulder.
However, not long after, Punk went down with an injury, resulting in Jon Moxley being crowned as an interim champion. A few months later, Punk returned and took time out his first post-injury promo to take a shot at Hangman Page. This was bizarrely out of place as their feud was considered to be long over, made even weirder by Page not even coming out to confront Punk. It soon came out that Punk was none too pleased with Page going off script during their in-ring segment back in May. It seems that when Page commented on "worker's rights" in regards to Punk, it was more legitimate that we even knew.
Kenny Omega returns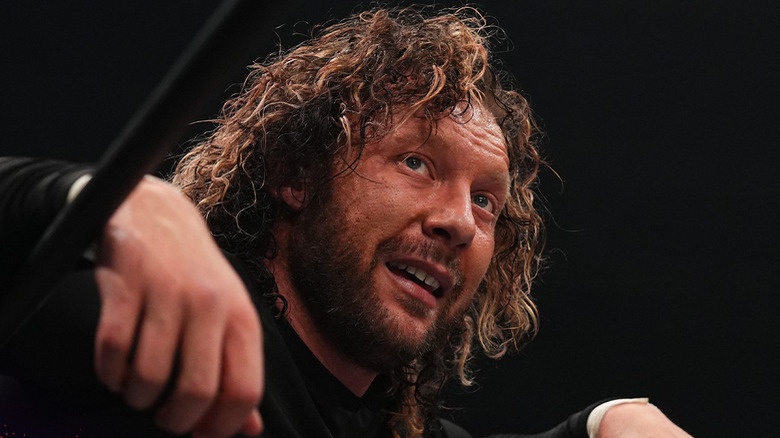 AEW
At the tail end of 2021, Kenny Omega was written off AEW television to finally take some downtime and address some persistent injuries. Kenny's years of wrestling strong style had more than taken their toll, with the man apparently suffering from vertigo while wrestling. AEW fans wouldn't see much of Kenny, sans a few scant appearances on "Being the Elite," until the following summer. En route to All Out 2022, AEW was in the midst of a tournament to crown their first set of Trios Champions. The Young Bucks, recently betrayed by Adam Cole, went to Hangman Page hoping he'd round out their trios team in the tournament. However, due to his alliance with Dark Order, who were also competing in the tournament, Hangman had to decline. 
The Bucks' first round match against Andrade El Idolo, Rush, and Dragon Lee arrived and the duo revealed they did indeed have a partner. After a lengthy intro from Justin Roberts, "Battle Cry" blared throughout the arena and for the first time since late-2021, Kenny Omega arrived. Credit to AEW, as they didn't shy away from addressing Omega's health issues, even working them into the match for added drama. The reunited Elite ended up winning the match and went onto All Out to compete in the Trios Championship tournament finals.
The Elite win the Trios Title tournament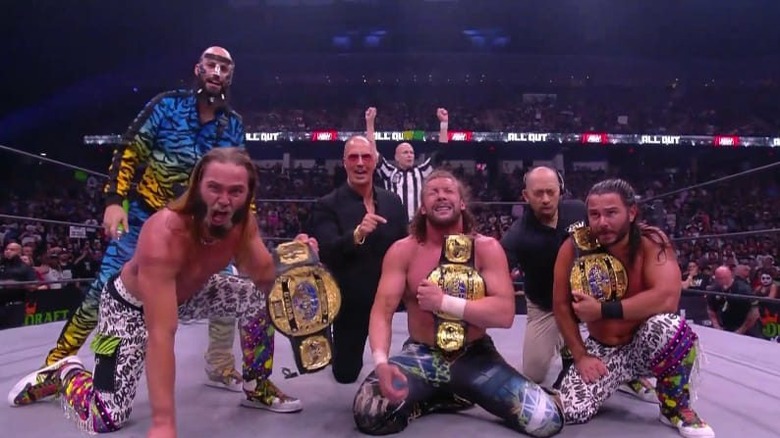 AWE
The night of All Out 2022 arrived and AEW, in typical fashion, stuffed the show to the gills with marquee attractions. While not as big of a slam dunk as 2021's edition, the event still resulted in some stellar match of the year candidates. This includes the Trios Championship tournament finals set to be decided between The Elite and The Dark Order. But as an added twist, it would be Hangman Page competing alongside his Dark Order brothers, Alex Reynolds and John Silver, for the trios gold.
Given that the last time that Hangman was in the ring with the Elite, it was when he and Kenny had beaten the Bucks to retain their tag titles, this was more than a little awkward. Despite fences being partially mended with the Bucks, it was clear that Hangman still had unfinished business with Kenny Omega. The match itself was a glorious showcase for all six men involved, resulting in some mind blowing multi-man spots. The finish saw Hangman accidentally deck John Silver with a Buckshot Lariat, resulting in The Elite's victory. The Elite left this ring with their new titles and went to the backstage area, where their night was far from over.
CM Punk wins the AEW World Title (again)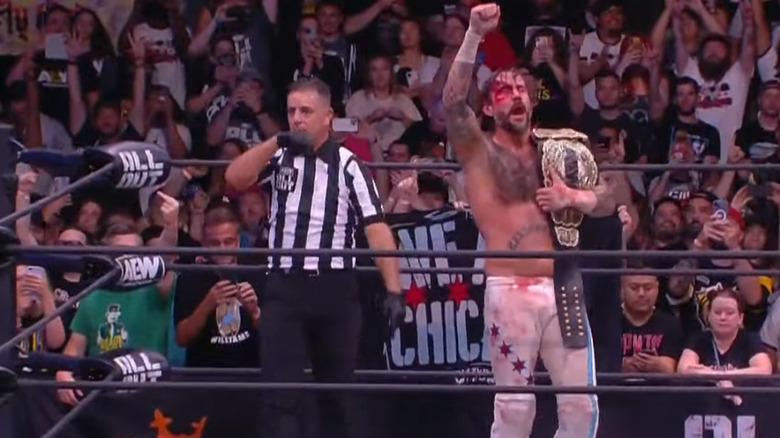 AEW
Following his return from injury, CM Punk looked to unify his AEW World Title with Jon Moxley's interim title. This resulted in a one-on-one title unification match on "Dynamite," which Moxley ended up winning in approximately three minutes. Punk, in kayfabe, seemed to fall victim to his still-injured foot and was eaten alive by Moxley in mere moments. This was a shocking turn of events for fans who expected an actual matchup between them.
Soon after, Punk was motivated by his friend and trainer Ace Steel, a former-ROH talent working for AEW as a producer behind the scenes. Punk ended up accepting Moxley's open challenge which resulted in a rematch being set for All Out. The match was a brutal and bloody affair, with neither Punk or Moxley willing to relent to the other. Eventually, Punk was able to put Moxley down for good with the GTS and win his second AEW World Title. Following his victory, the arena went dark and audio of Tony Kahn was heard, seemingly negotiating with an unseen talent. This talent turned out to be Maxwell Jacob Friedman who revealed himself as the masked Joker who'd won the Casino ladder match earlier that night. The show went to black with Punk and MJF staring each other down, setting up a sequel feud that sadly wouldn't come to pass.
The All Out media scrum
With All Out 2022 in the books, all that was left was to answer the questions of the wrestling community via the post-show media scrum. Kicking off the scrum was Tony Khan and the newly crowned AEW World Champion, a bloodied and tired CM Punk. However, before Wrestling Inc's Nick Hausman could even ask a question, Punk had an inquiry of his own for the room. He asked by a show of hands who "fancied themselves a journalist" and if Nick was friends with Scott Colton AKA Colt Cabana. Even though Nick said that he and Cabana didn't see eye-to-eye, Punk proceeded to critique wrestling journalists who helped perpetuate a rumor that he'd gotten Cabana removed from AEW television. He quickly summarized his experiences with Colt, even tossing out the fact that Cabana shares a bank account with his mother. He actively denied any role in getting Cabana nixed from weekly AEW television, even going as far as to say "I have f*** all to do with that." 
Punk took his rant a step further and put much of the blame on the company's EVPs, Kenny Omega and The Young Bucks. He noted that they likely organized the rumors against him as some form of hit job and criticized their management skills. As an additional cherry on the awkward sundae, he went right for Hangman Page's throat by calling him an "empty headed dumb f***." This seemed to be in regards to Hangman's promo back in May where he "went out on national television and f***ing [went] into business for himself." Punk went onto say that "If you have a f***ing problem with me, take it up with me. Let's f***ing go!" Little did Punk know just how badly those very words would end up haunting him just a short while later.
The backstage fight
This is where this story gets a wee bit murky, as even a good while later, we're still wondering what exactly happened. Following his heated words from the media scrum, The Elite opted to take Punk up on his suggestion to "take it up with [him]." As reported via Wrestling Observer's live show, it seems The Elite paid Punk's locker room a visit. What ensued, per the few reports we've seen, was a six minute fight that allegedly started when the Elite forced themselves inside.
This resulted in Nick Jackson taking a chair to the eye, Punk punching Matt Jackson in the face, and Ace Steel biting Kenny Omega on the arm. This bite in question was visible on Omega's arm during a chat with Camcom TV on their Twitter page. There was even a rumor that Punk's dog Larry had gotten hurt during the brawl, though the validity of this has been debated. Reports have even indicated varying degrees of involvement from the likes of Christopher Daniels, Brandon Cutler, Pat Buck, and Michael Nakazawa, all of whom were sent home during the subsequent investigations. Additionally, it was reported by Dave Meltzer that none other than AEW's head of legal Megha Parekh was front and center for the entire debacle. 
This fight, which has been referred to online as Brawl Out, quickly became the talk of the pro wrestling world. In the 48-hours that followed, fans were curious as to how AEW would handle this very toxic and unfortunately public situation. Many had hoped that "Being The Elite," The Elite's hit YouTube series, would address the incident but sadly not so, with the series even taking a temporary hiatus following its post-All Out episode. Sure enough answers, or at least something resembling them, arrived that Wednesday on "Dynamite."
The Brawl Out fallout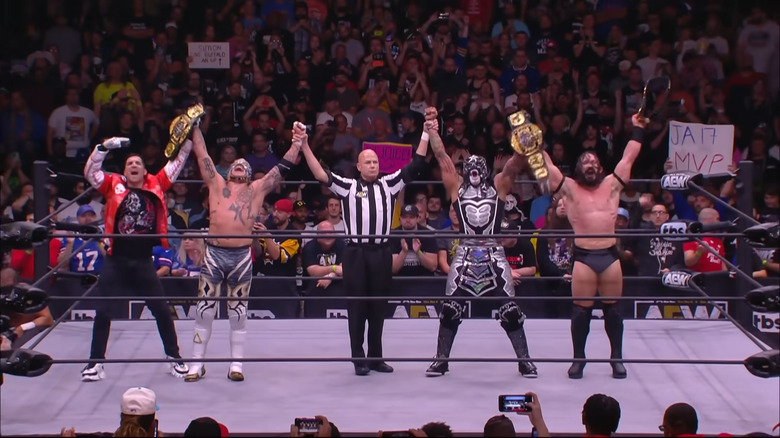 AEW
It's not an exaggeration to say that Brawl Out was a sizable hit for AEW, both in terms of their presentation and their public perception. Amidst the investigations surrounding Brawl Out, both CM Punk and the Elite were removed from AEW television. This was only partially addressed on the post-All Out edition of "Dynamite," wherein Tony Khan announced that both the AEW World and Trios titles were now vacant. Other than that, it was business as usual for the show, with new Trios champs being crowned that very night. It was none other than Death Triangle — PAC, Rey Fenix, and Penta El Cero Miedo — who ended up winning the gold via a match with the Best Friends and Orange Cassidy.
It was also announced that a new AEW World Champion was to be crowned in a tournament featuring six top contenders: Jon Moxley, Chris Jericho, Hangman Page, Bryan Danielson, Darby Allin, and Sammy Guevara. Eventually the field was whittled down to just Danielson and Moxley, with the finals set for AEW: Grand Slam in Queens, New York. After a banger matchup, it was Jon Moxley who'd pick up the win and his third AEW World Title. After a sizable PR disaster, AEW was finally putting the pieces back together and resumed its usual streak of quality pro wrestling content.
Nature begins to heal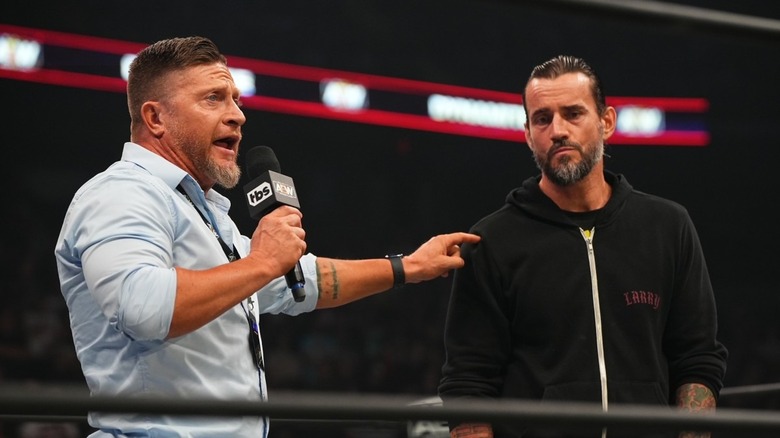 AEW
After the dust settled from the fracas that was Brawl Out, the AEW locker room slowly but surely began to stabilize. For several weeks, AEW programming pressed on as usual, with nary a mention of the brawl or anyone involved. However, in the background, steps were being taken to handle the All Out fallout, including an investigation into the matter. One of the first major developments following the brawl was the termination of Ace Steel's AEW contract. At the time of this writing, Steel is the only participant in the brawl who has been definitively fired. One can only see Omega biting PAC on the arm on "Dynamite" following his return as a final dig at the former Second City Saint member.
On the flip side, other brawl witnesses/participants slowly began resurfacing backstage and on digital television. This included the likes of Christopher Daniels, Brandon Cutler, Michael Nakazawa, and Pat Buck, all resuming their respective duties.
Colt Cabana vs Chris Jericho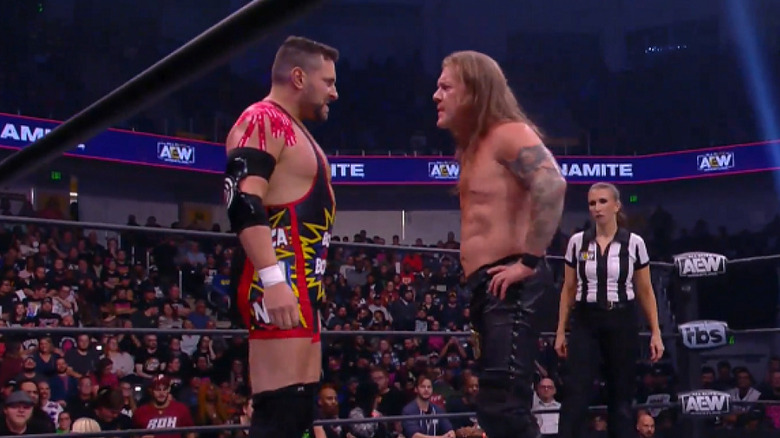 AEW
It's been reported by Fightful that following the brawl itself, Chris Jericho had some heated words of his own. Jericho, for better and for worse, has never been one to keep his mouth shut, especially regarding the wrestling business. Not at all pleased with what had happened, Jericho allegedly told Punk that he was a cancer to the locker room. Jericho followed that up by saying that he was also detrimental to the company as a whole. Punk apparently made it clear to Jericho that the situation was none of his business and that he should leave. Timeline-wise, this makes sense, as the brawl was said to have gone down between Punk and Jericho's respective appearances on the scrum.
However, it would be Jericho who'd end up having the last laugh and in the most public manner possible. Not too long after All Out, Jericho ended up winning the Ring of Honor World Championship from Claudio Castagnoli at AEW Grand Slam 2022. Following this, Jericho vowed to destroy the legacy of ROH by defeating every former-ROH champion he could find. This included the likes of Dalton Castle, Bandido, Bryan Danielson and a mystery opponent – who was revealed to be Colt Cabana. Yes, it's been confirmed that Colt Cabana was hand picked by Chris Jericho himself for the title shot on "Dynamite" (via Fightful). We'd love to say this was just a coincidence, but it's entirely possible that Jericho was sending a message to a certain someone sitting at home.
The Elite Returns at Full Gear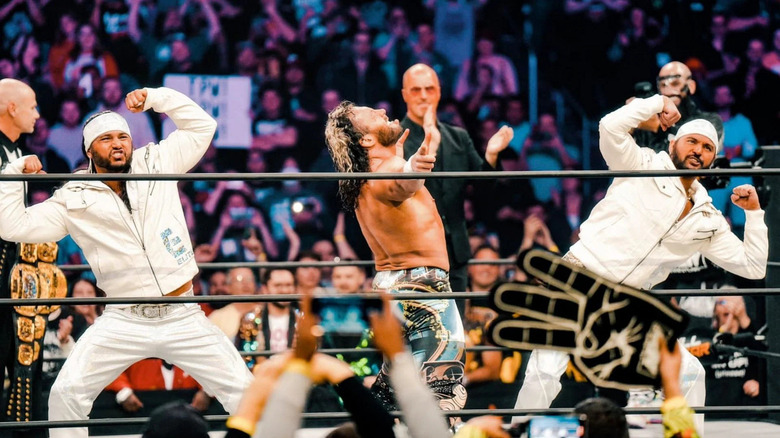 AEW
One of the bigger questions regarding Brawl Out was when either Punk or The Elite would be returning to television, if ever. Punk was a longshot, especially considering he was once again injured, so fans weren't holding their breath on that one. However, in October, AEW started airing mysterious hype videos on weekly television that got fans salivating. The first video showed The Elite being erased Thanos style from their most iconic AEW moments. Additionally, a subsequent video showed someone literally editing them out of footage and replacing them with Death Triangle.
This persisted until the final "Dynamite" episode before AEW Full Gear, when Death Triangle dropped any degree of subtly. PAC basically said they weren't stupid, they'd heard the rumor and had a good sense of whose return the videos were hinting at. As if on cue, an unfinished matchup graphic for Full Gear appeared on the tron, with The Elite materializing on it. That very Saturday, The Elite returned in as grand a fashion as possible with "Carry On Wayward Son" by Kansas hailing them to the ring. Not only that, but "Being The Elite," the trio's hit YouTube show, made a comeback the following Monday as well. Amidst their Best of Seven Series with Death Triangle, The Elite began performing moves and intentionally botched spots that seemed intentionally targeted towards Punk, including encouraging chants of "F*** CM Punk" as well.