Ric Flair Looking Forward To AEW World Title Match At Revolution, Picks MJF To Win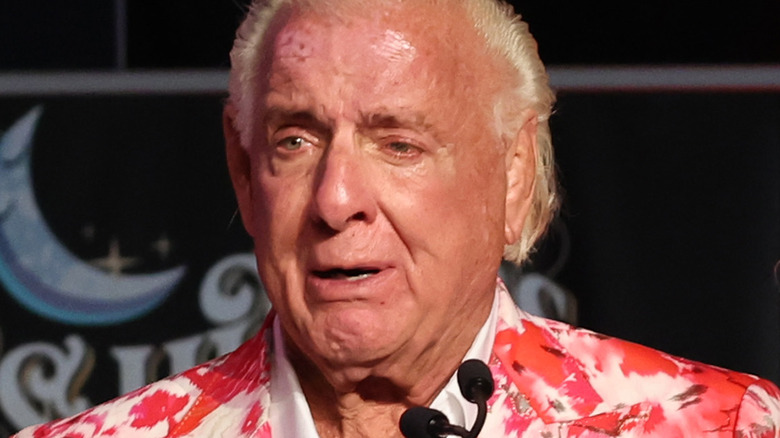 Jason Kempin/Getty Images
If there's anyone that knows about wrestling for an hour night in and night out, it's "Nature Boy" Ric Flair, famous for his lengthy matches in the 1980s. On the latest episode of "To Be The Man," the two-time WWE Hall of Famer said that he was excited for the upcoming sixty-minute Iron Man Match between AEW World Champion MJF and Bryan Danielson. 
"I love those kind of matches," Flair gushed. "There's so few people that can pull them off because they have to go sixty minutes, right? That alone is an art in itself. I don't give a s**t what anyone says. I don't think MJF has done a Broadway before."
Danielson notably wrestled many hour-plus matches during his time in Ring of Honor.
"They certainly have the ability and it depends on timing and pacing," Flair continued, saying that he and other "old-timers" will be judging them heavily.
According to the multiple-time world champion, he could have a sixty-minute match with Ricky Steamboat or Ricky Morton "standing on [his] head." Flair is adamant that the match should be the main event, as it is important for the world champion to be able to follow whatever the undercard puts in front of him.
"Champion goes on last," Flair said, bemoaning the days when he'd have to follow popular attractions like Dusty Rhodes or The Road Warriors. "You follow whatever you have to."
Flair also feels that MJF should retain his title against Danielson. MJF has been AEW World Champion since November when he won the title at AEW's Full Gear pay-per-view.
If you use any of the quotes in this article, please credit "To Be The Man" with an h/t to Wrestling Inc. for the transcription.