MJF Shouldn't Be Punished For Playing His Character At AEW Revolution
AEW
"The Splash Zone." Sea World has one, Gallagher had one, and now AEW has one. 
At last night's AEW Revolution PPV, during the 60-minute Iron Man main event, AEW World Champion MJF took a moment to compose himself outside the ring, retreating from the clutches of Bryan Danielson all the way into the audience. There, outside the barricade, MJF did his best to antagonize the San Francisco crowd. At one point, he grabbed a cup out of a woman's hands, and without a moment's thought, threw the transparent contents onto a young fan named Titus.
This seemingly harmless — albeit mean-spirited — act has set the wrestling world aflame, with many feeling that longtime heel MJF was out of line in throwing liquid on an unsuspecting child, who has been confirmed to not have been any kind of "plant." To complicate matters further, the clear liquid that MJF tossed without even a second glance was reportedly tequila or some other kind of alcohol. In the post-PPV press scrum, AEW CEO Tony Khan said that he'd already had a "serious conversation" with MJF about the incident, and AEW community outreach liaison Amanda Huber had already given Titus tickets to an upcoming episode of "AEW Dynamite" in Sacramento.
Despite AEW acknowledging the situation in the scrum and seemingly taking steps to reach out to the fan and pacify the situation, some are still calling for the company to hold MJF accountable in some form. However, outside of making MJF foot the bill for the AEW swag Titus received, there are few punitive options at their disposal — and that's okay. Punishing MJF for his transgressions is the babyface's job, not AEW's.
Splash Mountain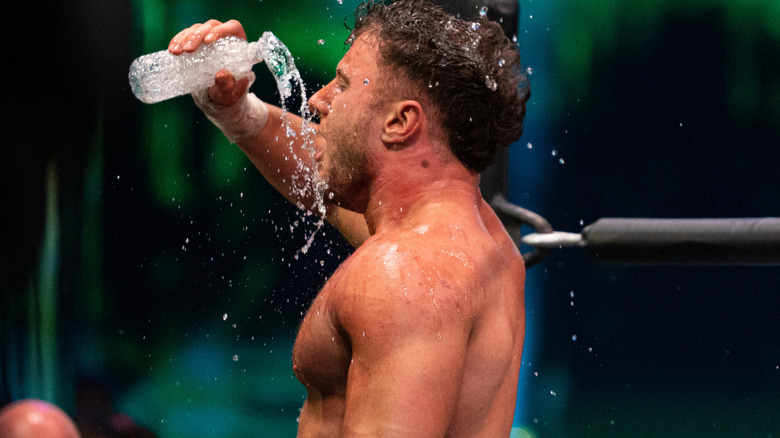 AEW
MJF does not break character, and that's not a bug, it's a feature. His seemingly endless shortcomings as a human being are what compels wrestling fans to the AEW World Champion. They are what has made him a focal point of AEW programming since the debut of "AEW Dynamite" in October 2019.
Wrestling operates in an odd place where reality and entertainment often blend. It's what has made MJF's commitment to being contemptible scoundrel all the more impressive to many, but it also makes it harder to gauge how malicious he truly intended to be towards the young fan. A scan of the footage will show that the clear cup he grabs is full of equally clear liquid, so it's safe guess that MJF assumed the cup was full of water.
Should he have smelled the cup? Probably. Would it have been smarter to feign throwing liquid on the kid? More than likely. But it would also have been a betrayal of the character that had made MJF so popular to second guess his instincts, to be "careful. "And so, he threw the drink. In the moment, MJF looked at a cup of clear liquid and a small child and thought "I'm going to send this kid to Splash Mountain." 
A Common Enemy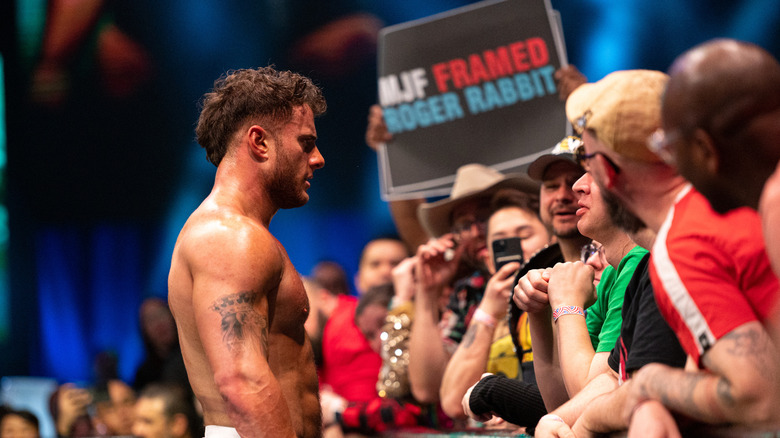 AEW
As mentioned, AEW has not told Titus to go kick rocks and get over it. Huber, as well as unnamed "others" from the company, reportedly helped "smooth things over," according to Fightful's Sean Ross Sapp, and Khan claims to have spoken to MJF about the incident. Titus was even bought a set of foam Acclaimed scissors by Grapsody's Will Washington. 
There are people reading this article who have never met Titus, and yet they do not like what MJF did to Titus, and as a result, they will be rooting that much more for MJF's downfall. If AEW has indeed properly smoothed over the situation, Titus will be in Sacramento booing MJF even harder than he was on Sunday, and hopefully will grow up to cherish the small, unfortunate role that he played in the story being told by MJF and Danielson. MJF unquestionably failed this young man, but the company didn't, and neither did the wrestling community, and that is ultimately the point of a good heel.
The ride MJF has taken fans on is not a pleasant one, but it is a necessary one in both his and AEW's success. MJF's job isn't to make people dislike him — it's to unite them so thoroughly against him that they are begging for his blood, so that when the babyface challenger delivers said carnage, it is an act of heroism, of justice, met with a properly thunderous ovation. AEW shouldn't punish MJF for simply making sure that whoever beats him for the title will be Titus' next favorite wrestler.