Komander Has Been Practicing Top Rope Walk Used In AEW Dynamite Ladder Match Since He Was A Kid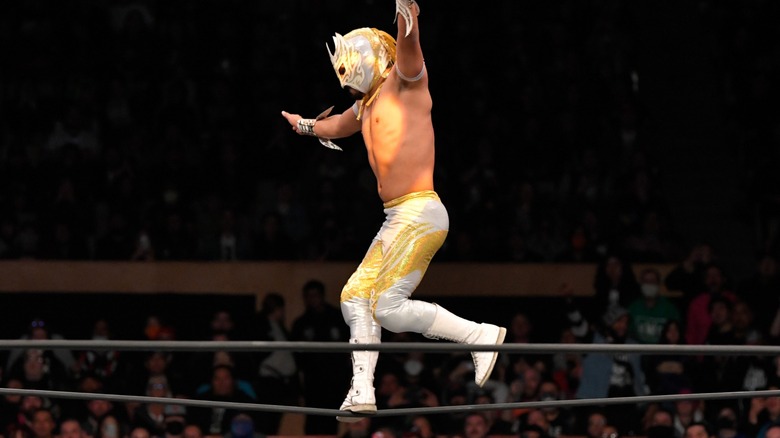 AEW
Mexican luchador Komander made his AEW debut last week on "Dynamite" in grand fashion — as part of the Face Of The Revolution Ladder Match. The winner needed to ascend a ladder, retrieve the brass ring, and claim a shot at the TNT Championship. While Powerhouse Hobbs may have captured that opportunity, Komander captured something else: the attention of the fans. 
Operating in front of a large television audience, Komander showcased what has become his signature dive – running across the entire length of the top rope from one turnbuckle to another before launching himself onto his opponents outside the ring. With the luchador now known to a lot of fans unfamiliar to him before that moment, he explained the backstory of his spectacular move to Sports Illustrated. 
"I wanted to make it a part of lucha libre," he explained. "For me, I do it to relieve stress. When I walk the ropes, it is a moment of peace and clarity." The 24-year-old started practicing the spot when he was just 12; he was able to get a lot more practice when his family got him regular access to a ring when he was 13. "I was so excited when we got our own wrestling ring," he added. "As a child, I was a big fan of the circus. I liked the tightrope, so I wanted to walk the ropes. I've done it so many times and know every way to do it."
Komander added that he knew he was shooting his proverbial shot with his "Dynamite" appearance, calling it his chance to show he belonged in a major promotion with worldwide reach. And how did his big dive feel in the moment? "It felt like I was flying in the sky. My state of mind, it was clear. Then, when I made contact with the other wrestlers, I waited for that audience reaction. Their reaction is what tells me if I nailed it or if I failed."