Bianca Belair Hates Being Asked About Her Pro Wrestling Mount Rushmore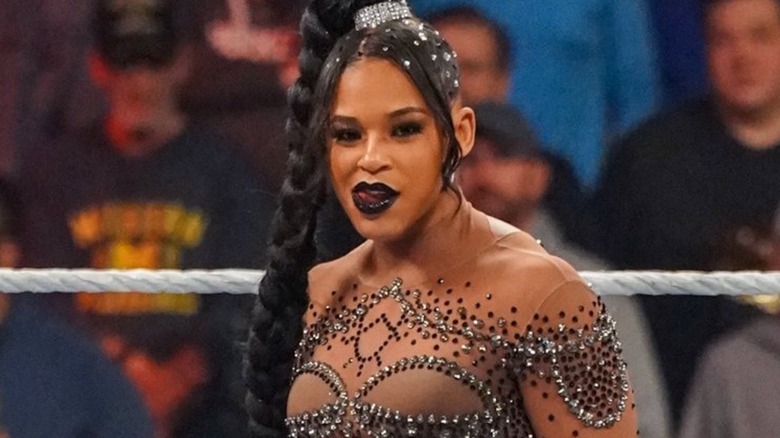 WWE
Having a Mount Rushmore of all-time greats has become an essential list for almost every pro wrestler to make along the way. It's only a matter of time before one is asked about it and prompted to expound upon it. Very few Mount Rushmores are exactly the same, reflecting a wrestler's personal tastes, and they're usually limited to four or fives name making the cut. For Bianca Belair, the list is a little more of a struggle to assemble and, in an interview on the "Whole Story" podcast, the "Raw" Women's Champion showed why.
"This is why I don't like this question," she said after struggling to name any less than 11 wrestlers. Belair's catalog featured talents ranging from The Rock to Rhea Ripley. Among other stars from the past, Belair also rattled off Shawn Michaels, The Undertaker, Beth Phoenix, Chyna, and "Stone Cold Steve Austin."
Ripley wasn't the only past opponent of hers to make Belair's extra large monument. She also included Charlotte Flair and her 2022 WrestleMania match mate Becky Lynch. Her upcoming WrestleMania challenger Asuka was conspicuously missing from her list.
While still relatively young in the industry, Belair's career thus far has been more than enough to potentially land her on Mount Rushmores in the future, but she's not shy about being ready to put herself where she thinks she belongs. "I wanted to put me on there and I wanted to put my husband on there," she said, referring to her real-life spouse Montez Ford, who continues to come into his own as a WWE talent while making his mark as a ½ of the Street Profits.