Eric Bischoff Never Considered Putting The WCW Championship On Rey Mysterio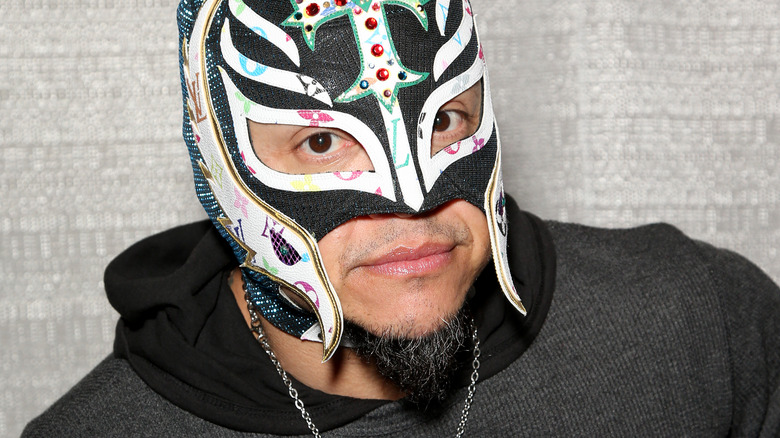 Gabe Ginsberg/Getty Images
While in charge of WCW, Eric Bischoff had many stars in the Cruiserweight division that would not wind up finding much success outside of it until they left the company. Some of those names include Chris Jericho, Eddie Guerrero, and Rey Mysterio, who all went on to reach greater heights after transitioning over to WWE. Mysterio specifically has connected with WWE fans for over 20 years in a way that few pro wrestlers ever do — leading to his upcoming WWE Hall of Fame induction during WrestleMania 39 weekend.
With Mysterio's main event potential fully reached in WWE, Bischoff addressed and defended his decision to not give the high-flyer the WCW World Championship. "There was a lot of value in Rey, but I just can't see me, especially back in that time, putting the belt on Rey Mysterio, I don't think the audience wanted to see that," Bischoff said on "Ad Free Shows." "At that time, Rey was about, what, 5'6", whatever he is, 5'7", and I don't think he weighed 175 pounds at that point and how are you going to book him with Bill Goldberg and Kevin Nash and Lex Luger and Hulk Hogan and do it in a way that's believable? It would've been tough and I don't think I would've seen it."
Despite Bischoff's view of the dynamic luchador, Mysterio managed to win three world championships throughout his time in WWE — capturing his first at WrestleMania 22 after winning the 2006 Royal Rumble. He also now holds pinfall victories over many much larger foes. Mysterio further etched his name in history in 2019, becoming a Grand Slam Champion by winning the United States Championship.
If you use any quotes in this article, please credit "Ad Free Shows" with an H/T to Wrestling Inc. for the transcription.