The Undertaker Won't Sign Autographs For WWE Fans When He's In Dad Mode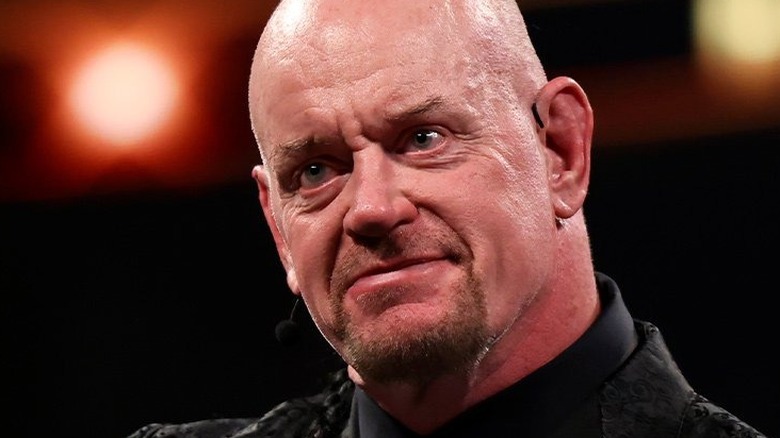 WWE
Since The Undertaker officially retired from WWE, he's doing things a little differently. A staunch defender of kayfabe in the past, the "Man From The Dark Side" hasn't been as hesitant to pull back the curtain in interviews, documentaries, and one-man shows. When he returned to "WWE Raw" for the show's 30th anniversary, he appeared as the "American Badass" instead of the traditional "Demon of Death Valley." 
Shortly after that, "The Phenom" revealed that he has hung up his hat and coat for good and they're never coming back. The reason for that is that he's no longer "The Deadman." Now, especially when he's out with his kids, the WWE Hall of Famer is playing the role of the "Dad-man."
In a recent interview with "The Bet Las Vegas," The Undertaker shared that he no longer interacts with fans that approach him when he attends functions involving his kids. He mentioned that he was on the road for all those years in WWE, so he missed out on a lot of key moments in his kids' lives. Now that he's able to be around, he understandably wants to be in the moment as much as he can.
"My kids play sports and it becomes a thing every weekend," he said. "People will come up and [say,] 'Hey can I have [an autograph or a picture]?' I appreciate you being a fan, but I'm not Undertaker [right now]. I'm dad this weekend and hopefully you understand that."
Aside from those moments, the legend has no problem being accommodating to his fans if they are being respectful. "I'd say 95% of the people really do understand. Occasionally, you get somebody that is just so entitled that they feel like you're a dick. If you don't understand, then I guess I am."