Wrestling Seamstress Sandra Gray Cried When Cody Rhodes Left AEW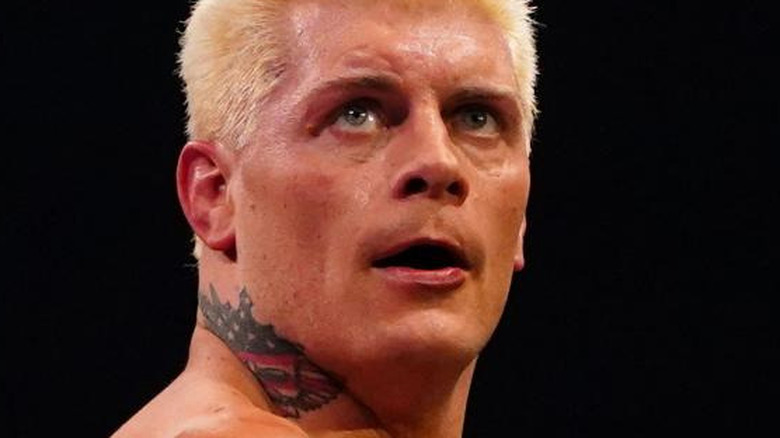 AEW
Cody Rhodes shocked the wrestling world when he returned to WWE at WrestleMania 38, nearly six years after asking for his release from the company. In the process, he also walked away from AEW, a promotion he helped start in 2019. Along the way, he recruited Sandra Gray — formerly of WCW and then WWE until 2015 — to be AEW's in-house seamstress. Recently on "The A2theK Wrestling Show," she talked about her relationship with Rhodes and the impact he's had.
"I'm super proud of him for headlining WrestleMania," Gray said. "When he brought me to AEW, that was a really big deal because he didn't hesitate. It was like 'This is gonna be your department.'" Ever since, Gray has continued to put her best foot forward with any ideas wrestlers approach her with, aiming to repay the trust and faith Rhodes placed in her while stressing that she never wants to let him down. To her credit, she firmly believes "I don't think I ever have." While some of her current favorites to work with include MJF, Jade Cargill, and Sammy Guevara, her bond with Rhodes remains special. It's not surprising, then, that his departure from Tony Khan's promotion hit her relatively hard.
"So the day that he left, I was on my way somewhere in the airport," she continued, "and it literally made me cry. I was so upset and just heartbroken, the fact that he wouldn't be there anymore." And while she believes Trinity (Naomi) is the closest wrestling friend she has outside of work, she feels very close with Cody as well, especially since she's worked with his entire family and he's trusted her with so many "huge projects" over the years. "I just feel proud of that."
If you use any quotes from this article, please credit "The A2theK Wrestling Show" with a h/t to Wrestling Inc. for the promotion.