Jerry Lawler Has Been Lobbying For Andy Kaufman's WWE HOF Induction For Years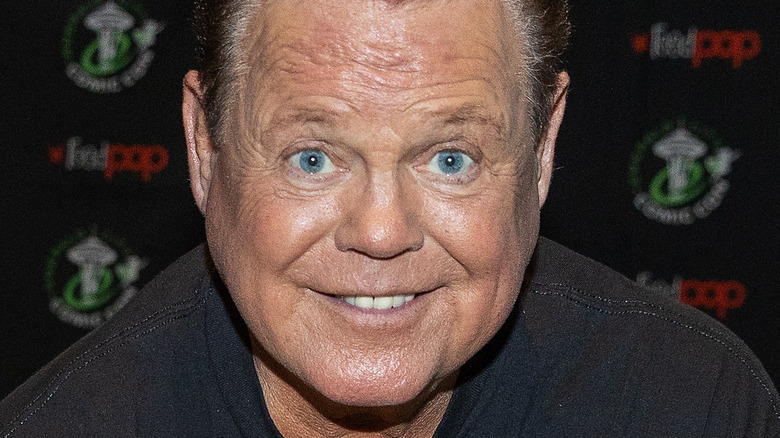 Mat Hayward/Getty Images
It was recently announced that Andy Kaufman will be heading into the WWE Hall of Fame as part of the 2023 class during WrestleMania 39 weekend, alongside Rey Mysterio and The Great Muta. Kaufman's impact on the industry was felt in the early '80s, as he would commonly wrestle women — declaring himself the Intergender Wrestling Champion — leading to a historic feud against Jerry "The King" Lawler. Despite being rivals onscreen and many believing at the time that the feud between them was real, Lawler has long wanted Kaufman to receive the honor he did in 2007 — an induction into the WWE Hall of Fame, according to Lawler's old broadcast partner Jim Ross.
"That's great, that'll make Lawler very happy," Ross said of the announcement on "Grilling JR." "Jerry has been lobbying for that for a long time and I think deservedly so. I mean, gosh almighty, if you're looking at impactful moments, impactful characters that established a footprint that will be ever-lasting in pro wrestling history, you know, Andy Kaufman qualifies ... He was a unique dude and he got over because he was different. He was different and he wasn't afraid to take chances."
Kaufman will obviously be unable to appear at the ceremony, due to his tragic passing in 1984 at the age of 35. Who will accept the honor on his behalf and who will induct the legendary comedian has yet to be revealed. Lawler himself would normally seem to be a shoe-in to induct the late Kaufman, however, last month "The King" suffered a stroke, and hasn't been making public appearances since the life-threatening occurrence took place.
If you use any quotes from this article, please credit "Grilling JR" with a h/t to Wrestling Inc for the transcription.