The Rock Reportedly Part Of Group Bidding For The NHL's Ottawa Senators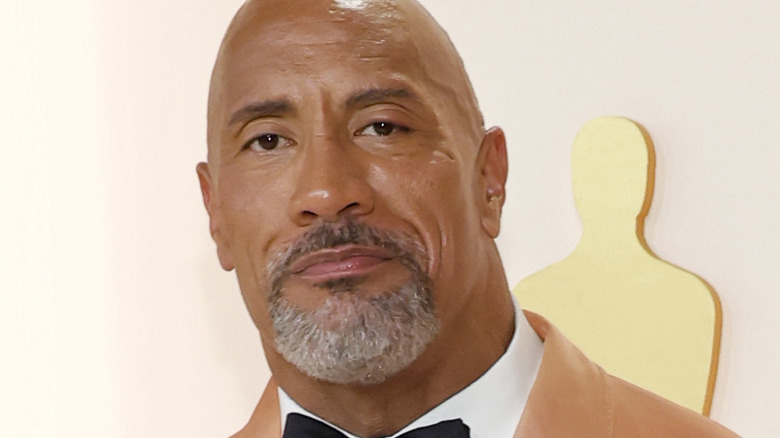 Mike Coppola/Getty Images
Dwayne "The Rock" Johnson may be taking another step into the world of sports ownership, as he's rumored to be joining the bidding war for ownership of the Ottawa Senators, according to Coming In Hot. The NHL team's former owner, Eugene Melnyk, passed away last year and the bidding for the Senators has seen lots of interest since then. If the story is true, Johnson will reportedly be joining the bidding with the Neko Sparks Group. 
Johnson isn't the only celebrity bidder in the fray for the Ottawa Senators, as his "Red Notice" co-star Ryan Reynolds has also expressed interest in buying the team. Both actors have partnered with different investment groups looking to buy the Senators, as the price tag on the team is in the millions (and millions). However, could their mutual interest in acquiring the team lead to another collaboration? 
"Ryan Reynolds and The Rock are very close friends, from what I understand," Brent Wallace speculated on the podcast. "They've done a movie together called 'Red Notice.' They've done a few social media posts together if I'm not mistaken. I believe that may help sway possibly Ryan Reynolds [to] joining that group if Neko Sparks was to get the team."
The Senators wouldn't be Johnson's first foray into sports ownership, as he co-owns the XFL alongside Dany Garcia and RedBird Capital. After Vince McMahon's second attempt at the alternative football league went south, Johnson and company bought the XFL less than three years after its founding. The XFL just launched its 2023 season in February, on what Johnson called an "incredible weekend."