Roman Reigns Brags About 'Billion Dollar Year' In Response To Cody Rhodes Diss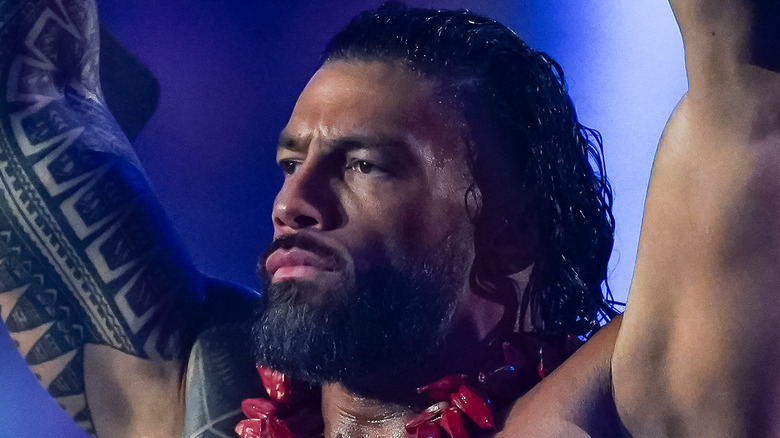 Alex Bierens De Haan/Getty Images
As the road to WrestleMania winds down, Cody Rhodes had some choice words for his opponent Roman Reigns recently, saying that WWE invested 11 years into Reigns, without getting any payoff until year 8. In a new interview with BT Sport's Ariel Helwani, the Undisputed WWE Universal Champion said the comment didn't cut deep because there's no truth to it.
"When we were approaching these billion-dollar deals Wiseman [Paul Heyman], who was on top?" Reigns asked.
"Roman Reigns," Heyman replied enthusiastically. "365 days of a billion-dollar year." Reigns notes that he has main-evented all WrestleManias –save for a few– since 2015. 
"I was on top on all these years," Reigns said, mentioning that people were too focused on the television product he was on, and not the business the company was doing during that time. 
You're gonna make your own assumptions, but business was good," Reigns said. "We were priming to build [WWE] into a billion-dollar company, which I bridged us to and now have sustained...three years in a row, Paul?"
"Three years in a row," Heyman once again replied.
"How many other top guys can say they have a billion-dollar year under their belt?" Reigns boasted. "How many can say three?"
WWE has been steadily celebrating record revenue throughout Roman's tenure as champion and is currently looking towards a possible sale, which currently sees the company asking for a rumored $9 billion. The only WrestleManias that Reigns has not main evented were WrestleMania 35, which was headlined by women for the first time in company history, and WrestleMania 36 which Reigns took off due to his health during the initial stages of the COVID-19 pandemic.